Mike White Battles Through Buffalo Beating as Jets Come up Short in 20-12 Loss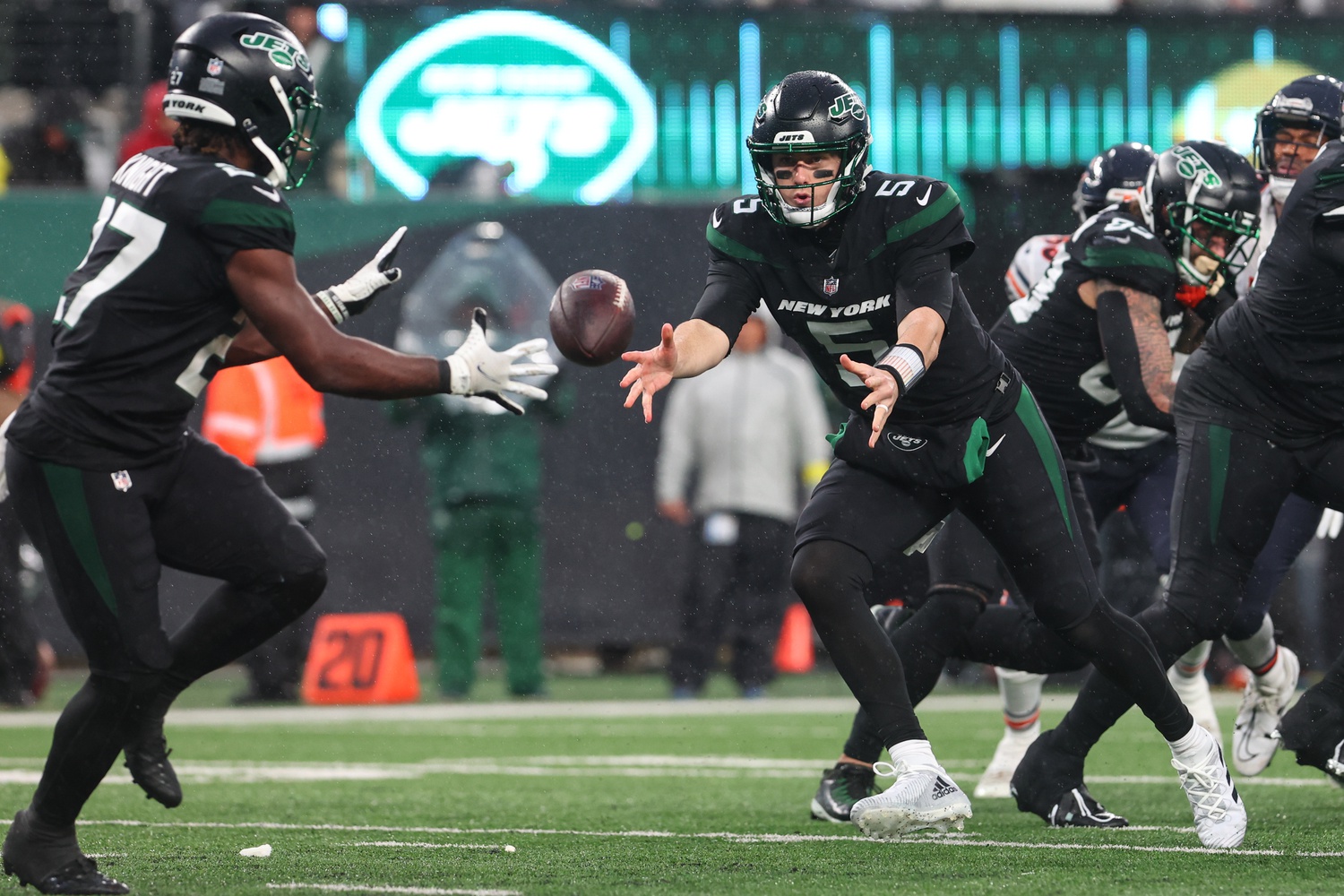 One of the reasons why the New York Jets offense has moved the ball so well under quarterback Mike White has been the signal caller's quick decision making and release times.  White has impressed with his ability to read the defense and find the open man in a hurry.  White's number 15 ranking in that category has been significantly better than Zach Wilson's 3.12 seconds, which ties him for worst in the NFL.
Per nextgen stats, Mike White's average time from snap to throw is 2.71 seconds, good enough for a middle of the pack ranking of 15th in the NFL.

Zach Wilson sits at 3.12 seconds. Tied with Justin Fields for worst in the NFL.

— Glenn Naughton (@AceFan23) December 12, 2022
But today, White's release time was irrelevant because he was often on his back before he had a chance to see what was in front of him.  The QB took multiple shots that were big enough to have him come out of the game to be looked at by team doctors.  Following the contest, he was transported to a local hospital where he would have his ribs checked out.  He would travel home with the team.
Mike White has been pressured 12 times, sacked three times, in 16 dropbacks. He's like a pinata.
Memo to LaFleur: Use an extra man in protection. #Jets

— Rich Cimini (@RichCimini) December 11, 2022
But before being knocked out of the game, White was simply being knocked around.  As noted by ESPN's Rich Cimini, White was hit or pressured on 12 of his first 16 dropbacks.  You can probably count the number of QB's who would perform well under those conditions on one hand.
The Jets were as stingy on defense as the Bills had been for much of the day.  Both Josh Allen and Stefon Diggs were held to season-low totals in both passing and receiving yards at 147 and 37 respectively.  But a costly CJ Mosley penalty on 4th down gave the Bills life on what would end up being a touchdown drive just before the half.  Trying to draw the Jets offsides on 4th and 1, Mosley took the bait and jumped over the line of scrimmage to give the Bills a fresh set of downs.  A few plays later, Allen would find a wide open Dawson Knox for a 24-yard touchdown pass.
The Jets would answer with their best drive of the day to start the second half as Mike White led a 10-play 72 yard drive that was capped with Bam Knight's first career rushing TD from 13 yards out.
The Bills would follow with what was the third and final TD of the day scored by either team.  It was a 75 yard drive on six plays with the big play coming on a mismatch created by the Bills.  Buffalo lined up Diggs in the slot where he drew coverage from safety Jordan Whitehead and picked up a 34-yard catch.
Josh Allen ended the drive with a 5-yard TD run to make it 14-7 and Buffalo never relinquished the lead.  White would take a clean shot to the ribs from a blitzing Matt Milano that knocked him out of the game just long enough for Joe Flacco to come in a cough up a fumble before the Bills kicked a field goal to make it 17-7.
A Jermaine Johnson blocked punt in the Bills own end zone made it 17-9 but that was the last score the Jets would see on the day.
Next up for the Jets?  A home meeting with the suddenly surging Detroit Lions.
Videos
New York Jets OTA Presser Takeaways, Aaron Rodgers' Impact and Summer Delusion