NY Jets are the Betting Favorites to Trade for Lamar Jackson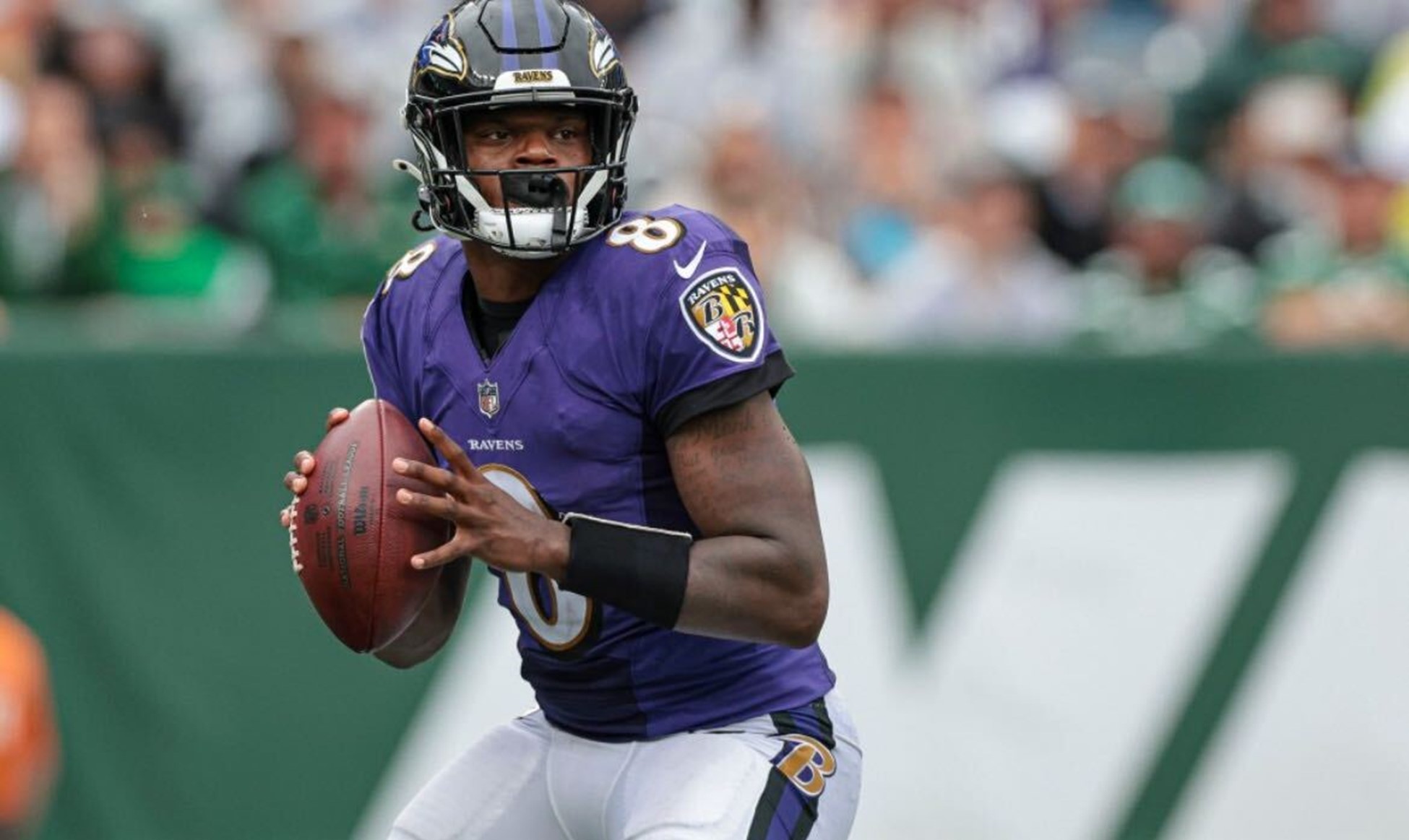 Following a tumultuous 2022 NFL campaign for his star quarterback, Lamar Jackson, the future of the Baltimore Ravens seems far from certain. The 26-year-old sustained an unfortunate knee injury late in the season, which caused him to sit out of 12 games and forced Baltimore to end their championship aspirations as they were left without Jackson in their final five regular-season contests plus a playoff game against Cincinnati Bengals, where they lost. As such, with Jackson on the sidelines throughout that period, Ravens ended 2-4 overall – even losing at playoffs despite having already clinched a spot before then. At the close of last season, the 2018 MVP's fifth-year option was in its final year. Though he has the potential to sign a new contract if one is proposed, his agents and Baltimore Ravens have not been able to reach an agreement for any extensions.
Jackson is a force to be reckoned with when fully healthy. His ability to demolish defenses on the ground and through passing plays has been proven in his five seasons, totaling 125 touchdowns. Although he can cause significant damage as an athlete, this also puts him at much higher risk of injury due to his willingness to escape the pocket often; Jackson missed five games during each of the last two seasons alone. The Ravens and Jackson may look to a franchise tag as an option should discussions not go well. Although it might take money, the team would rather keep him than lose him when he's free to sign with any other organization; if things worsen, they could even consider trading him instead.
Prior to the 2022 season, negotiations between the Ravens and Jackson, who is not represented by an agent and is representing himself, were unsuccessful; however, it is anticipated that they will move forward now that the team's summer has started. But there will be a lot of interest in Jackson's talents right away if he decides to explore the world of free agency. In three of his four seasons as a full-time starter for the Ravens, Jackson has led them to the playoffs, and he was just named the NFL's MVP.
What are the teams in pole position to obtain Lamar Jackson?
As the offseason begins, all eyes are on the Las Vegas Raiders. With Derek Carr's potential trade looming over them, they must find a capable replacement if he does depart. Also of note is that if Tom Brady leaves Tampa Bay for 2023 free agency as rumored, then Las Vegas may be his ideal destination – leading to an interesting juxtaposition between these two teams and their respective goals in this upcoming season!
A fascinating inclusion to this list of longshots is the New England Patriots. Mac Jones, their starting quarterback, experienced a reversal in his performance during year 2; however, with a fresh offensive coordinator at the helm, he may find success again. Last season saw Jones play an integral part in the Patriot's 10-7 record and playoff participation, as he had a phenomenal rookie campaign despite facing difficulties earlier on.
With Jackson's superior talent, the New York Jets could have seen a huge shift in their 10–12 record in 2022. The team already has an incredible defense, a few skilled receivers, and strong running backs. It is certain that with the addition of a top-notch quarterback, they would be able to contend at AFC levels and bring immense delight to New Yorkers who can place wagers on them or just enjoy their success.
Wagers can be placed on the reliable sites that have been created solely for that purpose, where New York Sports Betting Promos can be utilized. The Jets will not be guided to the promised land by Mike White, Zach Wilson, or Joe Flacco, who do not have the top quality of an option like Lamar Jackson.
With this in mind, it is perhaps no wonder why the Jets have been considered one of the favorites for the QB. And with the sports betting market open to New Yorkers, it would not be a surprise if many were considering it as a possible wager. Until a resolution is reached, Jackson's future in Baltimore is probably going to rank among the most important summer storylines.
What are the chances of the New York Jets getting Lamar Jackson in a trade?
Jackson is the long-term quarterback for the present and the future, according to the Ravens. Although they have publicly stated the appropriate things and released the appropriate reports, the behaviors of both parties involved reveal a different picture. In the next few days/weeks, Jackson and the Ravens will meet again to talk about a new contract, one in which Jackson intends to get guarantees comparable to those given to Deshaun Watson. However, the Ravens have been reluctant to make such a concession. The problem can be found there. The Ravens' supporters probably don't feel too confident about the future of their great quarterback when these two factors are combined with some odd interactions between the two teams.
For their part, the Jets are surely keeping an eye on the situation and appear prepared to take action if the Ravens decide to make Jackson available. Joe Douglas, the general manager, is conscious of the threat to his position. He is aware that the current leadership, including himself, may be fired if the Jets do not make the playoffs in 2023, thus putting his back to the wall. Douglas will therefore make every effort to present a compelling offer if a quarterback of Jackson's caliber becomes available. Even when the warning signs are taken into account, it is obvious.
New York Jets are the betting favorites to trade for Lamar Jackson
The New York Jets, who consist of a lot of young and talented players but experience many uncertainties at quarterback following the problems of former No. 1 overall pick Zach Wilson, have the next-lowest odds of keeping Jackson despite having a young core of promising players. According to reports, the Jets want to replace Wilson, at least in part, by adding a seasoned quarterback. A celebrity like Michael Jackson might be added to their talented lineup if they decide to go all in. With the AFC East being so fiercely competitive, such a move may provide the Jets with a huge boost.
Given their draft capital and financial future, the Jets represent a significantly more realistic alternative, and the organization has apparently been keeping an eye on a potential Jackson deal should there be a significant backlash. The Jets should unquestionably be all-in on Jackson this offseason, according to reports, but that statement must be qualified by the crucial qualifier: if Jackson becomes available.
Videos
Aaron Rodgers Injury Fallout & Jets/Bills Recap