The Jets Have A Zach Wilson Question To Answer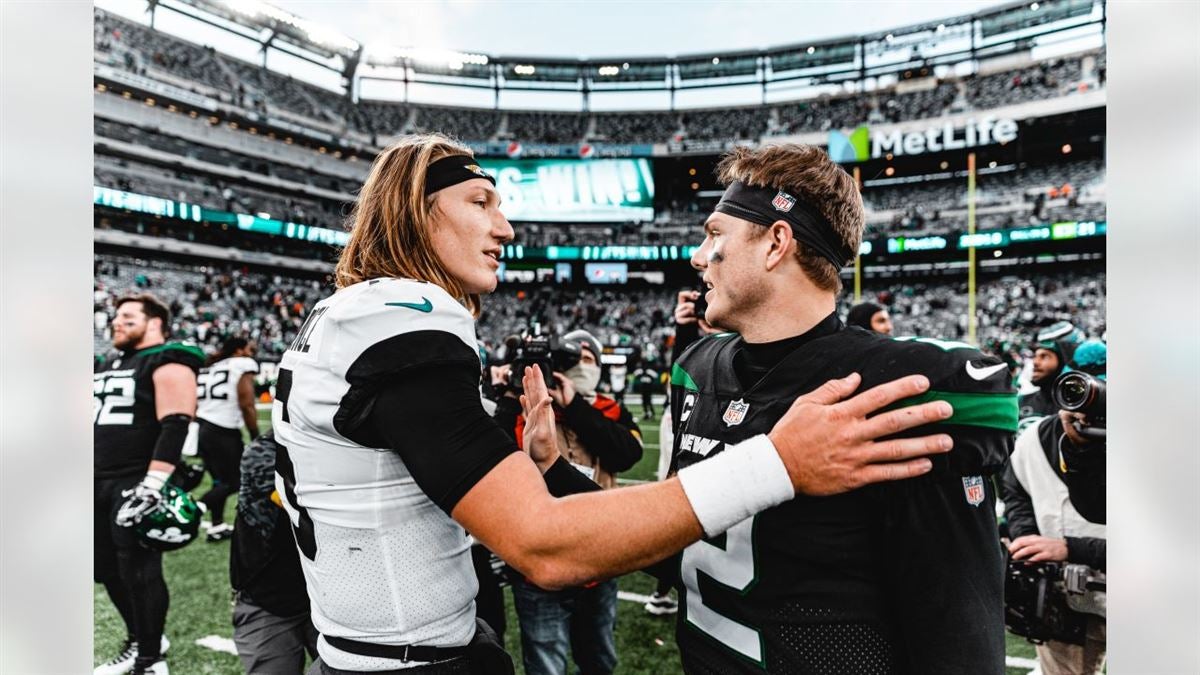 The 2023 installment of the National Football League offseason for the New York Jets is going to be dominated by talk and speculation surrounding what the team will do when it comes to the quarterback position. They are not the only ones making such decisions. The Jets are faced with the reality of needing a new QB; that Zach Wilson question is an easy one to answer. It is time to bring in a veteran quarterback so that this team can contend.
There are several quarterbacks potentially available to the Gang Green – Aaron Rodgers, Derek Carr, Jimmy Garoppolo, Baker Mayfield, and how about Sam Darnold to name a few. If they were to play their cards right, and if you look around the rumors and speculation in the press, you will see both positives and negatives for each possible suggestion.
The Draft Considerations
There is also the Draft to consider here, which does ultimately give The Jets additional options and lines of thought to work through, but whatever way they pivot, the toughest question, or decision, is what to do with 2021 second-overall pick Zach Wilson. Does anyone really have the appetite to see the team try and sell another young QB. That leaves Wilson as a backup and the 23 year old may well have a bright future ahead of him but he has so much to prove, so he can't be counted on until he proves otherwise.
Opinions And Assumptions
Those opinions and assumptions were aired as The Jets ultimately lost out on earning the number one pick in the shape of Clemson phenomenon Trevor Lawrence. Wilson was ultimately the consolation, but the BYU product was not yet considered ready to make a mark, even though his physical upside at the point was a massive future bonus, and you would get good odds on him making that future improvement from the likes of Betting NJ.
"He has the arm talent to consistently make throws at all three levels from controlled settings and while off-platform. He is a good athlete who shows the ability to create and ad-lib plays when initial reads are covered, which is coveted from the QB position in today's NFL. Wilson is a legit franchise QB prospect who will add excitement and explosive plays to whatever offense he joins, but might take some time to adjust to what he can —and can't— get away with at the NFL level," Bleacher Report Scouting Department's Nate Tice said at the time.
Wilson has shown flashes of potential future greatness, but he still has to learn consistency and better decision-making on the field. It is in many ways to his own development benefit that the Jets remove him from the spotlight, bring in someone who can make a more immediate impact for 2023, and give Wilson some time to prove he deserves another shot.
Strange Idea Or Not?
It is why many feel that the mention of Aaron Rodgers is not out of the ballpark and why such a strange idea, which could only ever be a stopgap given Rodgers is 39 years old, does actually make sense on a number of levels for the franchise if they genuinely want to build again for the future.
Countering that though, many feel their current crop simply lack a more dominant QB right now, so it is not necessarily about building for the future – it is about seizing the day.
Whatever direction the Jets go in, things will start to become clear sooner rather than later. Carr has to be moved right after the season, so if the Jets think he is their guy, that trade will happen soon. If not Carr, the Aaron Rodgers sweepstakes will take longer to unfold. Many Jets fans are hoping for Carr or Rodgers, the next tier after that is less of a sure thing; Sam Darnold, Baker Mayfield, anyone?
The Zach Wilson question has pretty much been answered. So the real question is, who is going to be the Jets' next QB?
Videos
Aaron Rodgers Injury Fallout & Jets/Bills Recap