Jaxon Smith-Njigba Should be Jets top Target in Round 1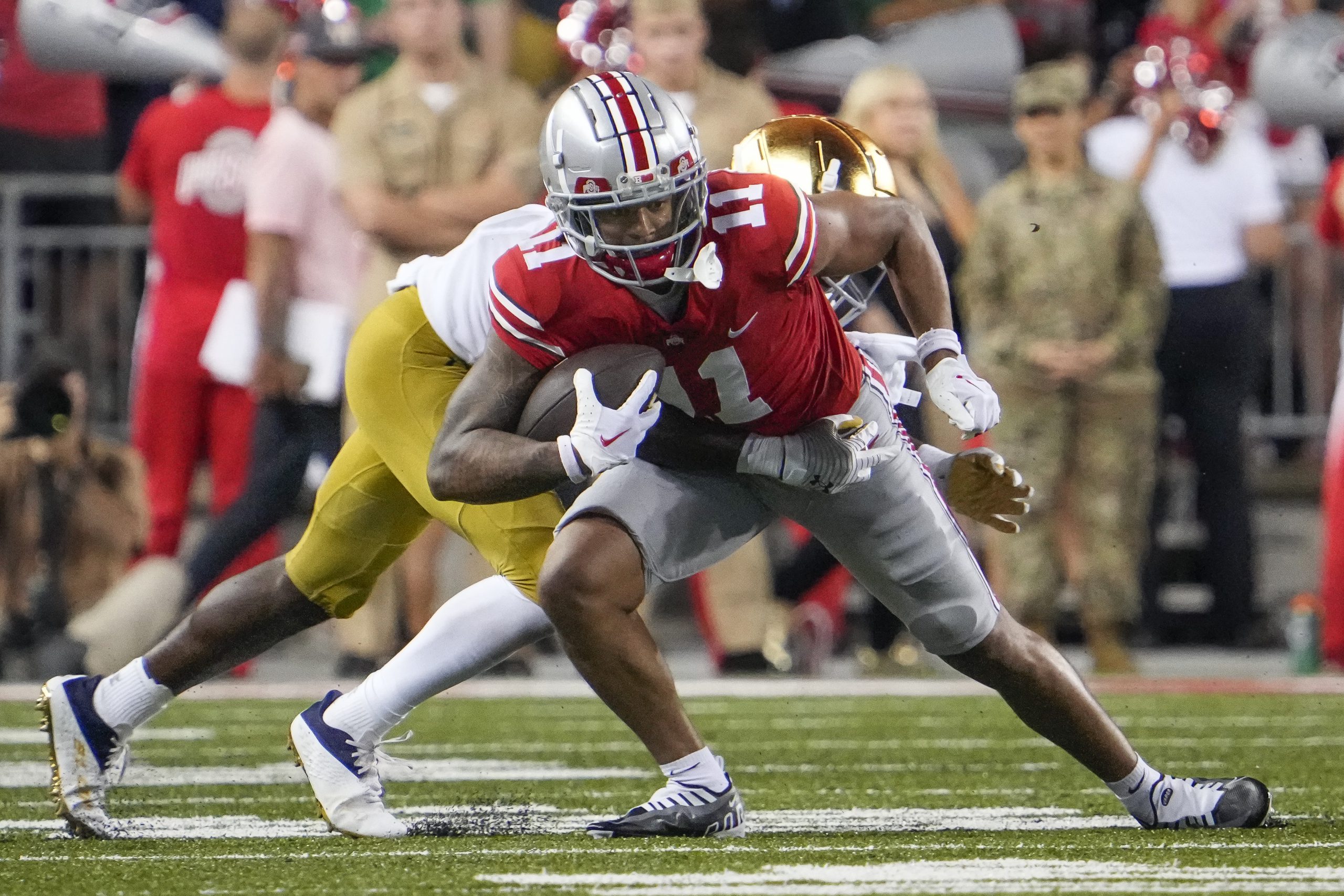 While offensive tackle has been the hot prediction for the direction the Jets will take in round 1 of the upcoming NFL draft, the pick really should be Ohio State wide receiver Jaxon Smith-Njigba.  Why, you ask?  Why should the Jets ignore their massive needs on the offensive line in favor of another wide receiver while they already have Garrett Wilson, Allen Lazard and Corey Davis on the roster?  It's a fair question, and here's your answer.
In case you hadn't heard, the Jets are in hot pursuit of Green Bay Packers quarterback Aaron Rodgers.  A deal that is reportedly being held up at the moment by owner Woody Johnson, and rightfully so.  Johnson was reportedly spooked when Rodgers announced publicly that he viewed himself as being 90% retired just a few weeks back.  This, according to Charles Robinson of Yahoo! Sports.
As a result, the Jets were looking for "protection" against an early Rodgers retirement which would require the Packers to give the Jets a future pick if the quarterback were to walk away after one season.
With all of this in mind, it's clear that the proper approach for the Jets to take is that they are adding a future Hall of Fame quarterback, but it's quite likely it's a one and done situation for Rogers.  Might it end up being two years?  Possibly.  What about three?  Extremely unlikely.  So all they know for sure is that it's one year.  With that being the case, the team's priority has to building an offense that will allow Rodgers to excel, and hopefully, for whoever takes over after him to do the same.
For those who have watched Rodgers over the years, one thing that is abundantly clear is the speed at which he gets the ball out of his hand when he's playing well and his receivers are getting open is among the very best in the NFL.
If Rodgers were to work with Wilson and Smith-Njigba, he would have two receivers whose ability to create immediate separation is among the best in the NFL.  We saw it from Wilson when he won offensive rookie of the year in topping 1,100 yards with the who's who of "why is this guy on a roster" in NFL quarterbacks.
Meanwhile, Njigba showed time and again college and again at the NFL combine that no other receiver in this class can move laterally as quickly as he can.  His measurables in Indy were in a class of their own as he topped all receivers in agility drills.  Both his 3-cone and short shuttle were tops in the class at 6.57 and 3.93 respectively.
And NFL fans are funny sometimes.  If and when you suggest a team go in a particular direction in round 1, it's met with the suggestion that the team being discussed will have no other picks beyond the first round, meaning all other positions have been neglected.  Not the case.
Great job up front by the @BYUfootball OL to pave the way for a Christopher Brooks TD run to the right side but take a look at LT Blake Freeland (71) who helps flatten a DT and a LB one right after the other. pic.twitter.com/BK6NtSDBLv

— Glenn Naughton (@JetsPicks) January 23, 2023
Should the Jets take Njigba at 13, they could then come back and add a player such as BYU's Blake Freeman or Matthew Bergeron of Syracuse.  Both viewed as round 2 players who can start out of the gate.  And this of course would be in addition to having Duane Brown, Mekhi Becton and Max Mitchell on the roster.
With Rodgers' initial reads and lightning quick release, the Jets wouldn't need Orlando Pace or Anthony Munoz up front to score points.  They would need adequate tackle play (which should be easily attainable) and a pair of receivers that keep defenses up at night.  They've got one, so now go get the other.
Videos
NY Jets Phase 3 OTAs, Expectations and a Minor Calf Tweak with Greg Renoff