Armed With Just one Day 2 Pick, Jets Should Look to Move Down or Target one of These Players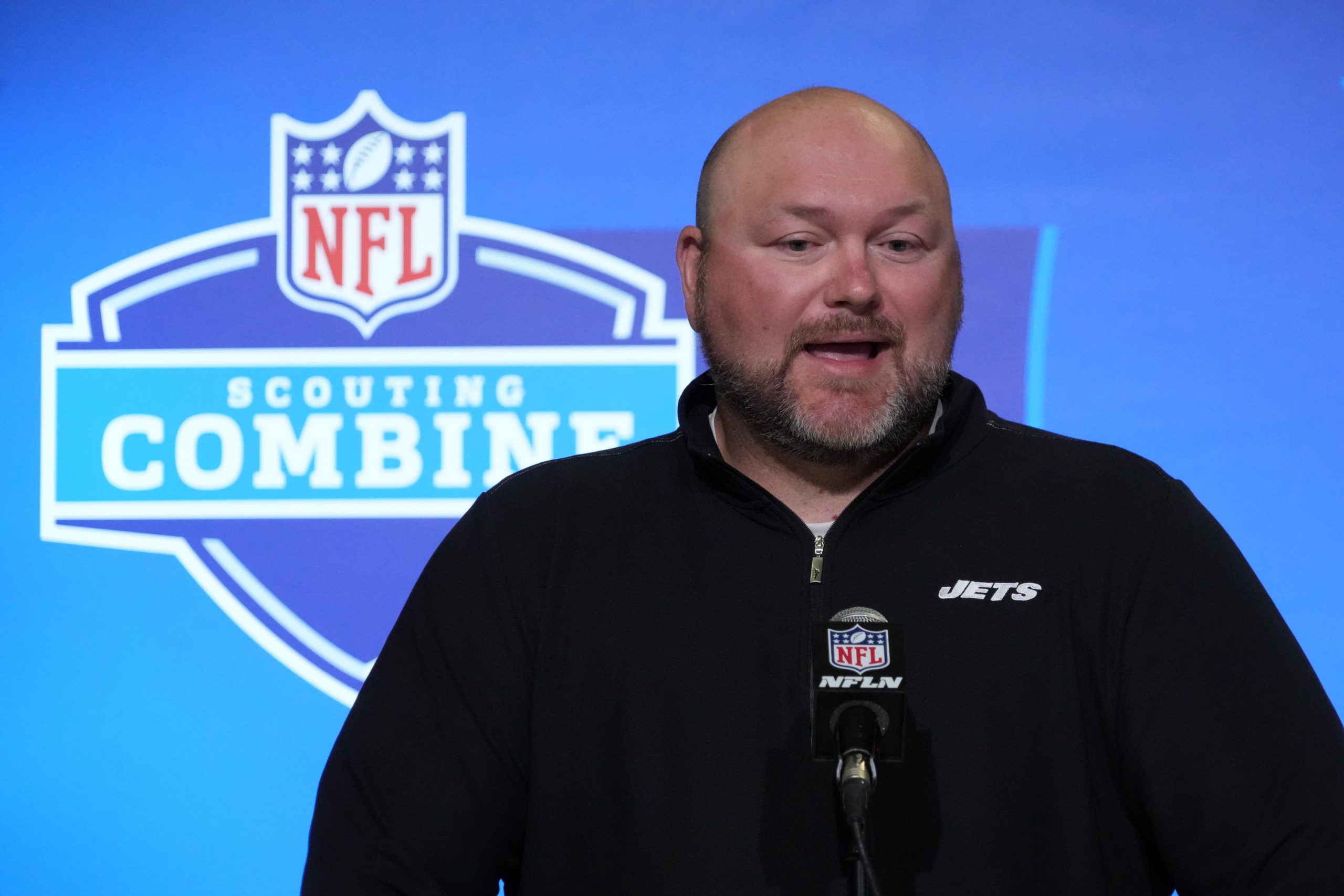 Round two of the NFL draft is under way and the New York Jets will eventually be on the clock with pick number 43.  Their top choice should be to trade down and add picks, but if they stay put, here are some targets they should be considering.
BYU OT Blake Freeland: The BYU offensive tackle showed just how explosive he was with a monster performance at the NFL combine and has the film to match.
Great job up front by the @BYUfootball OL to pave the way for a Christopher Brooks TD run to the right side but take a look at LT Blake Freeland (71) who helps flatten a DT and a LB one right after the other. pic.twitter.com/BK6NtSDBLv

— Glenn Naughton (@JetsPicks) January 23, 2023
Syracuse OT Matthew Bergeron: The Syracuse product shows great feet and can play either left or right tackle.  If the Jets take a tackle today, it should be one with the ability to flip from side to side given the questionable health of their current tackles.  Some feel Bergeron is better suited to play guard but tackle isn't out of the question.
North Carolina WR Josh Downs: Downs is only going this late because he's not a few inches taller, but as an option of of the slot who has great hands, speed and elusiveness, he'd be a welcome addition.
Nice job here from @UNCFootball WR Josh Downs maintaining concentration in double coverage lining up on the boundary. Viewed as a slot only by some but has shown the ability to make plays outside as well. Likely gone in late round 1/early round 2. pic.twitter.com/7z5VG2VX9V

— Glenn Naughton (@JetsPicks) April 9, 2023
ILB Daiyan Henley: A long shot to go in this spot but one we felt the need to mention.  The converted wide receiver has a skill set that fits what teams look for in today's 'backers.  Despite not having a round 3 pick, the Jets hosted Henley on a visit who will certainly not be there in round 4.
@WSUCougarFB LB Daiyan Henley gets a well deserved invite to the Senior Bowl. If you're not familiar with him yet, you will be after seeing him in Mobile. pic.twitter.com/JggyZcPvee

— Glenn Naughton (@JetsPicks) November 23, 2022
Minnesota C John Michael Schmitz: Michael-Schmitz is regarded by many to be the top center in this class a day 1 starter.  The Jets brought Connor McGovern back, but a move for JMS should not be ruled out.
Wisconsin C Joe Tippman: For those who don't have Michael-Schmitz listed as their top center in the class, they likely have Tippman in that slot.  A player who flattens opposing linemen and linebackers on tosses and swings, he'd be a nice fit with the Jets.
Wisconsin DL Keeanu Benton: Benton's selection may not go down well with those fans looking for more fire power on offense, but teaming him with Quinnen Williams in the middle would be lethal.
Georgia TE Darnell Washington: Washington is a player who teams may look back at years from now and wonder how he fell this far.  Washington's height (6′ 7") makes him an immediate red zone threat and his blocking is legitimately on par with some offensive linemen you'll see.  He's a guy who will give offenses fits.
Alabama OT Tyler Steen: Steen is one of the few tackles the Jets in their building on a visit and could garner some consideration if Freeland or Bergeron don't get the nod.
The @nyjets and @Browns set to meet with Alabama OT Tyler Steen (54) per @rapsheet. Many view him as a round 3 pick where the Jets currently don't have a selection. Moves very well at 320lbs. Better in pass pro than run game at this point but physical tools are impressive. pic.twitter.com/nficQhtXUe

— Glenn Naughton (@JetsPicks) April 12, 2023
OL Cody Mauch: We're listing Mauch as a lineman and not a tackle because the general consensus appears to be that he'll be able to line up at any spot on the O-line.  Mauch worked at center during senior bowl week.
Northwester DL Adtomiwa Adebawore: Adeboware is one of the most physically gifted players in this class and could be highly effective next to Quinnen Williams.  We profiled the big lineman right here just a few weeks ago.
Adetomiwa Adebawore of @NUFBFamily showed off the charts power vs Ohio State this season and good explosion off the edge here against Miami (OH). Once a sleeper but now looks like a round 1 lock. pic.twitter.com/3HByVxtq4S

— Glenn Naughton (@JetsPicks) March 31, 2023
UCLA RB Zach Charbonet: There are several names you could put in this spot if the Jets chose to add another running back and to pair with Breece Hall.  Charbonet is a powerful runner who has the feet of a much smaller back in evading tacklers and also shows excellent hands.
Was one of my favorite backs last season when I expected him to come out so it was nice to see Zach Charbonet have himself a good showing in Indy. The @UCLAFootball product is going to be a hell of a pro. Such impressive power and balance. pic.twitter.com/cg9bKZIwss

— Glenn Naughton (@JetsPicks) March 6, 2023
Videos
NY Jets Phase 3 OTAs, Expectations and a Minor Calf Tweak with Greg Renoff