With 3 Picks Remaining in the NFL Draft, Here are Twenty Players to be Familiar With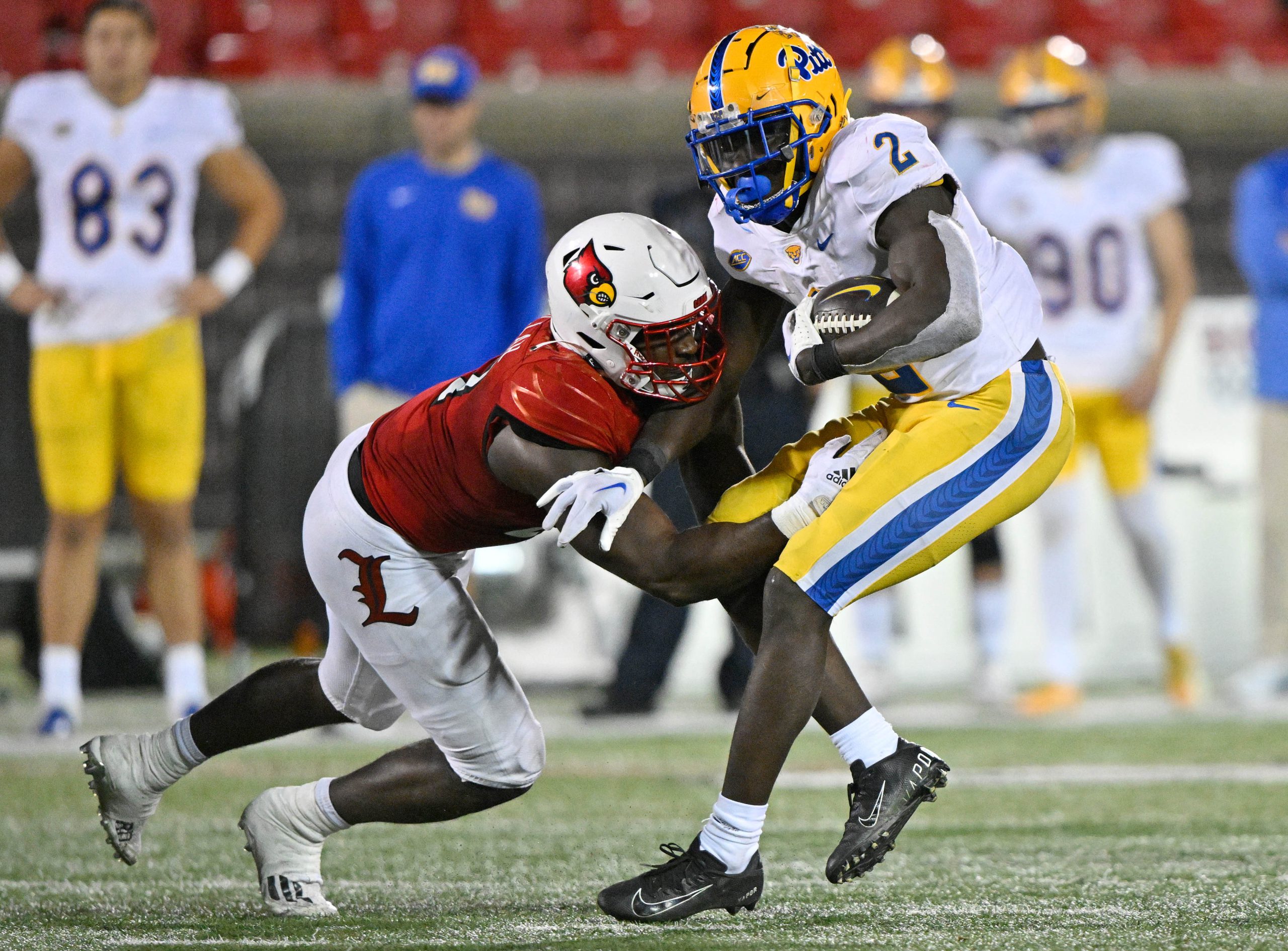 The NFL Draft is entering its final day with Joe Douglas and the Jets having some decisions to make with just three picks remaining.  The team could of course opt to trade down and add picks, but should they sand pat with picks 112, 143 and 170, here are some potential targets.
Pittsburgh RB Israel Abanikanda: The Jets were rumored to be eyeing Alabama running back Jahmyr Gibbs as a game breaking back.  Abanikanda is no Gibbs, but he's probably the best home run threat left on the board at the running back position.
Want an explosive back who can do it all? Run, catch out of the backfield and block? You'll love @Pitt_FB running back Israel Abanikanda. pic.twitter.com/eqQrSQoG94

— Glenn Naughton (@AceFan23) September 22, 2022
Northwestern DL Adetomiwa Adebawore: If the Jets look to beef up their defensive interior to give Quinnen Williams a running mate, you won't do better than Adebawore.  Through the early part of draft season, the uber athletic Adebawore was hearing some first round buzz and could be a steal here.
Cincinnati LB Ivan Pace: Some seem to have concerns over Pace's size but the guy is just a fantastic football player.  He always finds his way in to opposing backfield and is a sure tackler when he gets there.
All @GoBearcatsFB linebacker Ivan Pace does is make plays. The Miami of Ohio transfer has 96 tackles (18 for loss) and 8 sacks this season. Should go no later than day 2 come draft time. pic.twitter.com/IcudxCREdI

— Glenn Naughton (@JetsPicks) November 6, 2022
BYU OT Blake Freeland: Given their need at the position, Freeland's versatility and Joe Douglas' penchant for taking athletic freaks, Freeland could be a target on day 3.
LSU WR Kayshon Boutte: This is an unlikely choice but one that should be mentioned from a value perspective.  Boutte was generating tons of first-round buzz before the start of the season.  However, an apparent falling out with the coaching staff at LSU and rumors of character concerns have led the very talented receiver to fall to day 3.
Texas RB Roschon Johnson: Johnson isn't the first running back on this list and he won't be the last.  Bijan Robinson got al the attention for the Longhorns but Johnson blends a nice combo of power and speed at the position.
Illinois RB Chase Brown: Brown may not be a high end speed guy, but his vision, decisiveness and hard-nosed play style made him one of the top backs in the country.  Brown consistently turned in big performances against top defenses in the college ranks and could do the same as a pro.
Miami TE Will Mallory: If the Jets are looking to give Aaron Rodgers some targets that can stretch the field, Mallory is your guy at tight end.  He posted the best 40 of all tight ends in Indy and looks every bit as fast on game day.
Much like Jeremy Ruckert last season, @CanesFootball TE Will Mallory is a tight end who probably would have put up monster numbers had he played elsewhere. Produced a career best 538 yards in 2022. Should be a standout in Indy which could boost is stock. pic.twitter.com/CbIzBrBLue

— Glenn Naughton (@JetsPicks) December 1, 2022
Iowa State WR Xavier Hutchinson: Having already taken two Iowa State products over the past two drafts in Breece Hall and Will McDonald, could the Jets go to the well again?  Hutchinson is a versatile pass catcher who put up over 1,100 yards this season for the Cyclones.
Pitt LB SirVocea Dennis: Aside from boasting what is easily the coolest name of any player in this class, Dennis is a well-rounded linebacker who can be called upon to do it all.  He's an excellent blitzer, a sound tackler and solid in coverage.
Clemson OL Jordan McFadden: McFadden is the type of player you look at and wonder how early he would have gone if not for his height.  The 6′ 2" Clemson product was asked to play tackle in college but will kick inside to guard as a pro.  If you can get him late, you're likely getting yourself a great value pick as McFadden is good enough to play guard at a high level in the pros.
Looking for an OT outside of round 1? How about @ClemsonFB LT Jordan McFadden. Impressive player on game day routinely taking defenders out of the play and had a solid showing in Indy. pic.twitter.com/Q0lZlZtYki

— Glenn Naughton (@JetsPicks) March 13, 2023
Oklahoma RB Eric Gray: Gray is about as smooth as any back in this class when catching the ball out of the backfield and uses a variety of impressive moves to pick up yards after the catch.  As much as Jets quarterback Aaron Rodgers likes throwing to his backs, a player like Gray would be an ideal fit.
Was pretty sure @OU_Football RB Eric Gray was going to get tripped up or pulled down three different times in about 1.2 seconds. Avoided all 3 with quick feet before accelerating for big gain. Having Anton Harrison and Marvin Mims make key blocks didn't hurt either. pic.twitter.com/ql2RJaicml

— Glenn Naughton (@JetsPicks) January 24, 2023
Purdue CB Cory Trice: A long corner who checks in at 6′ 2", Trice could offer more depth at the corner position where the Jets are lacking.
USC OG Andrew Vorhees: Vorhees won't play this season after suffering a torn ACL, but he was a first-round player before the injury.  If the Jets feel they can afford to red-shirt one of their picks, the value offered by Vorhees might be too tempting to resist.
East Carolina RB Keaton Mitchell: Along with Abanikanda, Mitchell is another back whose blazing speed would make him a threat to score every time he touches the ball.
The @nyjets were one of several teams to have @ECUPiratesFB RB Keaton Mitchell on their top 30 visits list. Mitchell's explosiveness makes him a threat to make a play every time he touches the ball. Averaged 7.2 YPC in 2022 and 6.5 for his college career. pic.twitter.com/7SvfRR6FXA

— Glenn Naughton (@JetsPicks) April 10, 2023
Liberty WR Demario Douglas: With Garrett Wilson and Alan Lazard slated to play on the outside at wide receiver, the Jets could take a look at a true slot option in Liberty's Demario Douglas.  His sharp route running and very good hands make him a possibility.
West Virginia DT Dante Stills: Stills' combination of strength and relentlessness make him a fun player to watch on the interior for West Virginia.  Thought he'd have a chance to go much earlier than this.  A day 3 pick who would offer the Jets another quality option for their defensive line rotation.
Love the power and intensity @WVUfootball DL Dante Stills brings. Could see him being an early round selection. pic.twitter.com/5IiEXIujOM

— Glenn Naughton (@AceFan23) July 14, 2022
Fresno State WR Jalen Moreno-Cropper: Another pass catching option who makes plays after the catch and is quick in and out of his breaks, allowing him to create separation at the top of his routes.
Tennessee LB Jeremy Banks: Banks is another well-rounded 'backer who does a great job of diagnosing and reacting to what's in front of him.  A physical player who offers a little something in pass coverage as well.
UCLA OL Jon Gaines: Gaines is another rare prospect in that he played every spot on the O-line for UCLA and while he'll need to get stronger, could be a starter to be had on day 3.
Videos
New York Jets OTA Presser Takeaways, Aaron Rodgers' Impact and Summer Delusion