Full Rundown on Jets UDFA Class; Who has a Shot to Stick?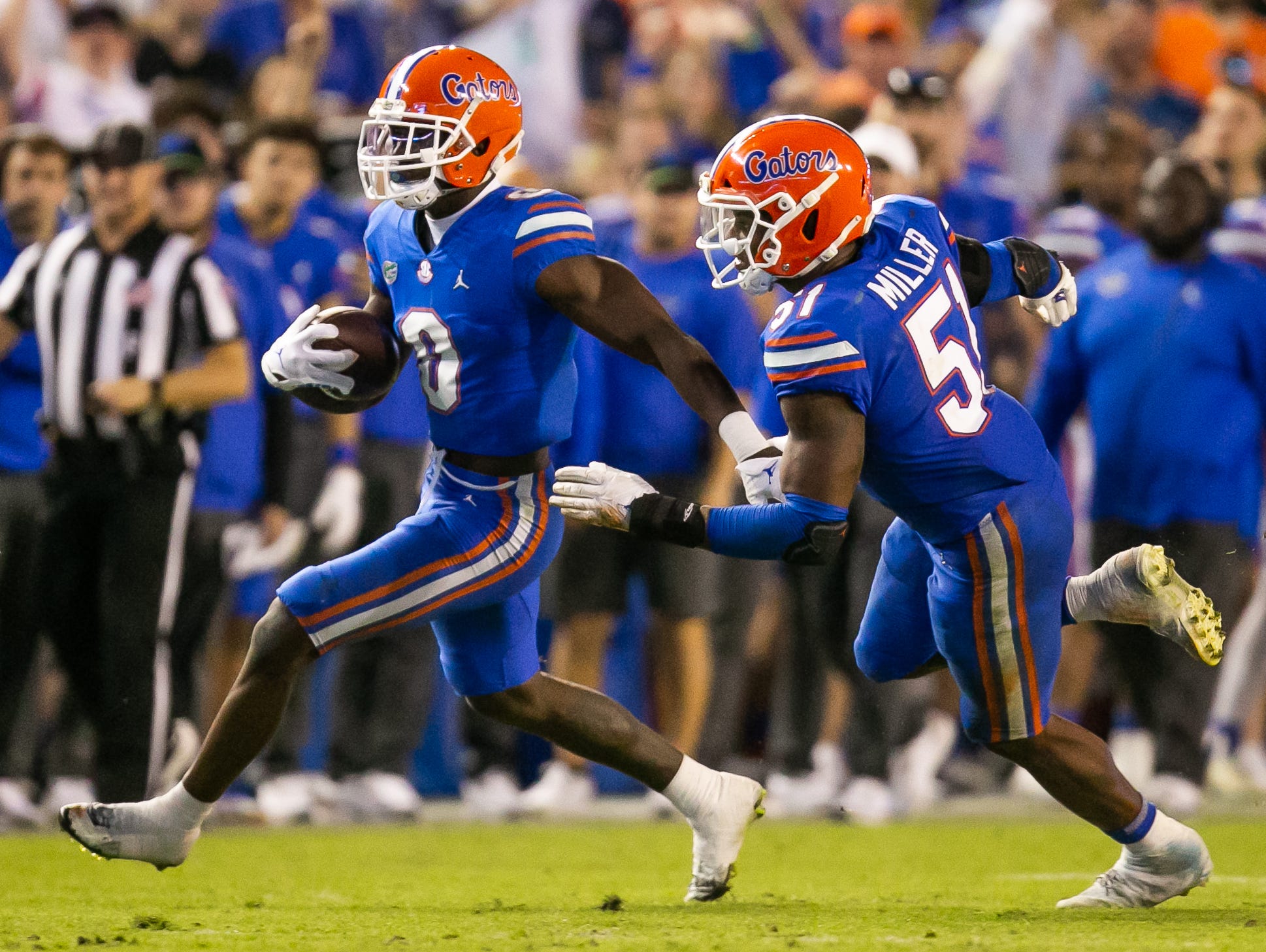 While NFL draft picks get all the attention following draft weekend,  undrafted free agents deserve some attention themselves as you can always expect somebody who didn't get picked in April to be on the roster in September.  Who have the Jets added over the past few days that could be among those who hang around for the long term?
DE Deslin Alexandre:  The former Pittsburgh Panther joins teammates Carter Warren and Israel Abanikanda at 1 Jets drive.  The 6′ 4" 274 defensive end was solid against both the run and pass in college.  He'll have a hard time making the Jets final roster with all of the work the team has done to beef up at edge, but don't be surprised if Alexandre finds a home on the practice squad.
Have been raving about the players @Pitt_FB has up front since last season. Calijah Kancey (8), Deslin Alexandre (5) and SirVocea Dennis (7) are all going to play on Sundays and could see more than one of them becoming impact players. Jail break run stuff here vs Tennessee. pic.twitter.com/loKHe7DIxc

— Glenn Naughton (@JetsPicks) January 27, 2023
WR Jason Brownlee: The 6′ 2" 198lb Brownlee shows the ability to make big plays down the field fights for the football.  He averaged 16.2 yards per catch at Southern Miss last season to go along with 8 touchdowns.
Watch a few @SouthernMissFB games and you're bound to see WR Jason Brownlee make at least one highlight reel grab. Big play receiver who posted 16 TD's over past two seasons while averaging 15.9 YPC over the course of his college career. pic.twitter.com/LjxZ11rNwj

— Glenn Naughton (@JetsPicks) January 19, 2023
S Trey Dean: Dean seemed to be getting more buzz leading up to the draft last year when it looked as if he might be part of the 2022 class than he did this year.  The 6′ 3" Dean is a big body in the secondary who picked up 12 passes defended and an interception over his final two seasons at Florida.  Given the Jets need at the position, Dean could find himself on the roster at some point this season.  For more on Dean, check out our interview with Scott Carter who covers the Gators right here.
ILB Caleb Johnson: Linebacker is a spot where the Jets went heavy in this UDFA class and Johnson was one of the first announced.  The UCLA transfer totalled 93 tackles (4 for loss) and 1.5 sacks over his final two collegiate seasons.
Jets loaded up at LB with their UDFA class including Miami (UCLA transfer) Caleb Johnson. The 6' 1'' 230 lb Johnson played almost exclusively in the box for the Hurricanes where he picked up 48 tackles and 1.5 sacks last season. pic.twitter.com/NgVIL1CZrx

— Glenn Naughton (@JNRadio_Glenn) May 2, 2023
LB Maalik Hall: A small school product out of Southeastern Oklahoma State, Hall dominated last season in picking up 77 tackles (11.5 for loss) and 8 sacks.  It should come as no surprise to Jets fans that Hall is yet another athletic freak if we take a look at his pro day numbers.  Hall reportedly ran a 4.42 40 to go along with an impressive 38.5" vertical.
LB Claudin Cherelus: Another linebacker, the 6′ 2" Cherelus out of Alcorn State plays with a great motor and shows good fundamentals as a tackler.  Chrelus ran a 4.45 40 at his pro day to go along with a 38" vertical.
@nyjets UDFA LBer Claudin Cherelus looked like an absolute monster in this game vs Prairie View. Logged 15 tackles (8 solo), 1.5 TFL's and 1 sack. The @AlcornStateFB product is one of many 'backers the Jets added from the UDFA pool. pic.twitter.com/uXYJChCOlr

— Glenn Naughton (@JNRadio_Glenn) May 1, 2023
RB Travis Dye: Dye put up monster numbers at Oregon in 2021 before transferring to USC where his season was cut short due to injurt.  He logged over 1,200 yards on the ground an sixteen rushing TD's with the Ducks before logging 884 yards last season.  Dye can also catch the ball out of the backfield and consistently pick up the blitz.
WR TJ Luther: A wideout and return  man, Luther is another small school product out of Garnder-Webb.  Multiple outlets reported that the Jets had to outbid several other clubs to get Luther signed.
WR Xavier Gipson: Gipson is a slot receiver out of Stephen F Austin whose combination of explosiveness and agility give him a chance to hang around for a while.  The speedy receiver is a threat to make a big play in the open field and tough to track down once he begins to separate.
The @nyjets added Xavier Gipson out of @SFA_Football who will work as a slot receiver. Gipson checks in at 5' 9'' and shows quick feet and acceleration that allows him to create after the catch. https://t.co/5QXeUbrWpY pic.twitter.com/sx5ghEN4B9

— Glenn Naughton (@JNRadio_Glenn) May 1, 2023
TE EJ Jenkins: Having drafted Zack Kuntz and added him to a TE room that already includes Tyler Conklin and CJ Uzoman, Jenkins is likely a practice squad candidate at best, but has sown good size and excellent hands at the position.  While Jets fans have been impressed by the workout numbers posted by Kuntz, Jenkins was no slouch himself.  The 6′ 6" pass catcher ran in the 4.5's at his pro day while turning in a broad jump of 10′ 2".
Saw some great hands from Georgia Tech WR/TE EJ Jenkins this season who is reportedly signing with the @nyjets. pic.twitter.com/0QYEdixU6j

— Glenn Naughton (@JNRadio_Glenn) April 30, 2023
OL Brent Laing: A small school product out of Duluth, there's not a lot of football to be found on Laing but the consensus appears to be that of an interior lineman who has a lot to prove.  After dominating at the lower collegiate levels, Laing will find out how well he holds up against NFL talent.
OL Loic Ngassam Nya: A Wake Forest product, the All-ACC honorable mention Ngassam Nya played both guard spots for the Deamon Deacons.  The 6′ 3" 307 pound French native has plenty of upside having only started playing football as junior in High School.
NC State gets the sack on the play but @nyjets UDFA OG Loic Ngassam Nya (59) stonewalls interior rush while Cory Durden breaks through on the other side. pic.twitter.com/d2jtLWe4Iw

— Glenn Naughton (@JetsPicks) May 5, 2023
DB Derrick Langford: A big physical DB, Langford is more physical that your average corner and could see some reps at safety at some point.  The 6′ 3" 200 pounder looks more like a 250 pound linebacker at time and could be a candidate for special teams.
Watched a ton of Washington State football this season and loved the physicality of DB Derrick Langford. Now a member of the @nyjetsets group of UDFAs.

Wouldn't be surprised if he gets some reps at safety given his cover skills and physical style. pic.twitter.com/6ojE5RxFbR

— Glenn Naughton (@JetsPicks) May 5, 2023
DB Marquis "Muddy" Waters: Two things Waters brings to the table are experience and versatility.  The do-it-all defender spent six seasons in the collegiate ranks between Duke (2017-2020) and Texas Tech (2021-2022).  In that time he saw significant time at outside linebacker, inside linebacker, slot corner, safety and boundary corner.  For a defensive minded head coach like Robert Saleh, you have to like Waters' chances.
Videos
NY Jets Phase 3 OTAs, Expectations and a Minor Calf Tweak with Greg Renoff