Mekhi Becton Skewers Jets; Comments Can't sit Well With Brass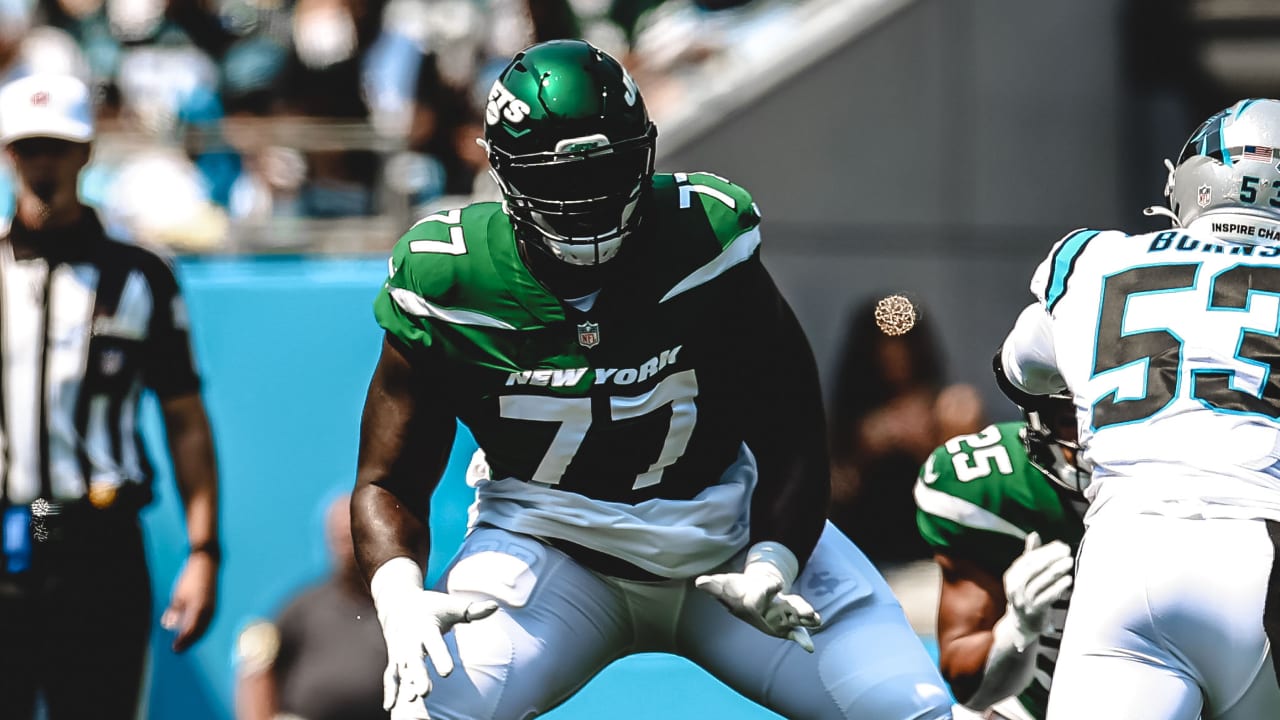 Many Jets fans have spent a large portion of the past two years telling their fellow fans and those around the NFL that if they were doubting Mekhi Becton, they would soon regret it.  The time was coming that Becton would be back to rag-dolling and pancaking defenders all over the field.  They continuously pointed out the no-brainer decision to keep the faith in the veteran tackle and reap the rewards later.
Some thoughts on Mekhi Becton from today's episode of @JetNation Radio.https://t.co/Oppa8lyYNx

— Glenn Naughton (@JNRadio_Glenn) January 6, 2023
But that Mekhi Becton was expected to spend this off-season and pre-season fighting for a starting job along the Jets offensive line.  However, in a wide-ranging interview with Newsday, Becton sounded more like a guy who was getting ready to fight his own team in court; both legal and that of public opinion.
An interview with Bob Glauber of Newsday and the article that followed was meant to document Becton's return following two years battling injuries and fight to get down to a healthy playing weight.  And while the work Becton has put in to shed over 50 pounds in going from 394 to 342 is impressive, it was an array of comments about the Jets coaching staff that garnered the most attention.
In fact, at one point Becton made comments that one might expect to hear from a player preparing to file a grievance against his club for negligence.  When discussing the season-ending injury he suffered in training camp last season, Becton said he told Jets coaches he was hurting, "but no one cared" claimed Becton.
It was later that Becton said he told the team he "wasn't feeling good" throughout camp but was told he "shouldn't be complaining" and was simply told to "go out there and do it".  After limping through much of practice one day, Becton said he "took a step and my knee buckled", which as we know by now, led to another season-ending surgery.  These statements by Becton are unlikely to be taken lightly by the Jets or the NFL player's union.
Perhaps giving Becton a chance to clear the air with coaches to get back on the right foot, Glauber asked the former first-round pick what his relationship was like with the coaching staff currently in place and Becton replied "They're ok.  I mean, it is what it is".  That's not a reply that paints the prettiest of pictures.
When he wasn't straining his relationship with the bosses at 1 Jets Drive, Becton also commented on his desire to play left tackle.  And while that on it's own would be understandable, it was the additional commentary from Becton that may not sit well with Robert Saleh and company.
.@BrandonTierney says the Jets need to cut Mekhi Becton if he continues to publicly vent about his role: pic.twitter.com/LCrFOsl1GN

— WFAN Sports Radio (@WFAN660) May 22, 2023
"I dominated as a left tackle my rookie year, and I was going to dominate my second year, and that unfortunate injury happened.  I'm a natural left tackle.  I'm not a right tackle.  I don't' care what people say.  I know I'm going to go out there and prove it.  People know what I can do.
Okay, so let's unpack this quote.  Becton isn't wrong about being dominant as a rookie.  We saw him tossing defenders left and right on a regular basis.  He was putting together a highlight reel that few other tackles, if any, could match.  And he may very well be a better left tackle than right tackle, but to say "I'm not a right tackle" is a poor job of putting himself before the team.
Even if Becton is better suited to play the left side, he's also the Jets best option on the right side as of this moment.  This of course due to the fact that left tackle Duane Brown is a proven and respected veteran who has never played on the right side.  Meanwhile, Becton played on both the left and right side in college and was working as the team's right tackle last season before being injured.
To say he's going to come in and win the job at left tackle suggests he's going to supplant Brown, which would likely mean a significant downgrade on the right side with either Billy Turner, Max Mitchell or Carter Warren.
Essentially, what may be best for Becton right now isn't what's best for the Jets.  For Becton to apparently fail to understand that is a bad look to say the least.  Becton or somebody in his inner circle has to realize this.
And perhaps most interesting was the way in which the interview wrapped up, it almost sounded as if Becton was foreshadowing his imminent departure.
Having already accused his coaches of causing his injury and giving a tepid response about his relationship with the staff, Becton addressed the team's decision not to exercise his fifth-year option, saying "I've been doubted my whole life.  It just makes me go harder.  Just keep doubting me.  Just that whenever I do what I know I'm going to do, don't try to come back to this side.  That's all I've got to say".
Becton has all the talent in the world.  He can be an all-time great.  But whatever he ends up being, will it be as a member of the New York Jets?  Time will tell.
Videos
NY Jets Phase 3 OTAs, Expectations and a Minor Calf Tweak with Greg Renoff