Aaron Rodgers has Praise for Pair of Undrafted Rookie Receivers as Jets Offseason Program Comes to Close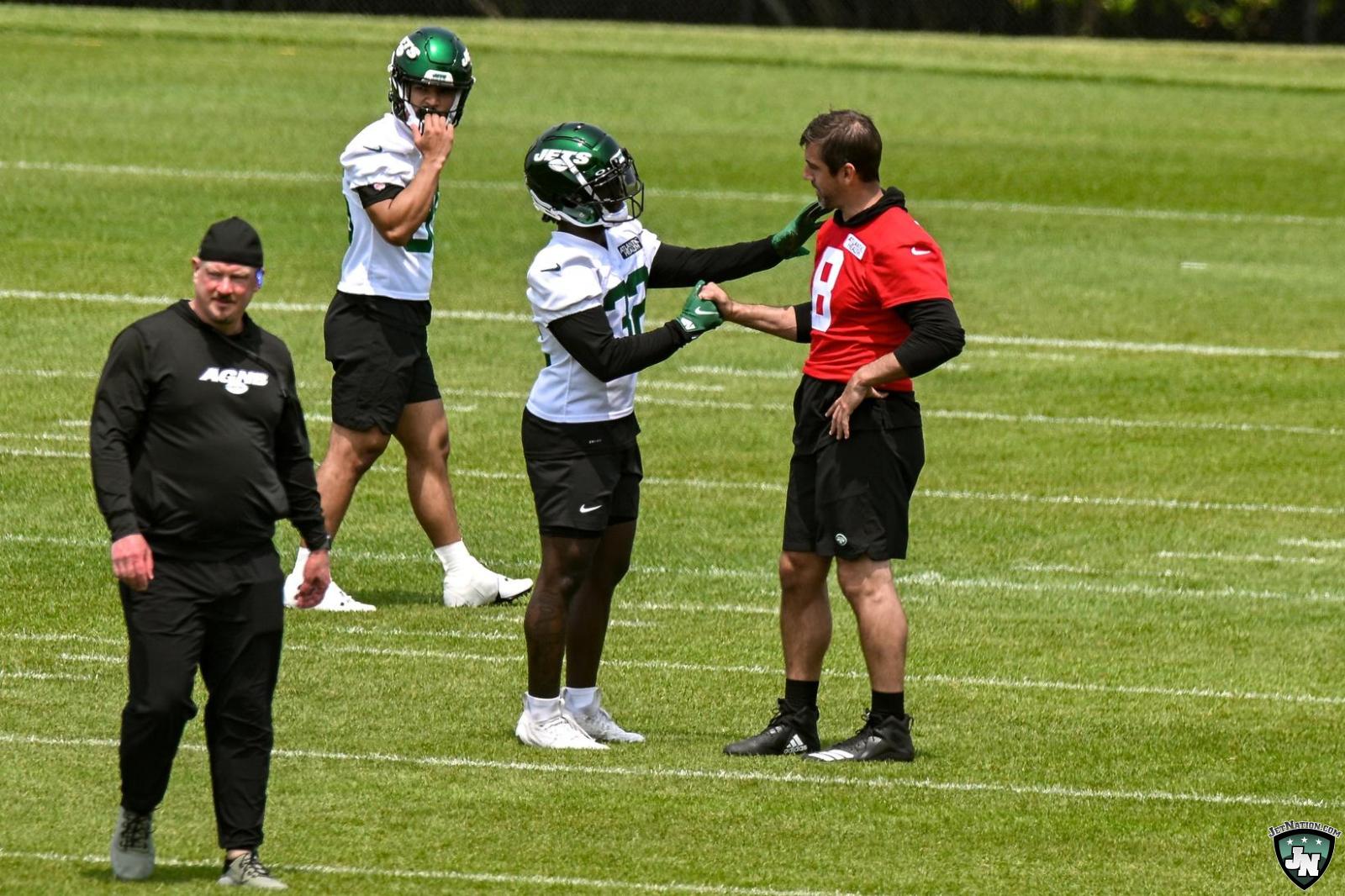 When undrafted free agent wide receivers Jason Brownlee and Xavier Gipson showed up at Jets training camp, one would have to imagine the pair were excited to share a huddle with future Hall of Fame quarterback Aaron Rodgers.  Now as the Jets offseason program comes to a close, the pair can move forward knowing it was Rodgers who came away impressed with them on the practice field in recent weeks.
Watch a few @SouthernMissFB games and you're bound to see WR Jason Brownlee make at least one highlight reel grab. Big play receiver who posted 16 TD's over past two seasons while averaging 15.9 YPC over the course of his college career. pic.twitter.com/LjxZ11rNwj

— Glenn Naughton (@JetsPicks) January 19, 2023
Meeting with the press at 1 Jets Drive, Rodgers was asked if any of the young players in camp got his attention to which he replied, "I would say that 16 and 82 (Brownlee and Gipson) had really nice camps as rookies" and as expected, Rodgers did temper expectations based on the fact that there are no pads or contact.  However, that doesn't man receivers can't show off their hands, route running or a variety of other skills.
Rodgers also mentioned another undrafted free agent from last year's class in wide receiver Irv Charles who boasts an impressive size/speed combo having been clocked in the 4.4's while checking in at 6′ 4" 228.
Making Rodgers' comments even more interesting about Brownlee and Gipson is their respective skill sets.  Brownlee is a bigger/longer target with 33 3/4" arms on his 6′ 2" frame.  During his time at Southern Miss, Brownlee showed he can be a physical receiver at the line of scrimmage to gain separation while consistently elevating over defenders to win contested catches.  And while he may not have the top end speed some covet, Brownlee did show the ability to run away from defenders to make big plays after the catch.
Another gem from @SouthernMissFB WR Jason Brownlee. Not a circus catch this time but makes the grab over the middle, dodges two defenders and then leaves an entire secondary in his rear view mirror. pic.twitter.com/HGIMugedy3

— Glenn Naughton (@JetsPicks) February 14, 2023
Meanwhile, the 5′ 9" Gipson is more of a slot type of receiver who is explosive off the line and offers the ability to return punts.  During his final collegiate season, Gipson returned 12 punts for 300 yards with a pair of touchdowns with one going for 84 yards and another for 85.  With Randall Cobb expected to get the team's top slot receiver, Gipson may have to make it with his return ability or hope to hang around on the practice squad.  Brownlee on the other hand, will likely be batting Denzel Mims for a spot as a backup on the boundary where he has a very real chance to win a job.
Videos
Aaron Rodgers Injury Fallout & Jets/Bills Recap