A Lot of 'Wow' Potential in the Aaron Rodgers, Garrett Wilson Connection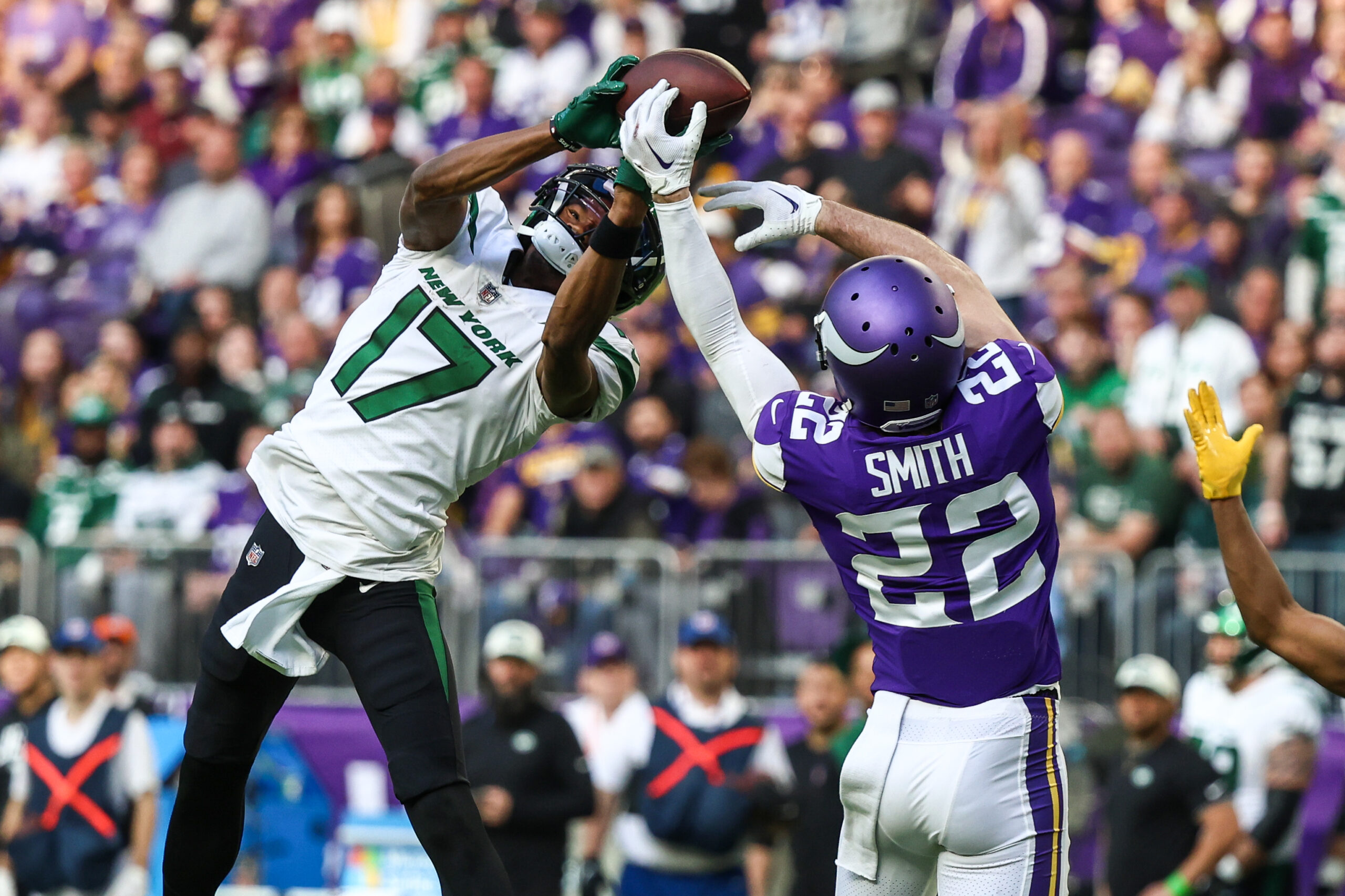 In the seven short weeks since being acquired via blockbuster trade from the Green Bay Packers, Aaron Rodgers has had a lot to say about his new team, as well as his new teammates. One player who has received more praise than the rest is wide receiver Garrett Wilson, and if we're being objective, it's certainly warranted.
Aaron Rodgers on Garrett Wilson:

"He's a talented guy, man. I threw him a pass today and just kind of turned and was like: Wow!"

Rodgers compared Wilson's ability to get in and out of breaks to Davante Adams. #Jets

— Zack Rosenblatt (@ZackBlatt) May 2, 2023
Wilson enters this season having already accomplished one of the highest honors possible in his first season in the Green & White: Offensive Rookie of the Year. Despite playing with some of the league's worst quarterback play in 2022, Wilson racked up 1,103 yards and 4 TDs en route to securing his spot as the top offensive rookie in the NFL. Now with a four time MVP in Rodgers under center, his development into an elite pass catcher is all but staring him in the face. Here is what Rodgers had to say about his new WR1 in New York:
"I love Garrett. I mean awesome, awesome young kid. The whole world in front of him. He's got all the talent and ability… I mean there's at least one time at practice he does something, you're kind of looking back at Todd and Hack and Rob, everybody's looking back going, 'Wow.' So, that's exciting. The thing I like and that I'm encouraging is more communication across the ball."
Garrett Wilson saw a 57.8% catchable target rate in 2022 that was bottom five among WRs with 100 or more targets per @FTNData.

He could threaten Davante Adams numbers with the Aaron Rodgers quarterback upgrade.pic.twitter.com/9d7Gcctszl

— Scott Spratt (@Scott_Spratt) June 13, 2023
If you watched any Jets game last year, you were bound to witness one of said 'wow' moments. Wilson was special from day 1.  His key 3rd and 9 scramble prayer from Joe Flacco where he made 3 Ravens defenders miss along the sideline (unfortunately coming up 1 yard short of a first down), all the way to his season-high 17 targets in the final week of the season vs Miami, where Flacco was actively throwing to Wilson on seemingly every dropback.
To think what Garrett Wilson could have accomplished if he had Aaron Rodgers in his rookie season.
Rodgers was not, however, the only person coming away with glowing first impressions of the former Ohio State Buckeyes receiver. Offensive coordinator Nathaniel Hackett was asked about Wilson, specifically what has surprised him so far in OTAs:
"He's got some amazing body control. I think his ability to get up on defenders and move them and then even when the ball might not be perfectly placed, be able to torque his body into different positions, it's something that's very special. He's talented that way."
Even WR coach Zach Azzanni, in his first year with the Jets after coming over from Denver with Hackett, gives his thoughts on just what makes Wilson so good:
"Garrett's spatial awareness is off the charts. Almost too good sometimes, where he can trick a quarterback once in a while because he's so good at it."
It's hard not to get excited hearing these comments from Rodgers and the coaches, the possibility of the Jets having a superstar playmaker in-house could create waves for this franchise. If the Rodgers-Wilson connection takes off similarly to the quarterback's prior relationship with a receiver wearing #17, Garrett Wilson will start hearing his name talked about as an all-time Jets great, alongside Don Maynard, Wesley Walker and Al Toon.
Rodgers did offer up some praise on several other players, including the starting cornerback trio and three UDFA wideouts, in the quotes below from his press conference:
"We got at some point possibly the best corner (Sauce Gardner) and the best receiver (Garrett Wilson) in the NFL. There's a legit possibility I think for those two guys."
"I love DJ Reed on the other side, he's another great guy and tough competitor. MC (Michael Carter II) in the slot. I remember last year when we played the Jets, felt like we wanted to get after MC, and then after the game, I think everybody was like, 'He's a pretty damn good player,' but also a good person."
"There's been some young guys that have been really impressive in the camp. You always got to temper expectations because there's no pads on, there's no contact. I would say 16 (Jason Brownlee) and 82 (Xavier Gipson) really had nice camps as rookies and there were a lot of other guys that flashed, the older guys. I thought Irv (Irvin Charles) had a really nice day today, which was nice to see because he works so hard."
Videos
Aaron Rodgers Injury Fallout & Jets/Bills Recap