With Offseason Lull Upon us, a Look Ahead to Some 2024 NFL Draft Offensive Prospects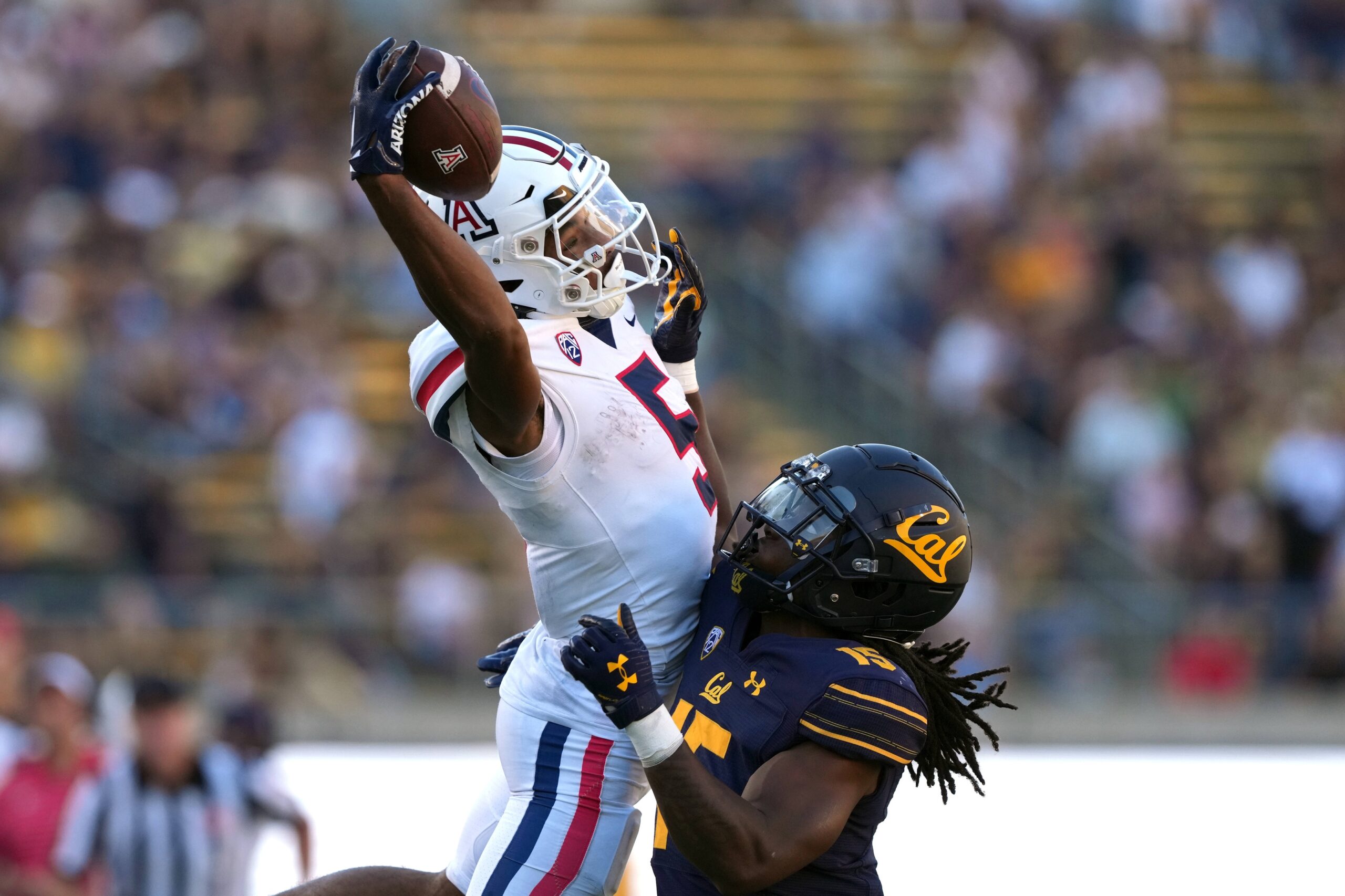 The NFL has done a fantastic job of keeping their sport in the news for 12 months out of the year, but there is a rare offseason lull upon us as the draft has wrapped up, free agency is no longer in the news and we're a little ways away from any meaningful team activities.
With that in mind, how about a look at some 2024 NFL draft prospects?  These aren't necessarily players we view as the elite prospects who may come out after this season, but a list of players who caught our eye during the 2022 campaign.  We'll leave out any players currently ranked outside of pro football  network's top 50 players as the Jets will likely be making their first pick no sooner than the early 50's.
Quarterbacks:
Cam Ward, Washington State: Ward shows excellent poise under pressure, has a rocket for an arm and can make big plays with is legs.  In his first season under center for Washington State last season, he completed 64.4% of his passes while throwing 23 touchdowns to nine interceptions.  Current pro football network rank: 52
Jordan Travis, Florida State University: Travis has some incredible pocket awareness and always seems to have a knack for finding his way out of trouble as things break down around him.  This season will be a chance for Travis to show he can improve on his deep accuracy and has a chance to move up quite a bit from his current PFN ranking of 79th overall.
Jalon Daniels, Kansas: Daniels is listed at 6′ 215 but as we're seeing on a more frequent basis, if you can throw it, teams will draft you.  And Daniels can certainly do that.  And while the Jayhawks' 6-7 record may not be all that impressive, it's worth noting that they hadn't won more than five games since 2008 and Daniels was a big reason for that jump in wins.  Current PFN rank: 124
Looking forward to seeing what @KU_Football QB Jalon Daniels does in 2023. Made some absolutely eye popping throws in 2022 and has the mobility that teams covet. pic.twitter.com/gyqM8UoARj

— Glenn Naughton (@JetsPicks) May 20, 2023
Running Back:
Trey Benson, Florida State: Benson isn't the first Seminole on the list and he won't be the last.  While the Jets are unlikely to use another pick on a running back this season, Benson is an electric player whose ability to break big runs will make him a coveted ball carrier.  Current PFN rank: 91st.
@FSUFootball running backs are going to be a lot of fun to watch in 2023. These dudes can move. Trey Benson showing off the wheels against Louisville. https://t.co/RcuXoZo1Y9 pic.twitter.com/y3XiNBLltt

— Glenn Naughton (@JetsPicks) February 20, 2023
Bucky Iriving, Oregon: Irving runs with more power than you might expect from a 194 pound back but he won't hesitate to run up the middle and lower his shoulder.  Irving topped 1,000 yards last season with the Ducks after rushing for 699 the previous year with Minnesota.  Irving also shows good hands out of the backfield, hauling in 31 passes for 3 touchdowns.
Wide Receiver:
Ja'Corey Brooks, Alabama: Brooks may not be garnering the same type of fanfare that other Alabama receivers have in recent years, but he's got enough speed and athleticism to take the top off a defense.  Current PFN rank: 70
Dorian Singer, USC: The Arizona transfer entered the portal and moved on to USC where he should be on everyone's "players to watch" list.  In that offense with arguably the top quarterback in college football under center, Singer's combination of incredible hands and fearless approach could mean big things.  Current PFN rank: 99
@uscfb fans have to be pumped to see what Arizona transfer Dorian Singer will bring to their offense. Even when he's covered, the WR is still open. Incredible hands, not afraid to take a hit over the middle and shows a little big of shiftiness after the catch pic.twitter.com/d4MRfzaWhr

— Glenn Naughton (@JetsPicks) May 17, 2023
Johhny Wilson, Florida State University: The 6′ 7" Wilson has the ability to give NFL defensive backs nightmares.  With his 6′ 7" frame and long arms, Wilson is going to win plenty of jump balls and be called upon plenty in the red zone.  Some have compared Wilson to Bucs star receiver Mike Evans.  Expect his current PFN rank to change dramatically as he currently checks in at number 105.
Tight End:
Brock Bowers, Georgia: If the Jets are in a position to draft Bowers then the Aaron Rodgers project will have been a huge disaster.  Bowers is one of the best prospects to ever come out of college.  He should be a rare top 10 pick at tight end as a guy who can beat you at TE, split out wide at WR or lined up at H-Back.  His blocking and pass catching are both elite.  Whoever gets Bowers is going to be a very lucky team.
Ben Yurosek, Stanford: Yurosek looked primed to become one of the top tight ends in the country after closing out the 2021 season averaging 15.8 yards per catch with 658 yards on 43 receptions.  Yurosek showed off excellent hands and acceleration prior to the 2022 season when his yards per catch averaged dropped all the way down to 9.1.  Which version is the real Yurosek?  We'll find out in 2023.
@StanfordFBall TE Ben Yurosek is listed at 6' 4'' but plays bigger than that. Shows excellent hands and toughness. Saw a dip in production from 2021 to 2022 in going from 43/658/3 to 49/445/1 so 2023 is his chance to show if he's closer to the '21 or '22 version. pic.twitter.com/sJ9J5Wu74P

— Glenn Naughton (@JetsPicks) June 28, 2023
Gavin Bartholomew, Pittsburgh: Bartholomew didn't post huge  numbers at Pitt, managing to put up just 609 yards over his past two seasons, but he has flashed some impressive traits.  The big man can make plays after the catch and has proven to be a solid blocker up front.  The Jets added three Panthers to their roster this season in drafting Israel Abanikanda and Carter Warren before signing undrafted free agent defensive lineman Deslin Alexnadre.  Could Bartholomew be another?
Offensive Line:
Julian Pearl, Illinois: Watching Pearl line up at tackle and dominate defenders is impressive enough on its own.  Realizing he's doing it as somebody completely new to playing tackle after switching positions makes it that much more impressive.  Pearl's former head coach at Illinois, Lovie Smith, told the then defensive lineman that a switch to tackle would be the best thing for his future and Pearl was on board.  In watching what Pearl has done since then, it appears Smith was right.
@IlliniFootball left tackle Julian Pearl was a monster in the team's opener against Wyoming. @nyjets fans should be keeping a close eye on plenty of college left tackles this season. Pearl is now one I'll be watching. Four plays below. pic.twitter.com/Bp18LRnZMJ

— Glenn Naughton (@JNRadio_Glenn) August 28, 2022
LaDarius Henderson, Michigan: Henderson transferred to Michigan from Arizona State where he'll be moving from guard to tackle.  His ability to move for a big man and dominate at the point of attack make Henderson a candidate to climb draft boards in April.
Arizona State guard Ladarius Henderson (77) does not move like a 310 lb man. Gets out in front on the screen to throw a block against Utah. Has been a starter at AZ St since he was 17 y/o. pic.twitter.com/g6UuLsD5Bg

— Glenn Naughton (@JNRadio_Glenn) October 15, 2022
Javontez Spraggins, Tennessee: We couldn't help but notice Spraggins last season while watching his teammate Darnell Wright and the kid looks like a guy who could go in the top 50 if not the first round.
Darnell Wright righfully got tons of attention at RT for @vol_football but his linemate RG Javontez Spraggins (76) did some impressive work up front as well. Great rep here opens up a big hole for running back Jabari Small. Both should hear their names called come draft time. pic.twitter.com/kDCENN8xX3

— Glenn Naughton (@JetsPicks) May 23, 2023
Sal Wormley, Penn State: A powerful drive blocker in the trenches, Wormley is a tone setter who plays with a mean streak.  A likely late round pick, Wormley has some impressive traits but has to improve his footwork.
6' 3'' 315 @psufootball RG Sal Wormley (77) is a hell of a drive blocker who does a nice job here of getting a piece of the DT before blocking the LB on the second level to help spring a big run vs OSU. pic.twitter.com/iIwrnYA5JK

— Glenn Naughton (@JetsPicks) May 20, 2023
Videos
Aaron Rodgers Injury Fallout & Jets/Bills Recap