Garrett Wilson & Jeremy Ruckert Stand Out; Jets Camp Report 07/25/23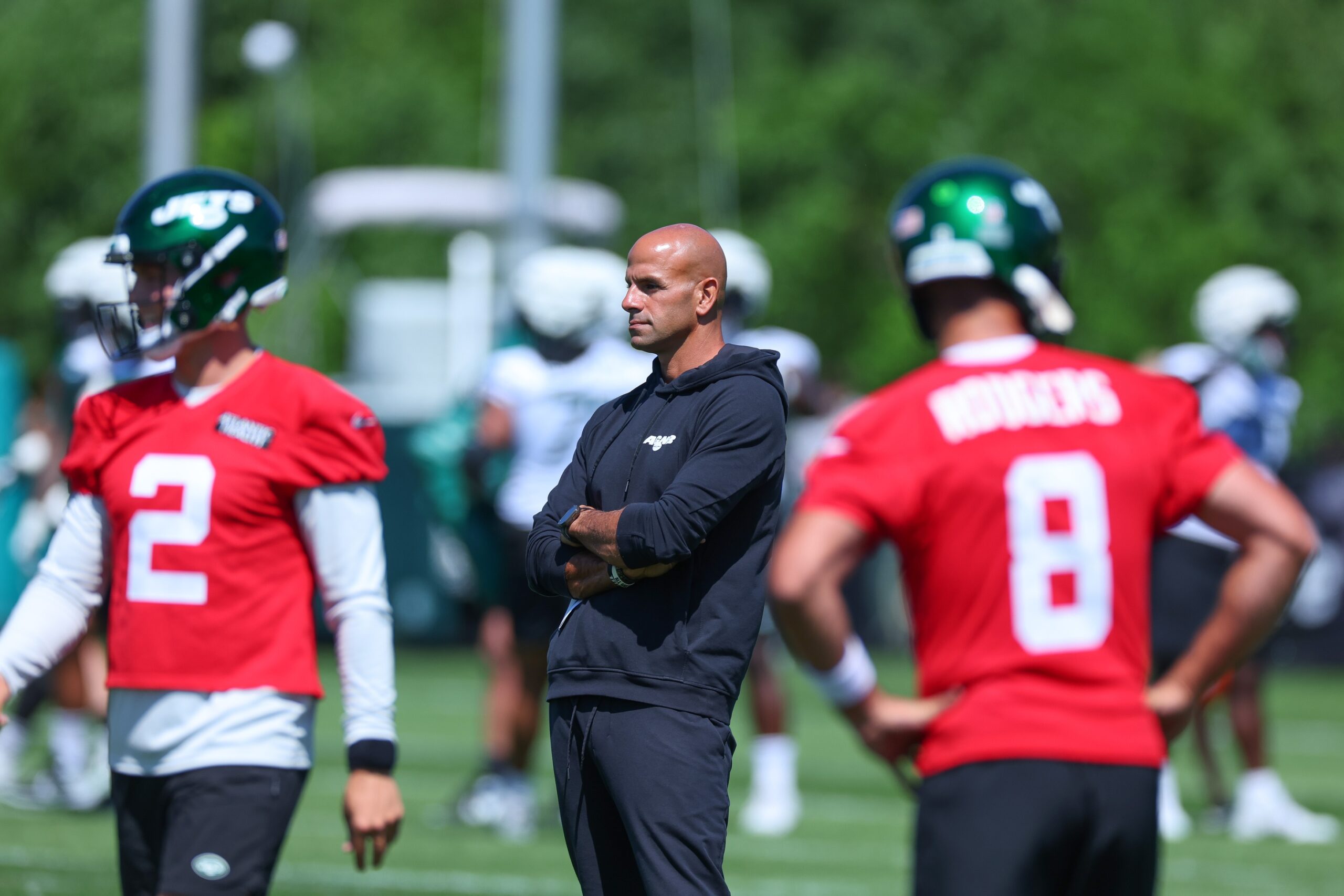 Kevin (KRL) was back in Florham Park on Tuesday and will be there all week. Garrett Wilson & Jeremy Ruckert are among the players that stood out during today's Jets Camp practice. Here is the full report below:
General Notes
– Practice ran for 2 hours.
– Players in full pads for the first time.
– Duane Brown appeared and was working out on a side field.
– Allen Lazard must have been knicked up because he didn't participate.
– The media was placed on the patio today, which allowed a "vertical" view of practice. So interior line play was able to be analyzed.
– I would give the practice to the offense slightly, but they had some issues which need to be tightened up.
– After an off day, the energy was good, sometimes players are sluggish after time off.
Special Teams Notes
– Thomas Morstead got reps today and was consistently punting balls 50+ yards with 4+ seconds of hang time. It will be a pleasure not to see anymore Braden Mann "shanks".
– Greg Zuerlein was 4/6 in his FG attempts. They were simulating running onto the field with no timeouts to get off a kick.
Defense Notes
– The defense got "gashed" multiple times on interior runs, but they did generate the first(?) INT of camp.
– Will McDonald was back and combined with Solomon Thomas for a TFL on Israel Abanikanda.
– Quinnen Williams also generated a TFL as he sniffed out a screen and caught Zonovan Knight behind the line.
– Al Woods displayed interior pass-rushing skills as he got a "sack" on Zach Wilson.
– DJ Reed and Jordan Whitehead continued to show good communication/coverage as they double-teamed Corey Davis and knocked away a 30+ yarder from Aaron Rodgers.
– Sauce Gardner came up with the first(?) INT of camp as he picked off a 20+ yarder from Rodgers to Jeremy Ruckert. It was an overthrow which plagued the offense multiple times today.
Offense Notes
– The passing game had quite a few overthrows. Which led to the INT mentioned previously and quite a few misses on big gainers.
– Jeremy Ruckert's role expanded today in his reps. He wasn't just catching screens or an inline blocker, he was running vertical routes. Some of his highlights:
* He caught a 15+ yarder from Rodgers with no window visible.
* He caught a 10+ yarder from Zach Wilson.
* On the INT he was running a 20+ yard route.
* Finally, he ran a 30+ yard route against Reed, but Rodgers overthrew him.
– Nick Bawden continued to impress as he helped break a couple of interior runs with his blocking. Additionally, he caught a 20+ yarder from Tim Boyle on a delayed screen and a 10+ yarder from Rodgers on a quick slant against Reed.
– The interior line was excellent as they opened holes on multiple "gash" runs. The combinations deserving credit are:
* Laken Tomlinson, Connor McGovern, Alijah Vera-Tucker
* Brett Laing, Joe Tippmann, Chris Glaser
* Trystan Colon, Wes Schweizter, Adam Pankey
The big runs those trios were responsible for were:
* Michael Carter for runs of 10+ and 20+
* Zonovan Knight for runs of 10+ and 20+
* Israel Abanikanda for a 40+ yard TD
– Garrett Wilson continues to display his developing chemistry with Rodgers as he caught a 20+ yarder down the sideline over Brandin Echols with no visible window. And finally, he caught a 40+ yard TD over Michael Carter in the corner of the end zone.
– Xavier Gipson (who is trying out for the returner spot) flashed during 11 on 11. On back-to-back reps, he caught a 20+ yard seam from Zach Wilson, then followed it up with a "jet sweep" TD from 20+ yards out.
QB Notes
– Aaron Rodgers wasn't as sharp as his previous practices (I'm getting spoiled). He had multiple overthrows, which prevented big gainers and caused the Gardner INT. Maybe age caught up to him. Time to find another QB.
– Zach Wilson continues to improve in little things. Today he was able to create an easy completion to Mecole Hardman. As Hardman was running a "jet sweep," Wilson faked a handoff to him and then allowed Hardman to get into space for an easy pitch/catch. Also, he's improving in scanning the field during his dropbacks.  During one rep, he was focused to the left, but when he hit the top of his drop, he flipped to the right and found Hardman. The pass was overthrown for an incompletion, but Wilson's process was correct.
Standouts
– Interior OLine
– Jeremy Ruckert
– Nick Bawden
– Garrett Wilson
Concerns
– Interior DLine needs to stiffen up against runs.
– Too many overthrows on offense.
Videos
Aaron Rodgers Injury Fallout & Jets/Bills Recap