Jets Camp Notes: Jermaine Johnson & Defense Stand Out – 07/26/23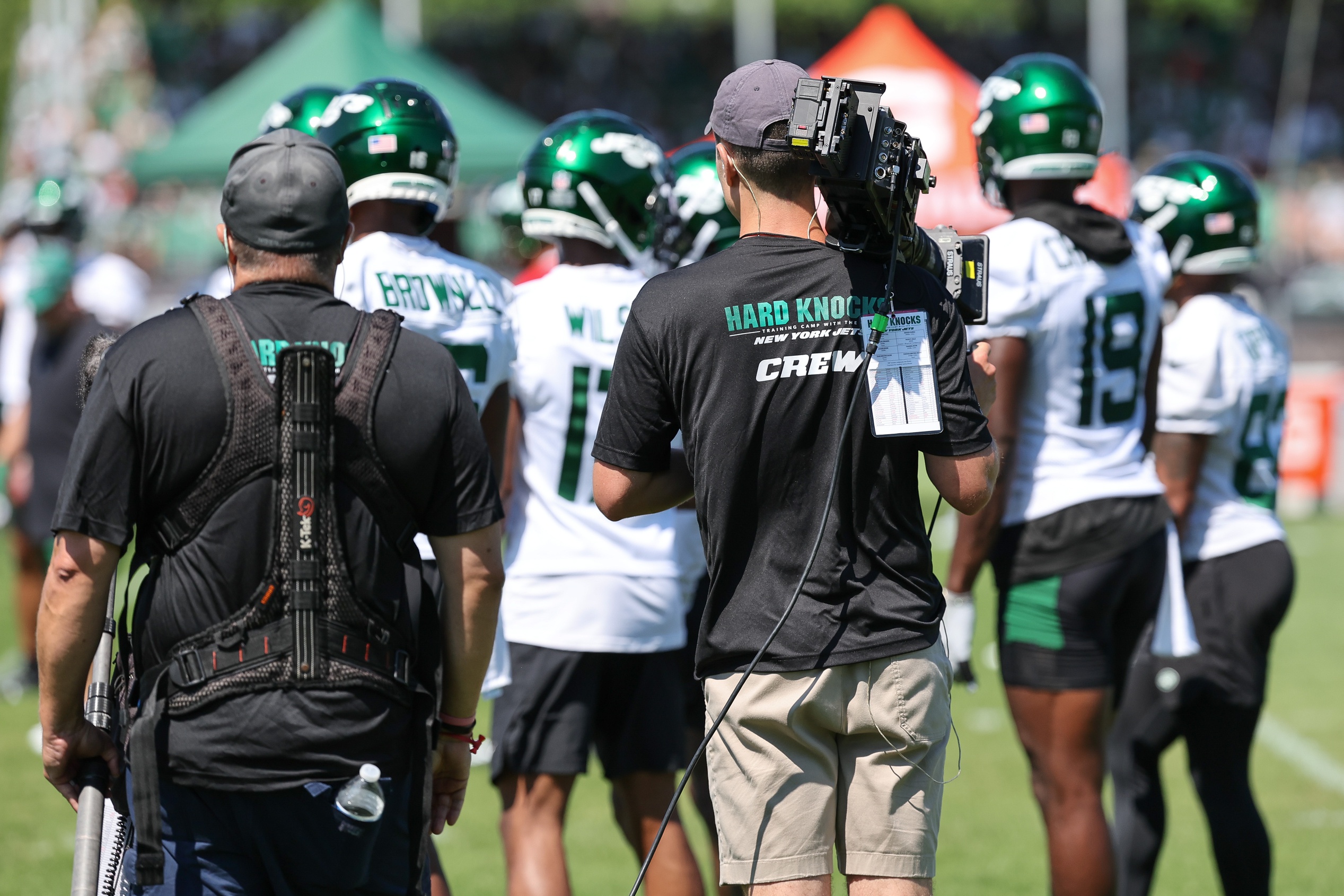 Kevin (KRL) was back at Jets Camp on Wednesday following the action live in Florham Park. The defense, specifically Jermaine Johnson and Tony Adams, stood out. Here are his NY Jets training camp notes for the day.
General Jets Camp Notes
– Practice ran 2 hours and 15 minutes.
– Players in full pads.
– Mekhi Becton was working on a side field with a trainer. I have no idea what his issue was.
– Strong bounce-back performance by the defense as they won the day. The offense had to do punishment "up downs".
1 on 1 Notes
– With pads on, there was a period of OLine/DLine 1 on 1, some notable reps:
* Quinnen Williams pushed back Laken Tomlinson.
* Zack Kuntz held his own as he fought off Tanzel Smart.
* Jermaine Johnson, Will McDonald and Bryce Huff were hard to control coming off the edges.
* Connor McGovern was impressive as he "stalemated" Williams.
* Billy Turner had difficulty in his reps as he was on "skates" and was pushed back.
* Joe Tippmann is very flexible for a tall center. He's able to stay low to keep leverage and able to "re-anchor" his feet when he gets pushed back.
7 on 7 Notes
– The defense clamped down on Aaron Rodgers during his reps forcing incompletions on throws to Corey Davis, Garrett Wilson, and Jeremy Ruckert.
– Zach Wilson was sharper in his reps, completing 20+ yard passes to Ruckert and Xavier Gipson.
Defense Notes
– The defense clamped down on the run game today and generated two INTs.
They recorded multiple TFLs some of the highlights were:
* Quinnen Williams with a TFL on Michael Carter.
* John Franklin-Myers and Quincy Williams with a TFL on Carter.
* Carl Lawson with a TFL on Carter.
– Jermaine Johnson was all over the field today as he recorded two "sacks" and was in the backfield multiple times on run plays.
– In addition to his strong performance during 1 on 1 Bryce Huff also generated a "sack" against Chris Streveler.
– The range that Tony Adams showed in previous reports was on full display today. On one play, Rodgers checked a pass down to Carter, and Adams closed from about 15 yards to stop the play for no gain. And finally, he had a textbook INT as he came from between the hashes to the right sideline to pick off a Rodgers 40+ yard pass to Davis.
– Finally rookie LB Zaire Barnes had a "pick 6" against Tim Boyle as he was in zone and picked off a slant.
Offense Notes
– On the #1 Oline Max Mitchell and Billy Turner have flipped positions. Mitchell was at LT, and Turner was at RT.
– No real standout players on offense today.
QB Notes
– It had to be a frustrating day for Aaron Rodgers.  On his first rep during 11 on 11 there was a miscommunication which caused the offense to "re-huddle".  In addition to that the defense clamped down on his 7 on 7 reps (mentioned earlier) and he threw an INT. And finally during a situation drill to end practice (41 seconds on the clock, the offense is down 7-3, ball at midfield) Rodgers moved the ball into the red zone but couldn't score as his pass to Davis was incomplete.
– Zach Wilson continues to "find completions" and probably had the two "sexiest" plays of the day.  He found Alex Erickson (new WR) for a 50+ yard TD down the left sideline. And during red zone Wilson found Jason Brownlee for a 20+ yard corner TD.  During his reps in the situation drill (mentioned earlier) Wilson found Xavier Gipson for 20+ yards that got him into the red zone.  But he also wasn't able to get the offense into.
the end zone
Standouts
– The defense
– Tony Adams
– Jermaine Johnson
Concerns
– Will be interesting to see how the offense bounces back tomorrow (my final practice).
Check out our New York Jets message board for more notes and fan reaction.
Videos
Aaron Rodgers Injury Fallout & Jets/Bills Recap