Breece Hall Returns; Coaches Updates on Dalvin Cook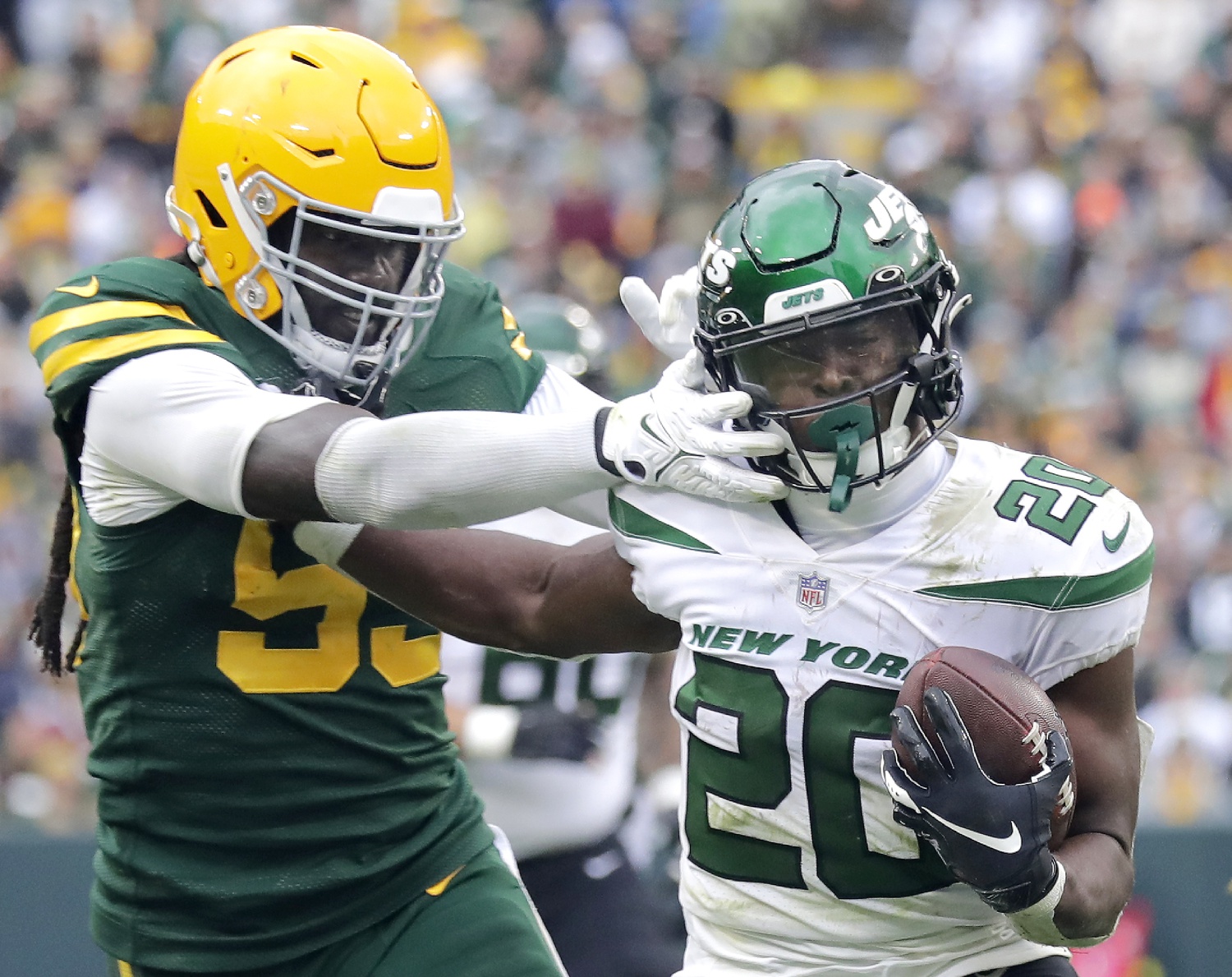 Breece Hall returned to the practice field on Tuesday, one day after it was announced that the team has signed free agent running back Dalvin Cook. A crowded backfield is a good problem to have. Robert Saleh and Nathaniel Hackett were asked about both players.
Robert Saleh on Breece Hall & Dalvin Cook
Can you walk us through what ultimately led to pulling the trigger on Dalvin Cook?

Like I said, I think it was more from their camp, just trying to cross their t's and dot their I's and go through their process and making the best decision for their family as possible. Obviously, very excited to add a really, really good football player to this team and he adds another dynamic to this group that I think anybody would be excited about.

He obviously has some off the field stuff that he's been dealing with. How much, obviously you guys are vetting that stuff, what made you comfortable with this decision?

With him, I'm obviously not going to go into detail. Obviously, the conversations we had and the depth at which we researched everything, I think we all came to agreement that we were very comfortable with the person and his situation.

What is his timeline in terms of arrival and being able to practice and what do you see his role as?

I don't have that answer for you yet, Rich. I know it's going to be at least a week. I know he's having a baby, which we're all excited for him on, but it's just a matter of getting on the phone with him today and getting him in here and just having those conversations to see where he's at.

We know he is a dynamic player, what is he going to do for this team?

There's a lot. As a defensive coach, I'll just sit there and just say, "God, you got Breece (Hall), Michael (Carter) and him and you got two of those guys in the backfield," and there's a lot of different things that you can do to create a bunch of headaches for defensive coaches and he's not a trick back either. You can turn around and hand him the ball and he can run downhill and he's done it for a long time. I look at it like our d-line (defensive line), you can never have enough and just let them rotate and be fresh and get downhill and wear people out.

What did it mean to get Breece Hall back out there and what does the ramp up look like for him?

So, we're going to take our time with him, like I've said from the beginning. If you ask him, he's ready to go now. He's chomping at the bit, wants to get in there with his teammates, but to have him back out there in pads, he looks freaking good. Just his size, kind of like Jermaine Johnson, just the way they've kind of morphed their bodies and he looks explosive. He looks powerful, so we'll get him in, we will ease him in, but right now, it's just acclamation.

You guys obviously all know it's a business, everybody here does, but when you bring a guy like Dalvin in, you have a pretty full running back room right now. Is that something you or a position coach will discuss? Potential roles and whatnot when you bring a guy like that in with these guys?

There is nothing we've done that isn't without a plan. Even when we talked to Dalvin, when he was here, just mapping out our vision of how this running back room would look. Talking with Joe (Douglas) and his staff and what our vision would be for Dalvin and Breece Hall and Michael and 'Bam' (Zonovan Knight) and 'Izzy' (Israel Abanikanda) and just how that thing maps out, (Damarea) Crockett and (Travis) Dye, and just how that room is going to shake out, so we have a plan in place. I think expressing that plan to the players was very important, to make sure that everybody was on board. And just always being transparent. We will always be transparent with the players, be transparent with everybody, and I think everyone was pretty comfortable with it and we are rolling.
Nathaniel Hackett
What does Dalvin Cook bring to this offense and what do you think he will bring to that running back room?

I think the best part about the NFL is the competition all the time. I think he's going to be a great addition to the room. It's going to make everybody better. He's a guy that has done a lot in his career and we look forward to what he can bring to our team.

What do you remember about preparing for Breece Hall last year and then before he got hurt, he was having a pretty big game against you guys?

Yeah, he's a very good football player. It's going to be great to have him out there now and be able to see him and get to know him and watch what he can do. It was obviously early to that season, and who knows what would have happened. We're going to be sure that we get to know him and see what he does well, and then do that a bunch.

What have you learned about his mindset, that has continued to work?

He's done a great job in all of his rehab. I give so much credit to the training staff, just to this whole group. Obviously, he's an important piece to our puzzle on offense. And to see how he's been able to go through all that. I've always thought that injuries really test a man because, you're fine, you're doing great and then all of a sudden, something like this happens and there's a lot of internal things that you go through. You see him continually work, be great in the meetings, learn the system, understand the system. He's right back there behind us during practice trying to gather any information he can so he can be put right in there, so it's just a testament to the man that he is, I look forward to getting him out there more.

Dalvin has obviously been 'the guy' in Minnesota for a number of years, now. He is used to being a focal point of an offense. You guys have so much talent in that room that I'm assuming is going to be a pretty good rotation going. How do you manage that yourself, since you're going to be the one that's dealing with that? Is that that a conversation you've had with Dalvin when he gets here or one you had during this visit?

It's with everybody. There is only one football, and the key is for us all to work as one. This game is not about one person. Everybody needs everyone. We're going to need every guy in that locker room. It's a long season, 17 games, so everybody is going to have their opportunity to shine.
Videos
Aaron Rodgers Injury Fallout & Jets/Bills Recap