New York Jets Look to End Playoff Drought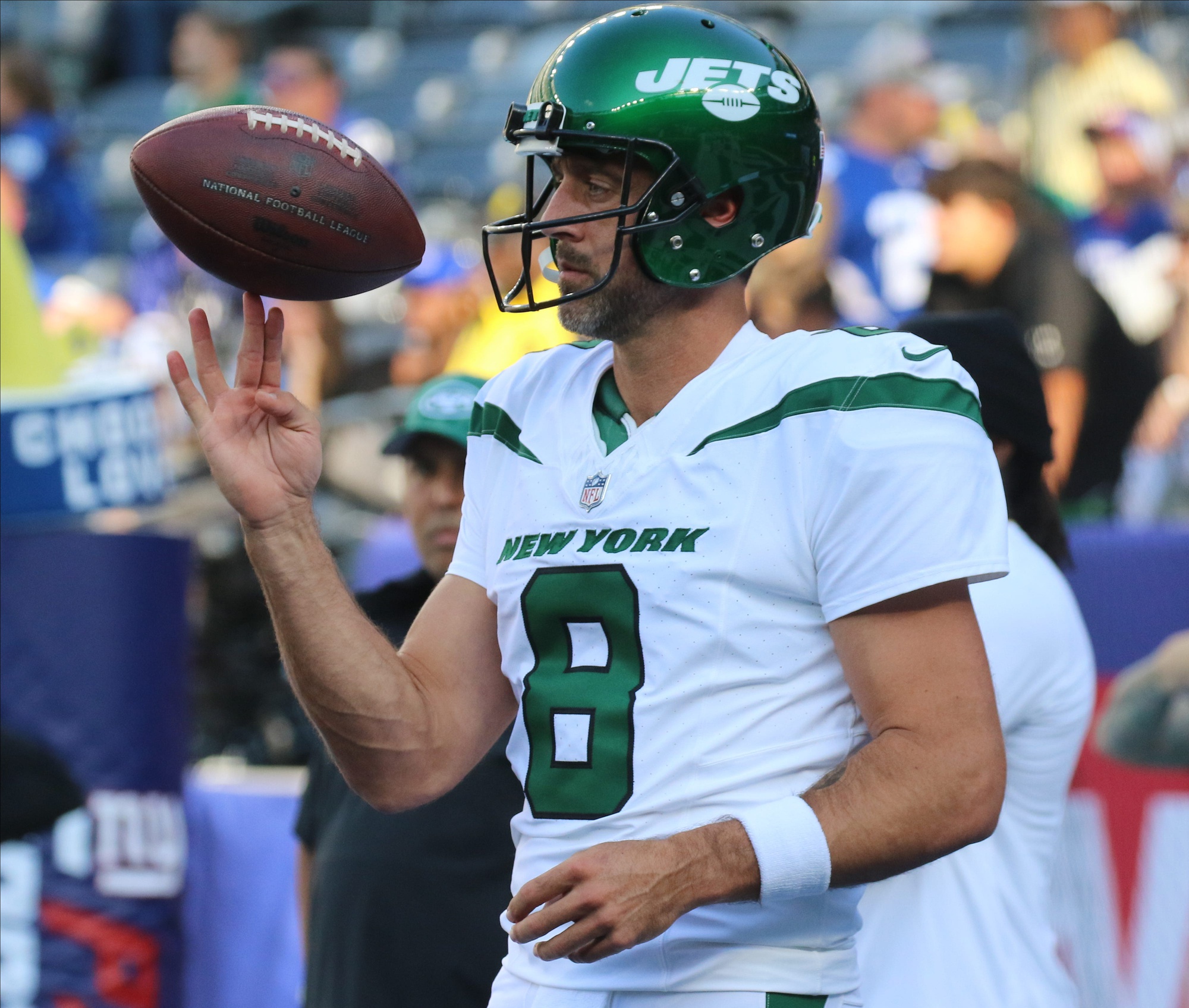 Predictions for this year's New York Jets bring to mind the title of a Bob Dylan song, "A Hard Rain's a-Gonna Fall," as in the kind of rain that can end a team's postseason drought. The Jets enter the 2023 campaign having not made the playoffs in twelve seasons, currently the longest streak in North American major professional sports. However, with upgrades to the Jets roster and the continued development of its young core group, Gang Green appears ready to kick up a storm worthy of playing in January and beyond. So, with respect to freewheelin' Bob, here are some factors forecasting the team's potential for ending its dry spell.
Offensive Progression
The offense is now in the hands of new quarterback Aaron Rodgers. After injuries hampered his 2022 effort with the Green Bay Packers, Rodgers, who reunites with Nathaniel Hackett, the Jets' new offensive coordinator with whom he won back-to-back NFL MVP awards in 2020 and 2021, is a good bet to return to form. The signing of four-time Pro Bowl running back Dalvin Cook to a one-year contract signals the team's win-now mentality and allows Breece Hall time to work his way back from a torn ACL sustained against the Denver Broncos last year in Week 7. A yet-to-be-determined combination of Michael Carter, Zonovan Knight, and rookie Israel Abanikanda will join Cook and Hall in forming the most potent backfield in the league. Out wide, last season's Offensive Rookie of the Year Garrett Wilson, free-agent acquisition Mecole Hardman, and two ex-Packers with whom Rodgers already has a rapport, Allen Lazard and Randall Cobb, should help the team improve upon its 17.4 points per game average of 2022. The biggest questions on this side of the ball pertain to an unsettled offensive line, as most starting positions have yet to solidify and key players, including Alijah Vera-Tucker, Duane Brown, and Mekhi Becton, return from injuries.
Defensive Alignment
The defense aims to build on its stellar performance of 2022. Last season, the team tied with the Houston Texans for the fewest opponent passing touchdowns in the NFL, with 15, due in no small part to the outstanding play of its cornerbacks, first-team All-Pro and Defensive Rookie of the Year Sauce Gardner, and D.J. Reed, who led the league in yards per reception with 1.88. Linebacker C.J. Mosley, who paced the Jets with 158 total tackles, will again provide a veteran presence and anchor the middle. While newly resigned defensive tackle Quinnen Williams, coming off a career-high 12-sack season, the most by any Jets player since 2015, leads a dominating unit up front. First-round draft pick linebacker Will McDonald and the continued development of players like defensive end Jermaine Johnson, defensive end/tackle Micheal Clemons, and nickelback Michael Carter II should help bolster a defense capable of disrupting opponents' game plans.
Superstition
For those who believe in omens, there is the "Hard Knocks" factor. The Jets' last appearance on the HBO show was in 2010, perhaps best remembered for then-head coach Rex Ryan's "snack" speech. The squad would go on to make the AFC Championship Game that season. As they are again featured this year, there is hope among the fan base that history repeats itself, albeit with a more favorable outcome.
Conclusion
The window of opportunity is open for the New York Jets. They have a much-improved roster on paper, with potential free-agent moves still to be considered. On the field, a highly competitive division and demanding early schedule with especially tough matchups against the Dallas Cowboys, Kansas City Chiefs, and Philadelphia Eagles will test their mettle. Though, with a future first-ballot Hall of Fame quarterback under center and a nucleus of young talent and reliable veterans, the team appears primed to bring the kind of hard rain that can wash away the disappointments of years past.
Videos
Aaron Rodgers Injury Fallout & Jets/Bills Recap