JetNation NFL Power Rankings (Top 10)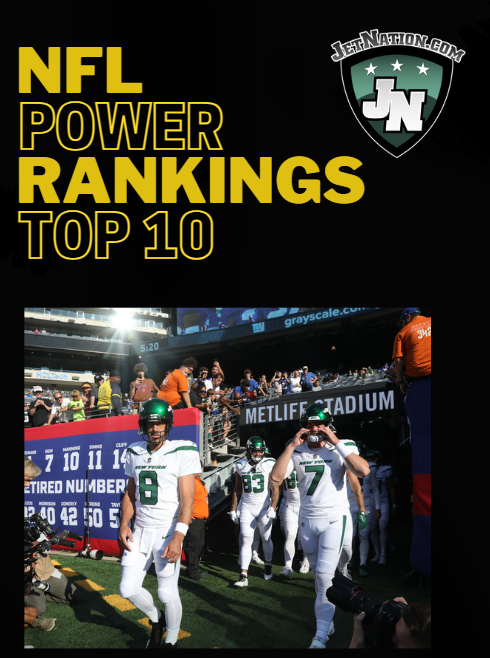 Welcome to the 2023 opening installment of the JetNation NFL Power Rankings (Top 10). We will be back each week with updates as the season progresses.
1. Kansas City Chiefs
The Chiefs are the defending champs and not enough has changed to knock them out of this spot. Travis Kelce's knee would be a major problem if he can't get to 100% soon.
2. Philadelphia Eagles
The Eagles had one half to go to hold the Lombardi, and it fell apart. They are too talented and too balanced to disappoint in 2023.
3. Buffalo Bills
The Bills are still very good across the board, and they added pop at the running back position. The running game needs to provide more production for Buffalo to make the next step.
4. San Francisco 49ers
The Niners are a rarity in NFL history: they swung and missed picking a quarterback at the top of the first round, and they still contended for the ring. They are lucky Mr. Irrelevant, Brock Purdy, could play. If he can return to form from last season, the Niners are a legit Super Bowl team.
5. Cincinnati Bengals
The Bengals are the only AFC contender to have any measure of success against KC. Life is difficult in the AFC North, but the talented Bengals should be one of the last teams standing in January.
6. Baltimore Ravens
The Ravens have become the team everyone is done talking about until they live up to the hype. 2023 might be the season for the Ravens. OBJ enters the fold. It's must-see TV to see how much he has left.
7. Dallas Cowboys
Speaking of teams, people are tired of talking about… Things will get weird in Dallas if they fall short of expectations again. I am here for it.
8. New York Jets
The team with the 4th-rated defense now has an offense. The Jets roster has been upgraded. Please place your tray tables in the upright and locked position.
9. Miami Dolphins
The Dolphins had a rough offseason, highlighted by losing Jalen Ramsey. The underrated move of the offseason was adding Vic Fangio to run the defense. Fangio was a flop as the head coach in Denver, but he is a great defensive coordinator and a difference maker.
10. Detroit Lions
The Lions will not sneak up on people this season, but it might not matter. Detroit spent most of its focus in the offseason improving its defense, and it will pay off in 2023. The Lions have the talent to make some serious noise in the NFC.
Videos
Aaron Rodgers Injury Fallout & Jets/Bills Recap