Surreal, Mind-Numbing, Resilient and Proud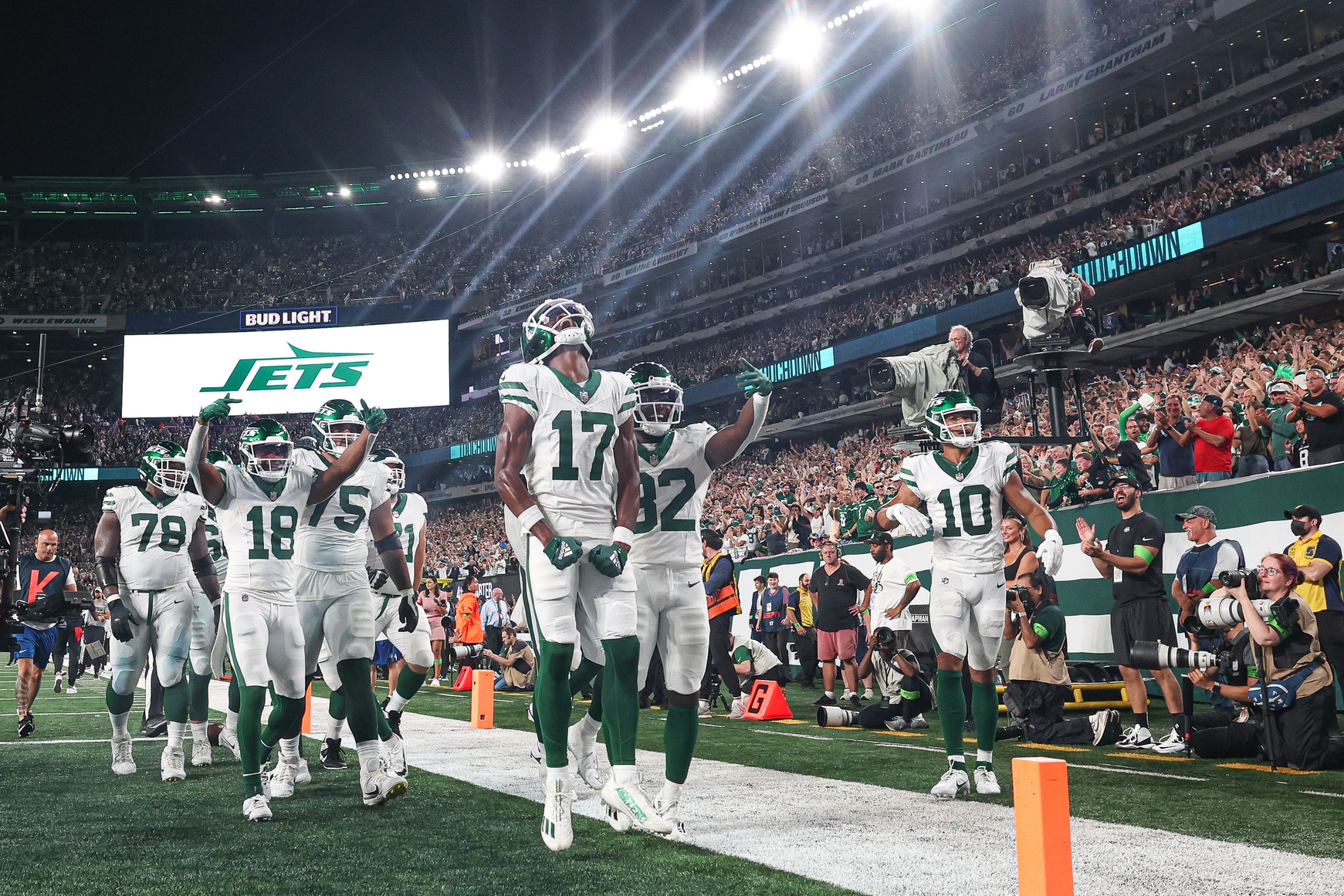 Surreal, mind-numbing, resilient and proud.  The words that describe the emotional roller coaster of an opening 22-16 Jets win over the Buffalo Bills.
Surreal – to watch the pre-game "light show" and intro of Aaron Rodgers as a Jet.
Mind-numbing – to lose Rodgers to an Achilles injury four plays into his Jet career.
Resilient – the effort of the team to stabilize and rebound from Aaron Rodgers injury.
Proud – of the win and how each phase contributed.
But as Robert Saleh said in Hard Knocks, "Now What?".  Because Rodgers is gone, Zach Wilson is your starter and no one is cancelling the rest of the season.  The defense is elite, the special teams are much improved, the running game is explosive and there's talent all over the offense. Can Nathaniel Hackett, Todd Downing and Rodgers "nurse" Wilson into an effective game manager?  We'll see, but for now let's recap a thrilling win:
(Stats from: https://www.espn.com/nfl/boxscore/_/gameId/401547352)
Special Teams
– Thomas Morstead was consistent with a 43.5 average and pinned BUF inside the 20 twice.
– Greg Zuerlein was a perfect 3/3 on FGs and 1/1 on XP.
– Xavier Gipson was electric with a 23 yard avg on KO and a 33 yard avg on punts and the game winning 65 yard TD.
Defense
– Fantastic effort by the entire defense as they generated 5 sacks, 4 turnovers and held BUF to 3 points in the second half and OT.
– Nice "pattern breakers" shown by Jeff Ulbrich as he ran the defense.  Through out the game he ran 3 safety looks in coverage and brought blitz pressure from the secondary (Tony Adams and Michael Carter).
– Poor game by Sauce Gardner and credit to him for taking responsibility for it after the game.  Based on his comments Gardner said due to the late start of the game his body was sluggish in the first half.  And I would agree as he gave up too much to Stefon Diggs and missed some tackles.
– Terrific game by DJ Reed as he was solid in coverage and had 11 Tackles.
– Quincy Williams was all over the field with 10 Tackles, TFL and a TD saving pass breakup in the end zone.
– Not to be outdone by his brother Quinnen Williams had 5 Tackles, TFL, QB Hit and a fumble recovery.
– Other star performers on the DLine were:
* Jermaine Johnson with 5 Tackles, Sack, 2 TFL and a QB Hit
* John Franklin-Myers with 4 Tackles, Sack, TFL and 2 QB Hits
* Quinton Jefferson with 3 Tackles, 2 Sacks, 2 TFL and 3 QB Hits
– Terrific performance by the safety duo in both phases.  In coverage Tony Adams and Jordan Whitehead had excellent communication covering and passing off receivers. When was the last time we had safeties that could comfortably cover a WR like  Diggs?  Whitehead had 3 INTs and 3 pass break ups while Adams had 5 Tackles .
– Excellent recovery by the defense in overtime to get BUF off the field quickly with a three and out:
* False start by the BUF RT
* Allen incompletion to the TE
* Three yard run
* Tight coverage by Reed on Diggs to force an incompletion
– Finally let's take a look at the last three games Josh Allen has played against this defense, his numbers are:
63/102   61%   Comp Pct
588                  Yards
2                      TD
5                      INT
1                      Fumble
13                    Sacks
Offense
– Even though it's painful let's take a quick look at Aaron Rodgers series.  Based upon the cut blocks of Mekhi Becton and Duane Brown the plays he got hit/injured on should've been "quick hitters" to receivers.  Cut blocks are done to make defenders get their hands down so a quick throw can take place.  But on both times he held the ball, was Rodgers so amped up by the crowd that he wanted to make "sexy" plays?  Unfortunately I doubt anyone
in the local media will ask him that question, maybe Pat McAfee will.
– With Rodgers going down nice adjustments by Hackett to get the running game going by deploying 3 TE sets.  Jeremy Ruckert was devastating caving in the edge of BUF DLine to free Breece Hall for his 80+ yard run.  In addition Hackett deployed both Breece Hall and Dalvin Cook in the backfield at the same time.
– I'm going to be completely honest, with Zach Wilson back as starter my best hope for this team is competing for a playoff spot.  Wilson has to improve or someone else (Tim Boyle?) has to show competency from the position for me to hope for anything more.  Wilson was 14/21 (66% Comp Pct) for 140 yards with a TD and an INT.  The best part of those "middling" stats was how they broke down:
First Half – he was 5/8 for 40 yards and an INT (3 points)
Second Half – he was 9/13 for 100 yards with a TD (19 points, 13 of which he was responsible)
Hackett made adjustments at halftime (more screens) and Wilson settled down to be more efficient.  The plan was not to see Wilson before the 2025 season but here we are.  What will he do with the opportunity?
– Breece Hall was a beast with 10 carries for 127 yards on the ground and one catch for 20 yards in the passing game.  Can anyone say Adrian Peterson in his prime?
– Dalvin Cook was solid with 13 carries for 33 yards and 3 catches for 26 yards – Allen Lazard was the "big" receiver on the night with 2 catches for 46 yards.
– Garrett Wilson grinded his way to 5 catches for 34 yards with the ridiculous one handed juggling TD.
Videos
Aaron Rodgers Injury Fallout & Jets/Bills Recap