JetNation NFL Power Rankings (Top 10) – Week 2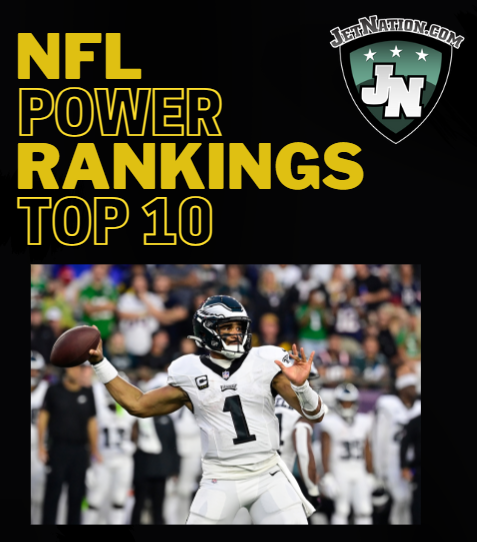 2023 Week Two JetNation NFL Power Rankings (Top 10)
1. Philadelphia Eagles (1-0)
Last Week: 2
The Eagles started fast but cooled almost to the point of wasting a 16-point lead. There are gaps in this defense that need to be addressed before they play more capable offenses.
2. San Francisco 49ers (1-0)
Last Week: 4
The Niners were impressive on both sides of the ball in Pittsburgh. Brock Purdy quieted the doubters…again.
3. Kansas City Chiefs (0-1)
Last Week: 1
The Chiefs are not a contender without a healthy Travis Kelce. Resolving the contract issues with all-world defensive lineman, Chris Jones, is huge.
4. Dallas Cowboys (1-0)
Last Week: 7
Dallas was easily the most dominant team of the week. Their defense may continue feasting with the wounded Jet offense coming to town.
5. Buffalo Bills (0-1)
Last Week: 3
The Bills need Josh Allen to value the football more. They still need more of a traditional ground game to contend for the title. The visiting Raiders should help with what ills this offense.
6. Baltimore Ravens (1-0)
Last Week: 6
The Ravens danced around the ring with the Texans before delivering the knockout blow. They will travel this week to meet a cranky Bengals team. Though early, this will be a very telling game for the 2023 season.
7. Miami Dolphins (1-0)
Last Week: 9
The Dolphins found little resistance from the Charger defense. Miami has the weapons to make a lot of noise in the AFC.
8. Detroit Lions (1-0)
Last Week: 10
The Lions scored a major win on opening night. These Thursday night season openers are made for the home team to start the season fast, but the Lions pulled the upset. The defense should be commended despite the absence of Jason Kelce for KC.
9. Cincinnati Bengals (0-1)
Last Week: 5
Not sure what that was in Cleveland. The Bengal looked as bad as any team in the league. Cincinnati needs to wake up, or they could fall to 0-2 in the division with a loss this week.
10. Jacksonville Jaguars
Last Week: Unranked
The Jags shut down Indy in the fourth quarter to take a hard-fought road win Sunday. It should help their confidence with the angry Chiefs coming to town this week.
Videos
Aaron Rodgers Injury Fallout & Jets/Bills Recap