Week One NFL Thoughts; Breece Hall, Mekhi Becton, Duane Brown & More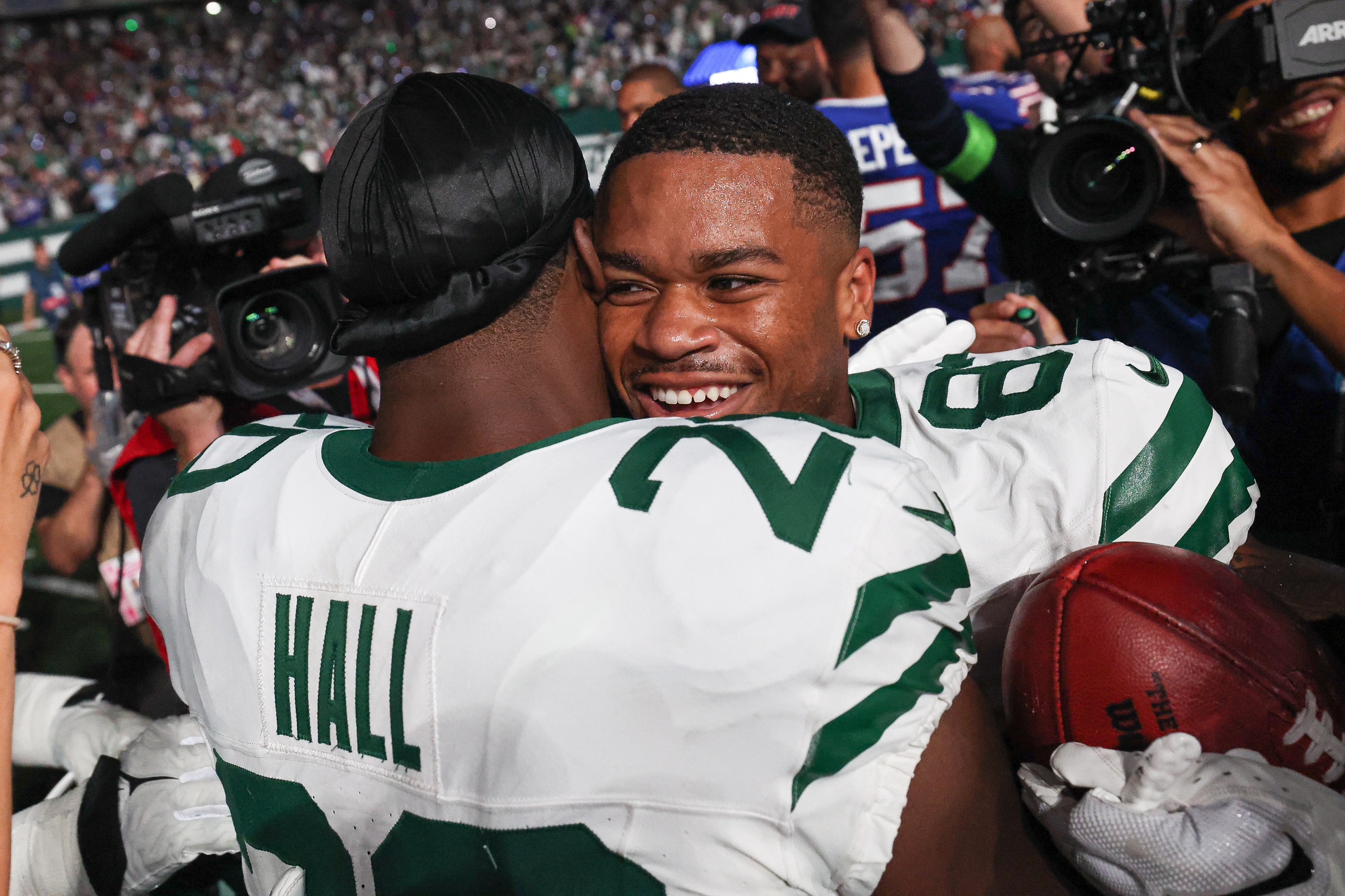 I am dying inside. Are you kidding me? First game? First series? Really? I don't know when it will start, or even if it will start, but the Jets have an epically long run of good luck coming to them. It should be measured in decades. That was a great win after the devastatingly tragic start. The Jets match up as well as anyone against Buffalo, no matter who is under center for Gang Green. The defense stepped up, and everyone showed a lot of heart. Despite the win, I still feel like I ate something that went bad about ten days ago. Here are some Jets thoughts on Mekhi Becton, Duane Brown, Breece Hall and some thoughts from around the league:
– Mekhi Becton looked like a subway turnstile in pass protection. How long do we need to pretend that he is going to do anything for this team? I think the only hope is a transition to guard. If that fails, he's out of New York and out of the league.
– It will be interesting to see whose man gets to the quarterback first: the guy Duane Brown is blocking, or the guy Mekhi Becton is blocking.
– Breece Hall was very impressive, and his level of play after a very serious injury is nothing less than staggering. Most guys aren't back to playing at their best until the second year off an ACL tear.
– I hope in eight to ten years' time that, we are not left to think about what the stats for Garrett Wilson would look like had he ever had a chance to play with a professional quarterback.
– Matt Ryan has not filed for retirement. I'm just sayin'.
– The scary thing about Sunday night is that the Giants are a solid, well-coached team with more talent than they had last year. What if Dallas is that good?
– I love that the Lions won the opener in KC. They are easy to root for. It might be that they are the NFC's version of the Jets.
– I am hoping there was some young person in the Jets' front office who was proactive last night and printed out a list of currently available NFL offensive linemen for the people who make those types of decisions. I hope they put it right next to the list of currently available quarterbacks.
– One drink before noon is acceptable today.
– It took four turnovers and a special team's touchdown to get an overtime win. It's hard to see Wilson leading us to any more than 6 or 7 wins with this schedule.
– If they play again, the Chargers may want to take note where Tyreek Hill is lined up on the field.
– Bobby Wagner is 33 years old. This is his 12th season in the league. He made 19 tackles on Sunday against the Rams. Wagner hasn't made fewer than 104 tackles in a season, which was his total for 2014 when he was limited to just 11 games. They can fit him for a gold jacket now to save a little time.
Videos
Aaron Rodgers Injury Fallout & Jets/Bills Recap