102 Passes; The Trey Lance & Zach Wilson Story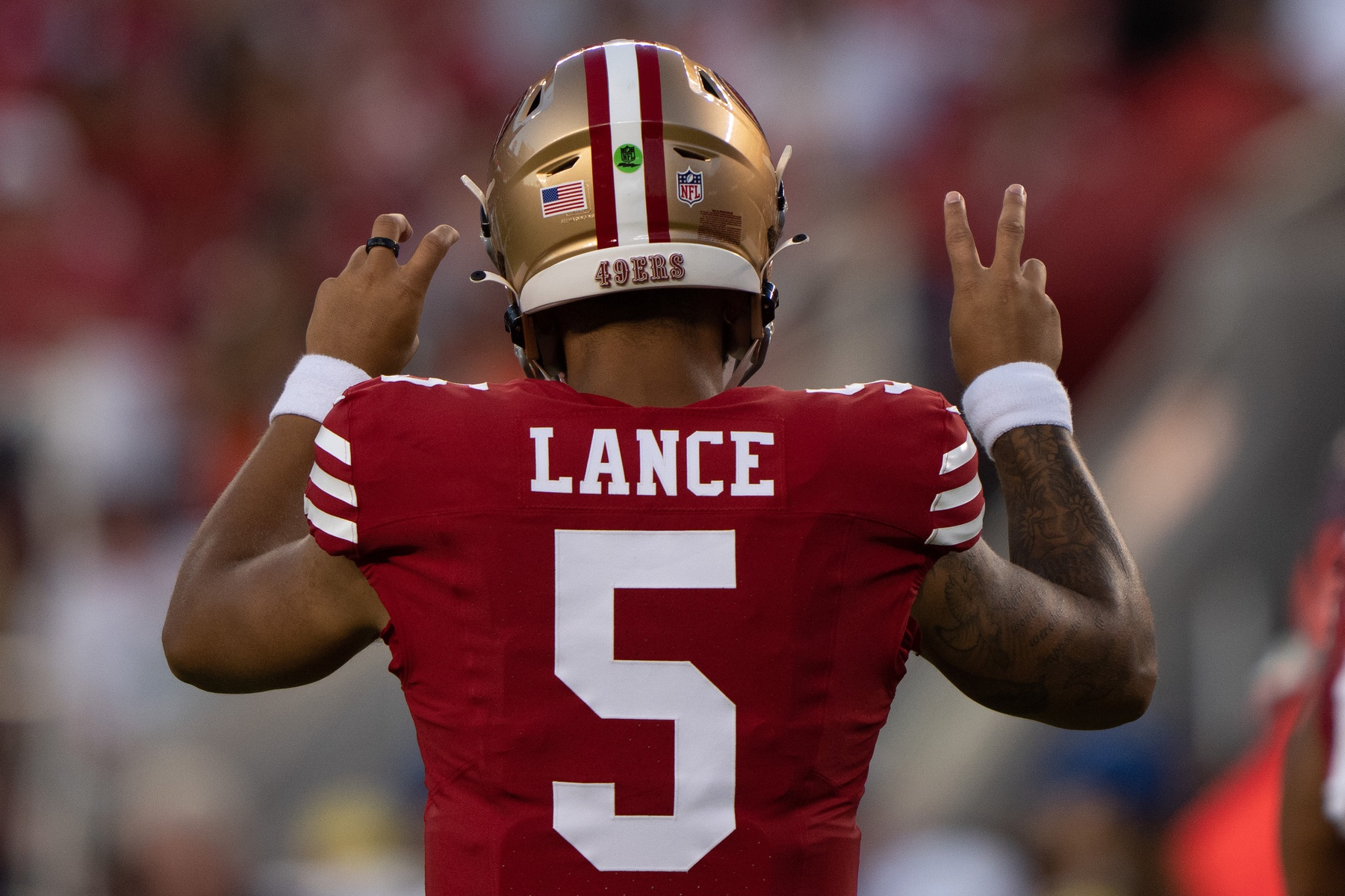 The San Francisco 49ers are a very good team. The 49ers made it to the NFC Championship game last season. They sit at 3-0 after a blow-out win in week three, and they are a favorite to contend again for a Super Bowl berth. They have a very good defense some very nice offensive weapons, including Christian McCaffrey at running back, and a top-tier tight end.  They have an early first-round pick at quarterback, named Trey Lance. Lance was selected third overall in the 2021 NFL draft. He was so highly thought of by San Francisco's management that the 49ers moved up to select him. San Francisco gave the Miami Dolphins three first-round picks and a third-round pick to move up from the 12th slot to draft 3rd just behind the New York Jets. Lance is the 49ers franchise quarterback.
No, that is not accurate. Trey Lance was traded from San Francisco to Dallas in the offseason for a fourth-round pick. Lance has not thrown a pass for Dallas, and he is listed third on the depth chart behind Dak Prescott and Cooper Rush. Trey Lance threw 102 regular season passes for San Francisco. Lance has 5 touchdown passes and 3 interceptions for his career.
The trade with Miami was nothing short of disastrous for the 49ers. With four total picks going to Miami, and three of those being first-round selections, it will be years before the 49ers can return to relevance and compete for a division title. No, that is not accurate. The Niners haven't missed a beat despite being on the wrong end of one of the most lopsided trades in NFL history. The Niners are a force, and they have every chance to win it all right now. It is a testament to the current roster, but it also speaks to the management team in San Francisco. They went all in on Trey Lance and they busted in spectacular fashion.  The Niners front office didn't continue to ride with Lance when all indications were that he was not going to be anywhere near the player that they thought he was coming out of college. They sent him off for what they could get and moved on. Lance threw 102 passes for the 49ers. That is roughly 1 first-round pick per 33 passes thrown, and he is gone. The 49ers owned their mistake in the same spectacular fashion with which they originally made it, and they moved forward.
The New York Jets are a contender for the AFC crown. They have a great defense – one of the top five defenses in the league, and they have some very skilled offensive weapons. Wide receiver Garrett Wilson won the rookie of the year award in 2022. His biggest competition for that award would have been teammate Breece Hall had he not gotten injured and missed significant time. Hall is back now at running back for the Jets and appears to be back to the same high level of play he enjoyed before the injury. The Jets are led on offense by former first-round pick, Zach Wilson. Wilson was selected just in front of Trey Lance, second overall in the 2021 draft. The Jets didn't need to package multiple draft picks together for the right to draft second overall in 2021. The Jets earned the pick with a two-win season in 2020.
No, the Jets are not a contender for the AFC crown. That is inaccurate. It is as inaccurate as a Zach Wilson throw. Wilson has thrown 709 passes for New York. Forty-five percent of those throws have been incomplete. That leaves Wilson well off the league average completion rate of 65%. Wilson has thrown 17 touchdown passes and 22 interceptions for his career. His lifetime passer rating is 69.2. Wilson's passer rating thus far for the 2023 season is a woeful 57. That places him dead last in the league in that category.
Yes, the Niners have Brock Purdy. Brock Purdy, the last pick of the 2021 draft, has stepped in and taken over the quarterback position for San Francisco. Purdy has played like a first rounder. In actuality, he has played much better than the first rounders from his draft class. Purdy has completed over 67% of his passes. He has thrown 17 touchdowns and been intercepted just 4 times in his short career. Purdy's passer rating sits at 107.0 for his career. That is 50 points higher than Zach Wilson's rating this season. Noone expected the Jets to have someone like Brock Purdy sitting on their bench. The 49ers, if they are honest, didn't expect Brock Purdy to be…Brock Purdy. They probably didn't expect him to survive his first training camp. The Jets don't have Brock Purdy waiting in the wings, or do they?
Tim Boyle is the Jets backup quarterback. Is he the next Brock Purdy? It's unlikely, but it appears that we will never know for sure. Despite Zach Wilson's historically atrocious play, the Jets have not considered giving Boyle a chance. It's hard to understand why Boyle is on the roster. If he is so bad that he can't get on the field given Wilson's poor play, he is not good enough to be in the league.
The Jets reacquired Trevor Semian this week. It's not a transaction that is going to move the needle much for the season, but it is something. Semian isn't very good, but he's not as bad as Zach Wilson.  But it is not a certainty that Semian will make it on the field. The Jets continue to support Wilson publicly. It remains to be seen as to whether Semian will get a chance.
Success in the NFL is largely dependent on evaluating talent. 102 passes…that's all it took for the Niners.  Trey Lance threw 102 passes, and he was gone along with three first-round picks and a third-round pick. What will it take for the Jets to honestly evaluate their quarterback? The Jets are having sideline disputes during games in full view of the fans and the television cameras. It's safe to assume what is happening out of the sight of the fans and the cameras is worse even if it is just whispers. This situation threatens to pull the team apart. The current Jet' brass have been uncanny in their ability to manage the draft. They have been the best in the league over their tenure in finding capable young players to contribute immediately. That success and the pride that comes from it may be a factor in how they are handling things with Zach Wilson. The New York Jets don't have nearly as much invested in Wilson as the Niners did in Trey Lance, but they seem willing to continue to give until they have lost so much more.
Videos
JetNation
4.6K
Subscribe
Broken Brains; Critics of Jets Quarterback Aaron Rodgers Begin Stirring up Conspiracy Theories