JetNation NFL Power Rankings (Top 10) – Week 4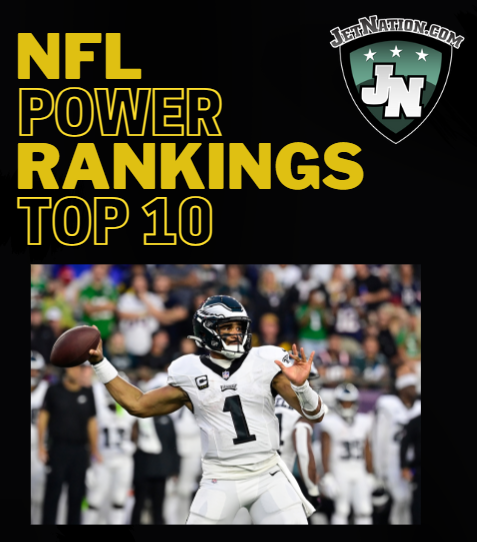 As we head into Week 4 of the NFL season, the landscape is starting to take shape. The Eagles and 49ers remain undefeated, while teams like the Chiefs and Bills are finding their groove. Meanwhile, the Jets make a quarterback switch in a desperate attempt to salvage their season. Here's a closer look at the top 10 teams and how the Jets are faring in our latest NFL Power Rankings.
1. Philadelphia Eagles (3-0)
Last Week: 1
The Eagles are undefeated and have not played a complete game. They are going to put things together at some point and really start rolling over teams.
2. San Francisco 49ers (3-0)
Last Week: 2
This is a dangerous week for the 49ers. The Cards are capable of an upset if San Francisco is thinking about Dallas in week five.
3. Kansas City Chiefs (2-1)
Last Week: 4
The Chiefs offense is waking up and Kelce seems to be back to full strength. The defense's improved play could make this a better version of the Chiefs than last season.
4. Buffalo Bills (2-1)
Last Week: 5
The Bills have been much better on both sides of the ball since the opening week loss to the Jets. This week's matchup with Miami is must-see TV.
5. Miami Dolphins (3-0)
Last Week: 7
The Dolphins need to focus after the record-breaking effort against Denver. Buffalo is a much better team and should give us an accurate accounting for how good Miami really is.
6. Dallas Cowboys (2-1)
Last Week: 3
Dallas was as bad against the Cardinals as they were good blowing out the Giants and Jets. New England will feel the Cowboy's wrath this week.
7. Detroit Lions (2-1)
Last Week: 10
The Lions would have a perfect record if they took care of the ball better in the second half against Seattle. This week's road trip to surprising Green Bay will establish a favorite in the NFC North.
8. Cleveland Browns (2-1)
Last Week (Unranked)
The Browns defense is the number one unit in the league thus far. Cleveland is only allowing 163.7 yards per game. Deshaun Watson is shaking the rust off, and with Cincinnati struggling, the Browns may be the class of the AFC North.
9. Baltimore Ravens (2-1)
Last Week: 6
The Ravens keep losing players to injury in a continuation of the same theme from last season. This week's trip to play a very physical Browns team is not exactly what the doctor ordered.
10. Seattle Seahawks (2-1)
Last Week: Unranked
The loss at home in week one to the Rams in week one is a real head-scratcher. Seattle has unloaded on their last two opponents for 37 points per game. Seattle heads out for two straight on the road against quality opponents in the Giants and Bengals. The trip will give us a good idea where this team lands in the landscape of the NFC.
———————————————————————–
20. New York Jets
Last Week: 25
The Jets finally made a move. Trevor Siemian isn't any good, he doesn't know the offense, and he hasn't had any game action in a while. Despite all that, he gives the Jets a better chance to win than Zach Wilson. That is just how bad Wilson is. Zach Wilson is lost, and if Robert Saleh is being honest with us about staying with him, he is going to lose his job. No matter who starts, this week looks like an impossible task with Kansas City coming to town.
Videos
JetNation
4.6K
Subscribe
Broken Brains; Critics of Jets Quarterback Aaron Rodgers Begin Stirring up Conspiracy Theories