The Most Important Marriage at 1 Jets Drive is Not the One You're Thinking Of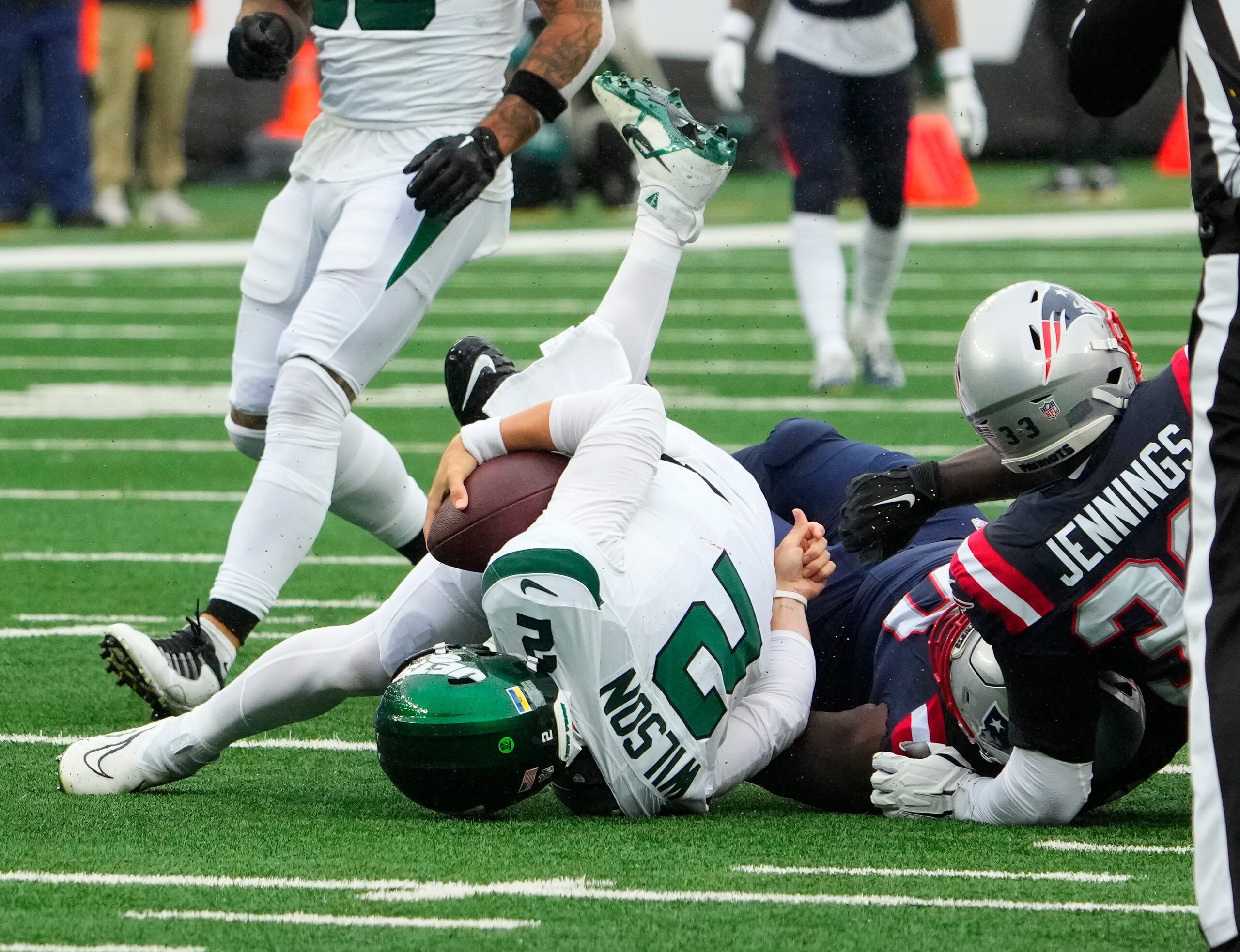 When it comes to offensive football at 1 Jets Drive in 2023, there are several key areas you can point to and know they just aren't working properly for the Jets. The most obvious one being personnel usage.   More specifically, sticking with veterans rather than playing the younger players with far more upside. Then you look at the personnel packages, and see players aren't being utilized to the best of their ability. All of this is problematic, yes, but there is another area of major concern in how offensive coordinator Nathaniel Hackett is calling plays.
Perhaps it is the fact that Zach Wilson, who is at best, maybe a top-45 passer in the NFL.  This is significantly limiting Hackett and forcing him into conservative, run/run/pass offensive game scripts. Perhaps it's an order coming from higher up, meaning Robert Saleh or Joe Douglas, acknowledging the shortcomings of the former 2nd overall pick.  Are they telling Hackett to run basic concepts with built in check downs so Wilson isn't overwhelmed? Regardless of the reasoning, if the Jets want to find offensive success for the remainder of the season, this one thing has to change immediately.
Many times you will hear analysts talk about "marrying the run and the pass" (here is a great clip from NFL Live explaining this), which means being able to run multiple concepts from the same look on offense. If the team is becoming one-dimensional based on the formation they present to the defense, they will have a very hard time finding success. Such has been the case in both of New York's losses. Outside of one drive against New England, the Jets' offense has not married up the run and pass game well enough. When the Jets come out with a shotgun look, their pass rate is 84.9%, 90 out of 105 total shotgun snaps. Conversely, when under center, defenses can key in on a run because the Jets run rate is 76.2%, 45 of 59 snaps. Let's break down some numbers to show the stark contrast.
Week 1 vs Bills (55 snaps)
Shotgun Run/Pass
4 Run/22 Pass (84.6% Pass Rate)
Under Center Run/Pass
25 Run/4 Pass (86.2% Run Rate)

Included 2 Play Action and 1 RPO Pass, so only 1 "true" drop back pass.
So despite eking out a win against Buffalo in overtime, thanks to defense and special teams, the numbers show the Jets were almost exclusively running from under center and passing from shotgun. Pretty easy to key in on, but just one game.
Week 2 @ Cowboys (47 snaps)
Shotgun Run/Pass
2 Run/32 Pass (94.1% Pass Rate)
Under Center Run/Pass
10 Run/3 Pass (76.9% Run Rate)
Again, almost exclusively running from under center, and all Jets fans know the results in Week 2 spoke for themselves. Dallas was able to pin their ears back on every snap from shotgun, with next to zero threat of a run. Not so hot after two games.
Week 3 vs Patriots (63 snaps)
Shotgun Run/Pass
10 Run/36 Pass (78.2% Pass Rate)
Under Center Run/Pass
10 Run/7 Pass (58.8% Run Rate)  
Finally, a glimpse of an offense that is trying to disguise its intentions pre-snap. A near 50/50 split when under center will certainly keep a defense on its heels, and will help contribute to Zach Wilson finding a sliver of success. While the Pass Rate from shotgun was still too high, the Jets did find rushing success running their 2-minute offense where they relied heavily on the run game from shotgun. On the 6th drive of the game in the 2nd quarter, 8 of their 9 plays were runs, with 5 of them coming from the gun. On those 5 runs specifically, they averaged 4.2 yards. A very small sample size, but they were about to gain first downs and keep the drive alive.
Now, the Jets have a chance to continue to "right the ship", at least from a play calling perspective, this Sunday night against the Super Bowl defending Chiefs. And after linebacker Willie Gay's comments about Zach Wilson and the Jets wanting to run the ball, what better chance than now? Load up some Play Action passes to get Wilson comfortable, while also keeping the defense guessing.
If the Jets are able to do that, especially on early downs, they can give themselves the full playbook to work from.  This would also mean having enough overall snaps to play the guys that should be out there (Jeremy Ruckert, Mecole Hardman, Xavier Gipson) already.
While there is no guarantee that this one change will produce results in terms of the final outcome, on a drive-to-drive basis, we should begin to see marked improvements. Teams can't stack the box against you if there is a threat of a pass on first down. Instead of trotting out "Wing Right" formation out of 12 Personnel on first down to start every game with an obvious run, come out with that look and throw a screen, or play action boot, or even an RPO to try to get linebackers to come down and fill their rush lanes.
The Jets simply cannot survive this game if they have 6 three-and-outs like they did vs the Patriots. Patrick Mahomes is too lethal to not hang 28-35 points on the Jets if Wilson and the offense gives him that many opportunities. While all marriages aren't created equal, this one needs to be repaired before the rest of the offensive problems can be addressed.
Videos
JetNation
4.6K
Subscribe
Broken Brains; Critics of Jets Quarterback Aaron Rodgers Begin Stirring up Conspiracy Theories