JetNation NFL Power Rankings (Top 10) – Week 5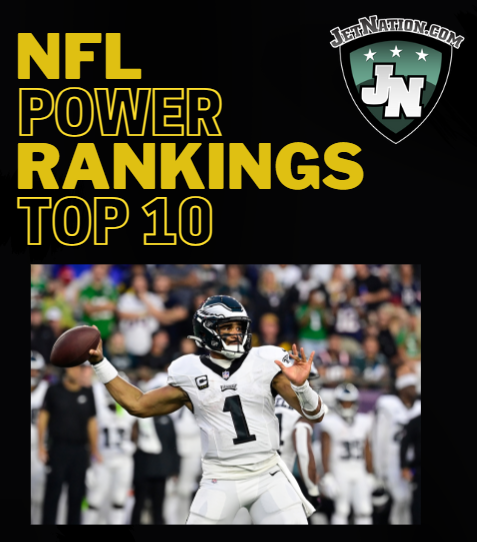 JetNation NFL Power Rankings
2023 Week Five
1. Philadelphia Eagles (4-0)
Last Week: 1
The Eagles seem capable of scoring whenever they need to, but they are struggling to maintain their focus for a full 60 minutes. The hangover from last year's Super Bowl seems to still be in effect in Philadelphia. The question is if there is anyone who can take advantage of that.
2. San Francisco 49ers (4-0)
Last Week: 2
The Niners have the league's leading rusher and the league's highest-rated passer. If San Francisco can manufacture some explosive plays down the field, it would make San Francisco unbeatable.
3. Kansas City Chiefs (3-1)
Last Week: 3
The Chiefs looked beatable against the Jets, but who can pull it off if the KC defense continues allowing just under 15 points per game?
4. Buffalo Bills (3-1)
Last Week: 4
The Bills quieted the noise from South Florida. Buffalo is clearly still the class of the AFC East and maybe the conference.
5. Dallas Cowboys (3-1)
Last Week: 6
Dallas barely broke a sweat against the Patriots. This Sunday's game in San Francisco is the game of the season thus far.
6. Miami Dolphins (3-1)
Last Week: 5
The Dolphins needed some humility and Buffalo was happy to deliver some. The big loss should focus Miami and let them get on with finding their best football.
7. Detroit Lions (3-1)
Last Week: 7
The Lions emphatically took control of their division with the blow out in Green Bay and established themselves as a player in the NFC. They will not be overlooked by anyone anymore.
8. Baltimore Ravens (3-1)
Last Week: 9
The Ravens played their best game of the season Sunday. They look to be in control of a surprisingly weak AFC North.
9. Seattle Seahawks (3-1)
Last Week: 10
The Seahawks defense is what makes the 2023 version different than recent Seattle teams that were not able to step into the upper echelon of the league.
10. Tampa Bay Buccaneers (3-1)
Last Week (Unranked)
Baker Mayfield is the 8th rated passer in the league, and Tampa allows only 17 points per game. They are not pretty at times, but the Bucs have been effective.
———————————————————————–
20. New York Jets
Last Week: 23
The Jet offense has a heartbeat. Zach Wilson played his best game, and the Jets were in it until the end. If Wilson can continue to build on his effort from Sunday night, the Jets should be able to salvage what looked like a complete train wreck of a season.
Videos
JetNation
4.6K
Subscribe
Broken Brains; Critics of Jets Quarterback Aaron Rodgers Begin Stirring up Conspiracy Theories