Featured Editorials Game Recap
NY Jets Game Observations (vs Denver) by KRL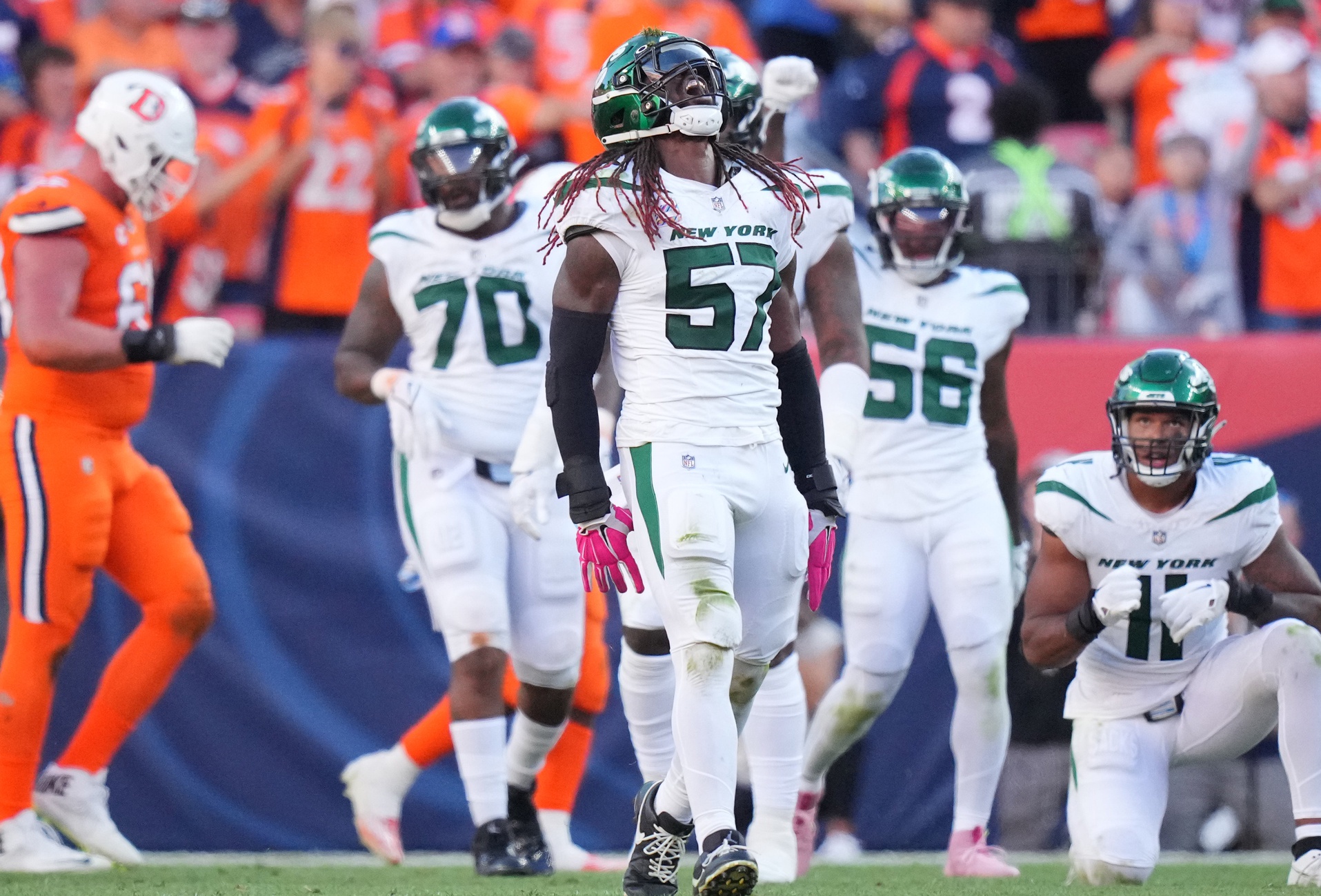 It was ugly, the ball security was loose (4 fumbles, only 1 lost shockingly) and the defense started off slow. But the Jets hung in, the running game got going and the "fumble Gods" allowed the team to recover 3 DEN miscues to secure a 31-21 win.  Let's take a look:
(Stats from: https://www.espn.com/nfl/boxscore/_/gameId/401547461)
Special Teams
– Poor red zone execution (0/5) made Greg Zuerlein crucial and he came up big time with 17 points (5/5 FG 2/2 XP).  Without his accuracy, this game is a loss.
– Thomas Morstead thankfully only punted three times with a 52 yd avg.  He put one inside the 20 (which led to a safety) and another of his punts led to a DEN fumble and a FG.  So you could say he was responsible for 5 points.
– Xavier Gipson had a 20 yd avg. on KO's and a 7 yd avg. on punts.  But he put the ball on the ground twice, he was bailed out by Will McDonald on one recovery.  And Quinton Jefferson nullified the other as he immediately recovered a botched DEN end around.  He has to tighten up his ball security.
– Irv Charles was brought up from the practice squad and displayed his special teams ability as he caused a fumble as the gunner on the coverage unit.
Defense
– Total up and down performance from the defense, when you produce 4 Sacks, 3 TOs, and a TD it's hard to complain.  But there needs to be more consistency:
* They started off slow as Wilson and McLaughlin gashed them on runs and screens early.
* They recovered and shut down DEN for the majority of the second half.
* But then gave up a quick TD and 2 pt conversion to allow DEN to close the margin to 24-21.
* Then rebounded to close out the game strong with a 2 sack, scoop & score final series.
– Nice to see Jeff Ulbrich "break his pattern" on defense by allowing Sauce Gardner to flip sides in coverage. And with the game on the line, dialing up the blitz with Quincy Williams.
– Strong game by the secondary especially with two CBs out (DJ Reed & Brandin Echols). Sauce Gardner had 5 Tkls and 2 PBU, and Bryce Hall had 4 Tkls and the game-ending TD.
– I posted it last week and will say it again, Quincy Wiliams is becoming a star. He generated another 9 Tkls, 2 Sacks, TFL, and 3 QB Hits as he was all over the field. Great work by Williams and the coaching staff to sharpen his technique, awareness and to harness his speed.  No longer is he flying around missing tackles or biting on misdirection plays
– CJ Mosley had "nice stats" for the game: 13 Tkls, 2 TFL and a PBU.  But he was poor in the first half as he was missing tackles and was washed out of a number of running plays.  Mosley recovered in the second half but his first half was bad.
– Props to Al Woods for bull rushing the interior DEN OLine and generating a safety as he caused Wilson to commit an intentional grounding penalty in the end zone.
– Jermaine Johnson and Bryce Huff continue their ascent as edge rushers and show why Carl Lawson was a healthy scratch.  Johnson had 3 Tkls, Sack, TFL and a QB Hit while Huff had 2 Tkls, Sack, TFL and 2 QB Hits.  It will be interesting to see what Joe Douglas does at the edge position as the trade deadline approaches:
* Will he extend Huff?
* Will he try to deal Lawson to a contender for a mid-round pick?
Offense
– Nice offensive production as they accumulated 407 total yards.  Particularly strong was the ground game, with 32 carries for 234 yards and a TD.  But to have any chance to beat PHI next week the red zone execution must improve, 0/5 and a bunch of FGs just won't cut it. And getting no points at the end of the first half is inexcusable.  Good for Nathaniel Hackett to get a bit of redemption, but with the effectiveness of the running game I'm shocked he didn't dial up more play-action passes.
– With the injury to Alijah Vera-Tucker and Mekhi Becton going out for a few plays, credit to the OLine for being flexible. Multiple times Max Mitchell and Billy Turner had to step in at OT but they weren't noticeable (which is a good thing).
– Breece Hall = Adrian Peterson, with no more limitations he made the entire offense go with 177 yards on 22 carries and a TD.  Here's hoping the Jets can re-create the formula from last year before he got hurt (5-2 record) where Hall would generate "splash plays" on offense and make things easier for Zach Wilson.
– Strong game from Tyler Conklin with 4 catches for 67 yards and dragging 4 DEN defenders on a big 3rd down catch as the offense tried to end the game.
– Garrett Wilson had 3 catches for 54 yards as he had a tough matchup with Surtain.
– Xavier Gipson didn't have any catches, but his pre-snap motion on fake jet sweeps seemed to pull DEN defenders out of position in the run game/
QB
– Decent effort by Zach Wilson as he was 19/26 (73%) for 199 yards and an INT.  You have to be pleased that he was able to increase his completion percentage from last week (71% – 73%).
And the INT he threw was an incredible play by Surtain, I'm still shocked on how he picked it off.  But he has multiple things he has to tighten up as PHI is coming in:
* Ball security in the pocket, he put it on the ground twice.
* Situational awareness: you can't end the first half not getting at least a FG attempt.
* Red zone efficiency: you can't go 0/5 and expect to beat good teams.
You can read more and let us know what you think about the NY Jets on the JetNation message board.
Videos
JetNation
4.6K
Subscribe
Rodgers 21-day Practice Window Opens and Should QB be an Option With top 10 Pick?