JetNation NFL Power Rankings (Top 10) – Week 6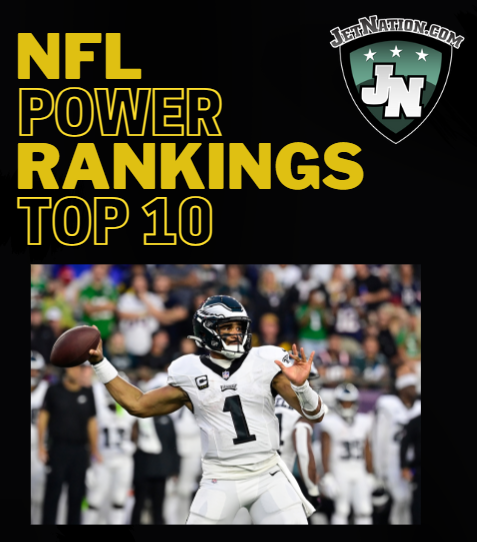 Welcome to Week 6 of the JetNation NFL Power Rankings, where we break down the top 10 teams making waves in the league. From the undefeated Eagles and 49ers to the rising Dolphins and Lions, we've got the scoop on who's hot and who's not. Plus, don't miss our take on where the New York Jets stand this week. Let's dive in!
1. Philadelphia Eagles (5-0)
Last Week: 1
The Eagles looked more like last year's team in the second half of the game against the Rams. There are few reasons to believe this team won't play for a Super Bowl berth again in January.
2. San Francisco 49ers (5-0)
Last Week: 2
I know people are frustrated that I haven't jumped the 49ers over the Eagles. I still have visions of the 31-7 shellacking Philly delt San Francisco last year in the playoffs, and I still see the matchup in Philly's favor even if it's closer next time.
3. Kansas City Chiefs (4-1)
Last Week: 3
The Chiefs have to be concerned with Kelce's health although he returned to the game after getting banged up Sunday. Without him, they won't get back to the big game.
4. Miami Dolphins (4-1)
Last Week: 6
The Dolphins are grinding opponents up on the ground. It is hard to find a weakness in their attack.
5. Detroit Lions (4-1)
Last Week: 7
The Lions will be content to roll along quietly in the NFC with most folks focused on Philadelphia and San Francisco. Detroit could slip in front in the race for home field given they have easily the weakest schedule of any NFC contender.
6. Buffalo Bills (3-2)
Last Week: 4
The Bills have too many injuries to count. They are a second-tier team at best right now.
7. Dallas Cowboys (3-2)
Last Week: 5
Dallas doesn't appear ready to compete with the elite teams. They can change our minds again in three weeks against the Eagles.
8. Seattle Seahawks (3-1)
Last Week: 9
The Seahawks have a chance to string a nice run together coming off their bye week. The optimism is tempered by the fact that Seattle is only a wild-card contender with the Niners in their division.
9. Tampa Bay Buccaneers (3-1)
Last Week: 10
If the Bucs can beat Detroit this week at home, they might start getting some respect. People take longer to recognize teams that specialize in ugly wins.
10. Los Angeles Chargers (3-2)
Last Week: Unranked
The Chargers get a wounded Dallas team this week followed by a visit to Kansas City. If Los Angeles is going to step forward into the top tier of the league, this would be a good time.
———————————————————————–
18. New York Jets
Last Week: 20
There is a lot to like about the Jets even with Zach Wilson at quarterback. If Wilson doesn't hurt the team, the running game and defense will make the Jets a tough spot for anyone. One pleasant surprise has been the tight end position. If Conklin and Uzomah can continue to make significant contributions, teams won't be able to slide coverage so much toward Garrett Wilson, and things will open up more downfield.
Videos
JetNation
4.6K
Subscribe
Broken Brains; Critics of Jets Quarterback Aaron Rodgers Begin Stirring up Conspiracy Theories