Bryce Huff, Jermaine Johnson & Other NY Jets Thoughts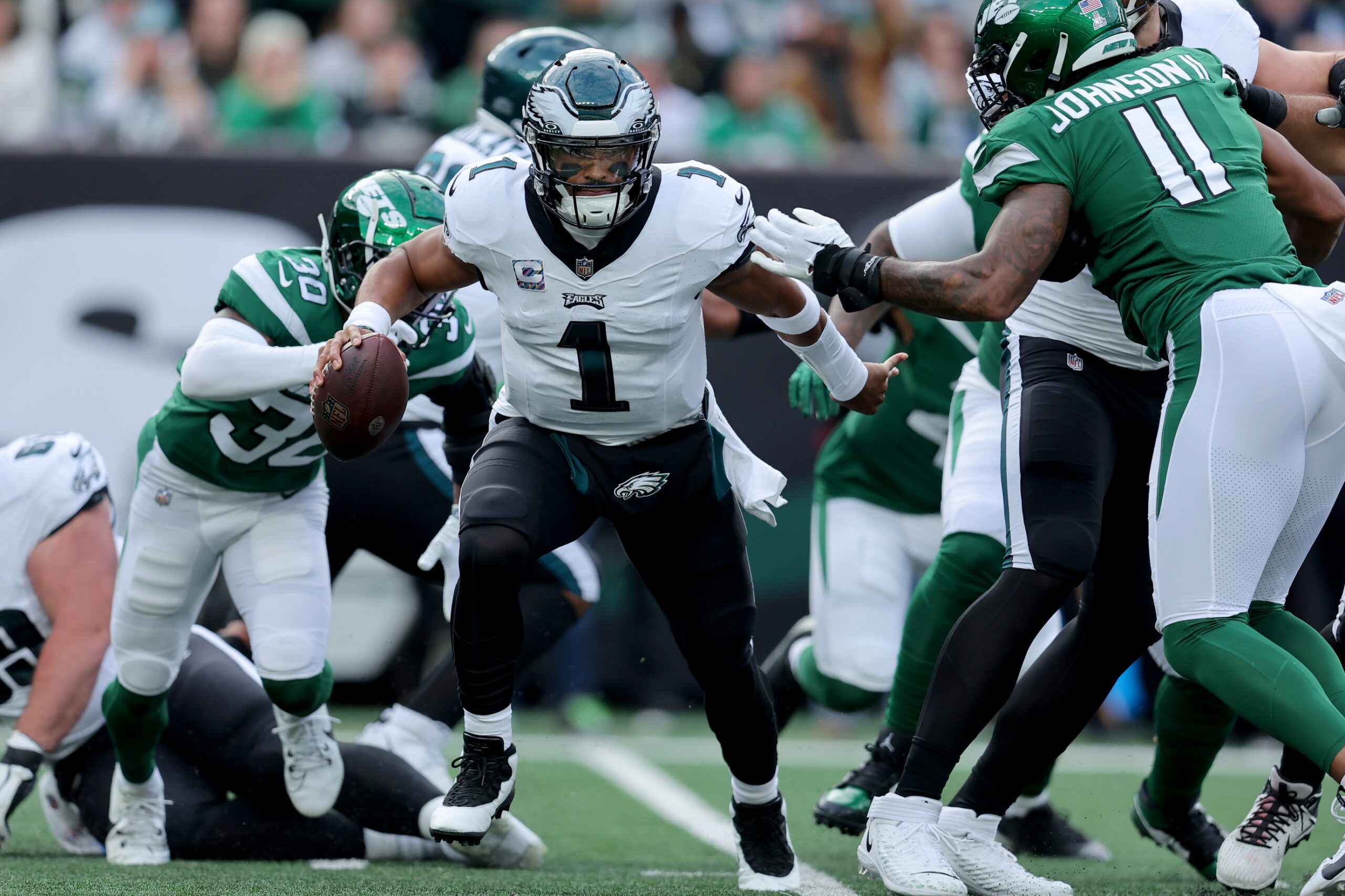 With the secondary playing their #5, #6, and #7 CBs the defense put on an epic performance to lead the Jets to their first win ever over PHI, 20-14.  Normally I would be "giddy" but with the bye-week coming up I'm reminded of last year's win over BUF.  That too was unexpected and the Jets headed into the bye at 6-3 with the division and playoff spot in their sights. We all know what happened as the team collapsed and finished 1-7 to end the season.  There's a ton that needs to be improved on the offensive side of the ball. But credit to Robert Saleh and his staff for
coaching up an undermanned roster and taking down the last undefeated team.  Jermaine Johnson, CJ Mosley, Bryce Huff, Quincy Williams, and a no-name secondary all stood out. Let's take a look:
Special Teams
– Thank goodness for Greg Zuerlein, as he bailed out the offense again with a perfect 4/4 on FGs.  If at least half of those FGs can be changed to XPs, I'll be happier.
– What a pleasure to have a reliable punter as Thomas Morstead (Braden "Shank" Mann is on PHI) had a 48.5 yd average on four punts. And he put three of them inside the 20-yard line.
– Irvin Charles stood out again as a gunner making another open-field tackle inside the 10-yard line.  With Justin Hardee going down there's a role open for him to fill. His first two games show why Brant Boyer raved about him in camp.
Defense; Jermaine Johnson and Bryce Huff (Edge)
– I thought Jeff Ulbrich would get "funky" in his deployment of personnel with so many CBs out. But he stayed pretty standard and trusted the backups to do their jobs. Credit to the players and staff for being assignment-sound. There were very few "blown" coverages. And fortunately, when they did happen PHI receivers dropped the ball.
– To hold PHI to 14 points and none in the second half is incredible. Add in the fact that they also produced 4 Turnovers, 2 Sacks, and 12 PBUs with #5, #6, and #7 CBs; who saw that coming? With the Jet injuries, did PHI take this game for granted (get too cute)? They're a devastating run team (164 yds a game coming in) but only attempted 22 rushes and got held to 80 yards.  It felt like PHI wanted to rack up "sexy air stats" as they attempted 45 passes it didn't work.
– Quincy Williams (Fred Warner East?) continued his breakout year as he had another 12 Tackles, TFL, PBU, and a fumble recovery. And if he didn't get so anxious, maybe a scoop and score.
– The "other" Williams brother, Quinnen, secured the interior of the DLine and showed good hands coming up with an INT.
– CJ Mosley recovered from last week's up-and-down performance and was more consistent. Generating 9 Tackles, PBU, and a forced fumble while helping in zone coverage with deep drops.
– Fantastic game by the safeties, Tony Adams and Jordan Whitehead. With inexperience at the cornerback, they didn't have any breakdowns as they provided help over the top. Whitehead had 3 Tackles and 2 PBUs, while Adams had 7 Tackles, TFL, PBU, and the game-changing INT.
– Special mention to the CBs Bryce Hall, Craig James, and Tae Hayes.  Tight coverage on PHI WRs even though AJ Brown had 7 catches for 131 yards:
* Hall with 3 Tackles, 2 PBUs, and an INT
* James with a Tackle and a PBU
* Hayes with 2 Tackles
– Bryce Huff and Jermaine Johnson were twin terrors coming off the edge. Causing havoc all game as Huff had 3 Tackles, 1.5 Sacks, TFL, and 2 QB Hits.  While Johnson had 2 Tackles, 3 PBUs, and caused two INTs, one with his punch out of the ball into Quinnen Williams hands.  And the other with a deflection of a Jalen Hurts pass into Bryce Hall's hands.
Offense
– Another game and another poor performance in the red zone.  Where are the TE targets that we saw during camp for TDs?  With the defense generating 4 turnovers, the offense struggled, taking advantage of those extra opportunities.  On two of those turnovers, the offense went 4 and out and 3 and out, that has to improve.  On the positive front, I like how Nathaniel Hackett didn't coddle Zach Wilson and allowed him to throw often and vertically.
– The OLine has to get stabilized during the bye, Joe Tippmann went down with an injury and Max Mitchell struggled at RT.
– Were illegal crackback blocks taught in GB?  Because both Randall Cobb (in pre-season) and Allen Lazard yesterday seem to specialize in them.  Lazard's was particularly awful as the offense had a free play and Zach Wilson found Garrett Wilson for a 20 yard gain down to the 15.  But it was all wiped out as the ball was moved back to the 50 yard line for a 35 YARD PENALTY.
– Breece Hall wasn't as dynamic as last week.  He had 12 rushes for 39 yards and a TD while catching 5 passes for 54 yards.  At first, I thought he should've taken a knee on his score to drain the clock.  But with PHI having two timeouts left Hall did the right thing.  It was better to be up 6 points with 1:40 left instead of being up by 1 with one minute left.
-It's nice to see Garrett Wilson get fed a ton of targets (12) as he came up with 8 catches for 90 yards.
– More reps and targets for Tyler Conklin (3 catches / 24 yards) and Jeremy Ruckert (1 catch / 8 yards), please.  The Conklin slant route over the middle always seems to be open.  And the CJ Uzomah "whiffs" in run blocking are concerning.
– Will there be a change in the RB rotation during the bye?  Dalvin Cook still looks like "LeVeon Bell 2.0," and the speed of Izzy Abanikanda is looming on the bench.
QB
– Zach Wilson took care of the ball and didn't lose the game like Jalen Hurts did. He was 19/33 (58%) for 185 yards and managed the game, hopefully during the bye, we can see more growth where the KC game is his floor.
Videos
JetNation
4.6K
Subscribe
Broken Brains; Critics of Jets Quarterback Aaron Rodgers Begin Stirring up Conspiracy Theories