Jermaine Johnson is Ready for Lift Off; NFL Thoughts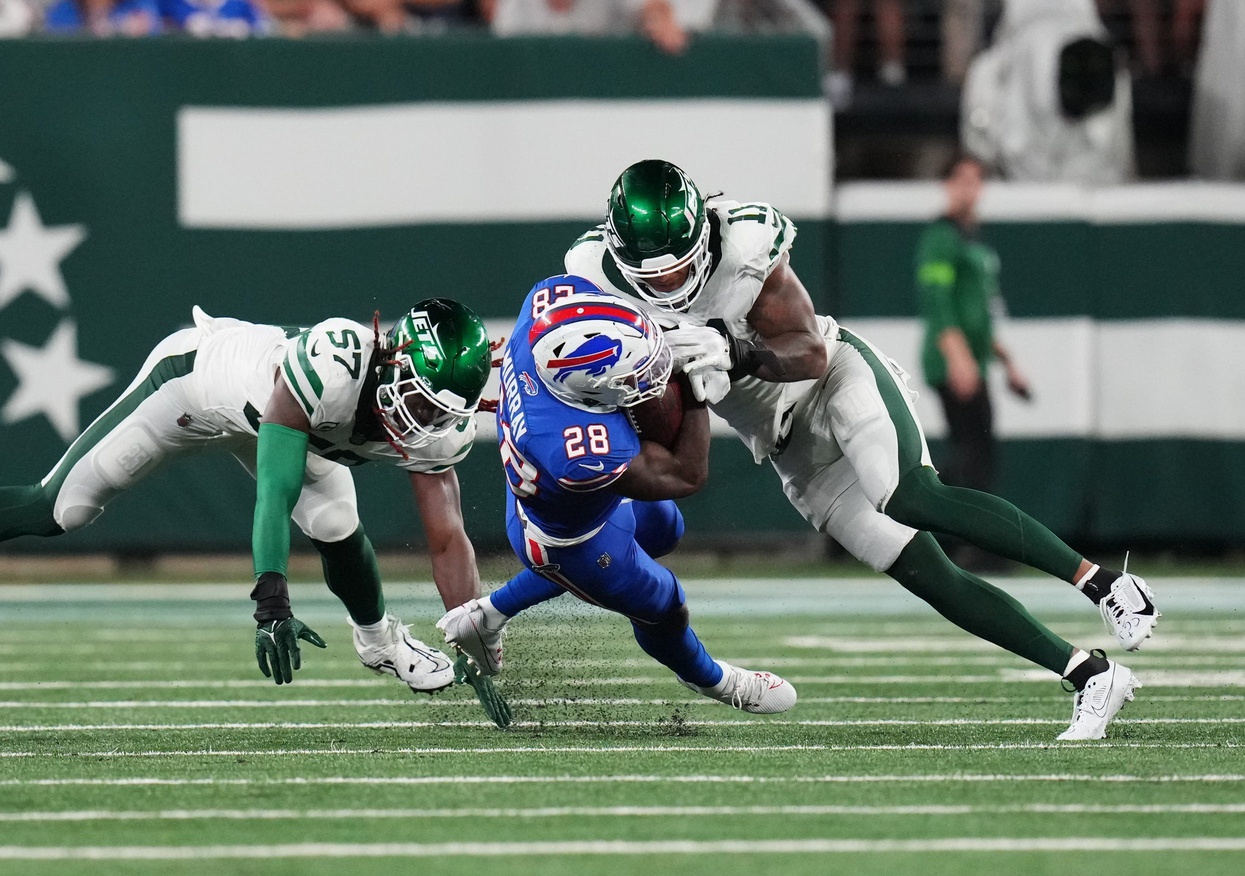 Jermaine Johnson is making a significant impact on the field amidst an NFL season characterized by unexpected team standings and pivotal player performances.
– Injuries are shaping the league much more than in recent times. Teams and the standings may look very different at the end of the regular season than fans would have expected. The NFL's decision to add a game to the schedule was not a great idea.
– San Francisco's recent struggles have allowed Seattle to take first place in the division. There's irony in the fact that the Seahawks are looking to make a serious run. The Seahawks traded for former Jet Leonard Williams. One of the reasons the Seahawks feel they should make such a move is the play of former Jet quarterback Geno Wiliams. Williams would look very nice right now in a Jet uniform.
– Raise your hand if you picked the Atlanta Falcons to have a share of first place after eight games.
– There is merit to the idea that running back as a position has been overvalued. Teams have been able to find very productive backs in the later rounds of the draft and allow highly paid backs to walk in free agency without much of an impact. I think the balance to that thought is that not all backs are created equal. The Giants almost won a football game on Sunday entirely on the back of Saquon Barkley. New York passed for -9 yards and lost in overtime. Barkley is well worth the money.
– After running under the radar for nearly half of the season, the Bengals are ready to be important again.
– The Jacksonville Jaguars have won five straight games, and they are about to run away and hide in the very weak AFC South. The lack of competition from their division foes may give the Jaguars a shot at playing at home through the playoffs.
– Jimmy Garoppolo is a nice backup quarterback. He can come into a game in a bad situation and give his team a chance to win. He is not good enough to be a starter.
– One must wonder how bad a quarterback needs to play before Jet's head coach Robert Saleh will bench him for a backup quarterback.
– The Giant's best weapon, Saquon Barkley, had 39 touches Sunday. The Jets Breece Hall had 18 touches. That is a mistake by the Jets coaching staff.
– Jet linebacker Jermaine Johnson is ready for liftoff.
– The Miami Dolphins beat another bad team Sunday. They are good at not fooling around with lesser teams; they put them down and away early. Miami plays Kansas City this week. If the Dolphins lose, it will mean they are 0-3 against the winning teams on their schedule.
Videos
JetNation
4.6K
Subscribe
Broken Brains; Critics of Jets Quarterback Aaron Rodgers Begin Stirring up Conspiracy Theories