Backup Quarterbacks in NFL; NFL Thoughts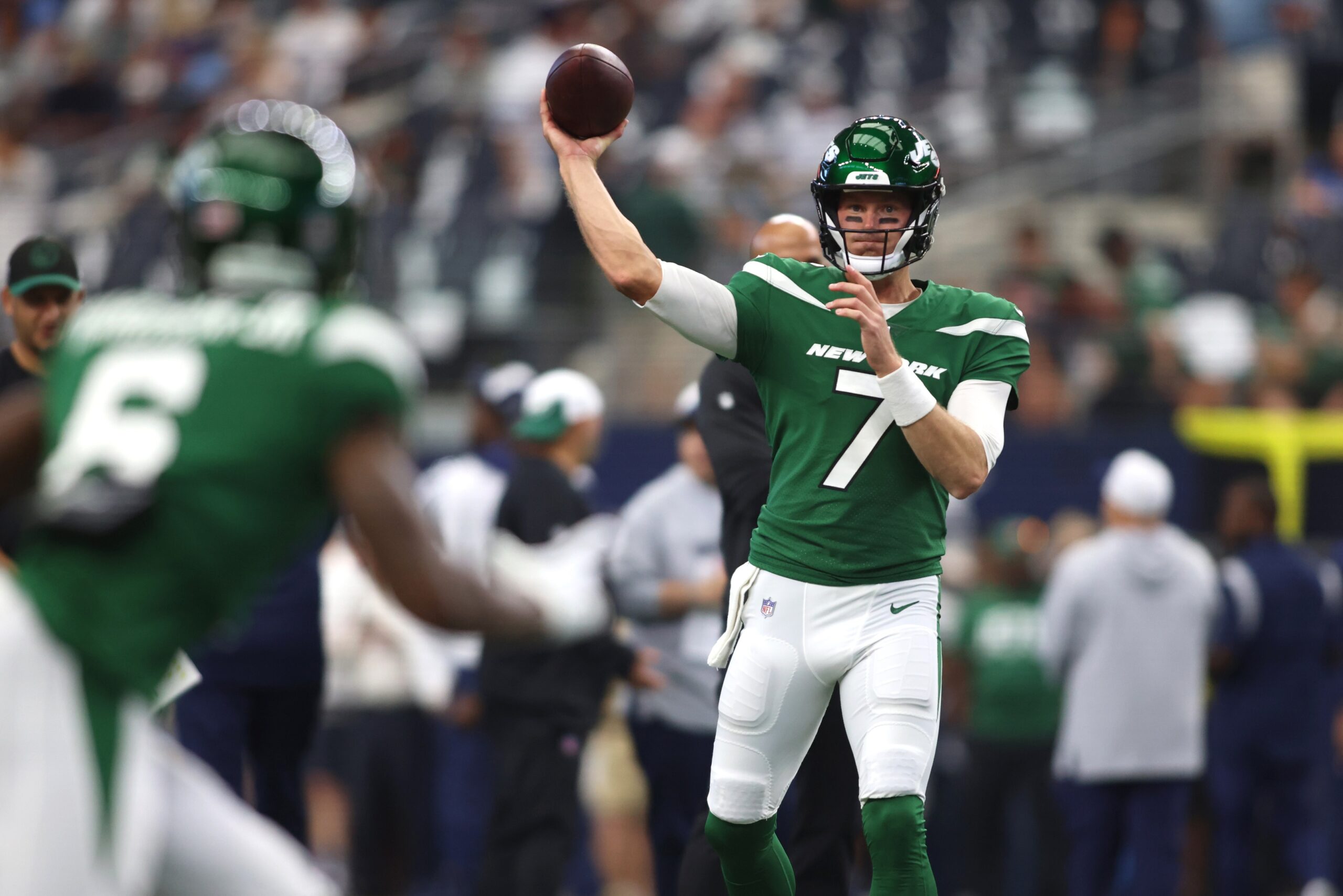 As the NFL season unfolds, the value of backup quarterbacks is clearer than ever — nearly half the league has called them into action. We're breaking down this trend, looking at the Cowboys' playoff chase, the Jets' defense-led performance, and what's up with Zach Wilson's stats. Also on the agenda: Super Bowl odds, fan base reality checks, and Deion Sanders possibly making NFL coaching waves. Backup QBs aren't just benchwarmers anymore; they're game-changers.
– Most fans would agree that there are several lynchpin positions on a football team. quarterback, left tackle, defensive end, and cornerback are chief among those spots. If things continue in the same fashion as the season has unfolded thus far, we can add backup quarterback to that list. Half the teams in the league have had their backup take snaps due to injury already. It's time to start building rosters with the understanding that the backup quarterback will be under center at some point.
– Dallas came to play Sunday. Dak Prescott takes a lot of criticism, but he was not the issue. People will need to look elsewhere to figure out why the Cowboys will be chasing a wildcard yet again this year.
– Troy Aikman said the Jets are "a bad team with a great defense." I don't think you can call a team "bad" if one side of the ball is "great." I think what he meant was that the greatness of the defense is not enough to balance the ineptitude of the offense. The Jets will probably have a final record that reflects the fact that they have half of a good team, and that will mean winning about half of their games.
– Joshua Dobbs is one of the great stories of this season. He gives his team a chance to win every time he takes the field. It's all you can ask for a backup. It's also frustrating that he was available while the Jets were looking at adding receivers at the trade deadline.
– The Jets have scored 19 points in their last two games. It's not a coincidence that Breece Hall has just 28 carries in the last two games.
– Zach Wilson has five touchdown passes in eight games. He has thrown five interceptions and has lost five of his eight fumbles. Wilson's QBR is 32.3, and his rating is 75.4. Desmond Ridder was replaced as the starter in Atlanta. Ridder's number are better than Wilson's in every category cited above.
– The Cincinnati Bengals are 10-1 to win the Super Bowl. I'm just sayin'.
– It could be worse, Jetnation. We could be Giant fans. Even worse – we could be asked to believe that Mac Jones is our quarterback of the future.
– Right now, the cold chill of mediocrity is running up the backs of all Bills and Dolphins fans.
– It was good to see Will Smith get on the field and make a play. I hope it's just the start of a very good career.
– Aaron Rodgers isn't going to come back if the team is out of contention. This week's game in Las Vegas is huge. After the Raiders, the Jets travel to Buffalo and then play Miami at home. If the Jets end up at 4-7 in three weeks, we will probably not see Rodgers on the field during warm-ups any more.
– If the Giants are dumb enough to let Daniel Jones go, as some have suggested, the Jets should pounce on him. Jones has had nobody to throw to for the entirety of his career with the Giants. He has good mobility, and he plays his heart out. Jones would benefit from a year behind Aaron Rodgers and be a very good starter once Rodgers retires.
– I don't think the University of Colorado is the last stop for Deion Sanders. I am guessing that Sanders will move on shortly after his sons move on. The question is will that move be to the NFL. Sanders's persona is a huge draw at the college level where the players have control over where they go to play. NFL player movement is much more restrictive. Deion will need to prove his coaching capability to be a successful NFL coach where his resume as a player will not be enough to win. I don't know if Deion is any good as a coach. It's likely that he'll have an opportunity to be an NFL coach regardless. The results for NFL Hall of Fame players trying their hand as coaches are mixed. Sanders is uniquely positioned among the great players to succeed as an NFL coach.
Hall of Famers in each of the major sports have largely failed to achieve success as professional coaches. The struggle of great players to transition into great coaches can be attributed to their inability to relate to the average player. It is a struggle for anyone who operated on such an exclusive level to relate to, much less help develop, players that will never see that same level of play. Where Deion Sanders has an edge over other hall of fame players is in his experience with the average player. Sanders has now been working for years with hundreds of players who will never play a down in the NFL, much less join him in the NFL Hall of Fame. Each day he builds on his experience working with players who are much less talented than he was. Very few great professional players start their coaching careers as college coaches. Jackson State and the University of Colorado will give Sanders the edge he needs to excel in the NFL. If we add those invaluable experiences to the aura Deion Sanders will bring to a team trying to lure free agents and convince players to buy in on their team's program, it makes sense for NFL teams to start seriously thinking about head coach Deion Sanders.
Videos
JetNation
4.6K
Subscribe
Rodgers 21-day Practice Window Opens and Should QB be an Option With top 10 Pick?