Tanzel Smart, Marcelino McCrary-Ball & Jake Hanson Elevated From Practice Squad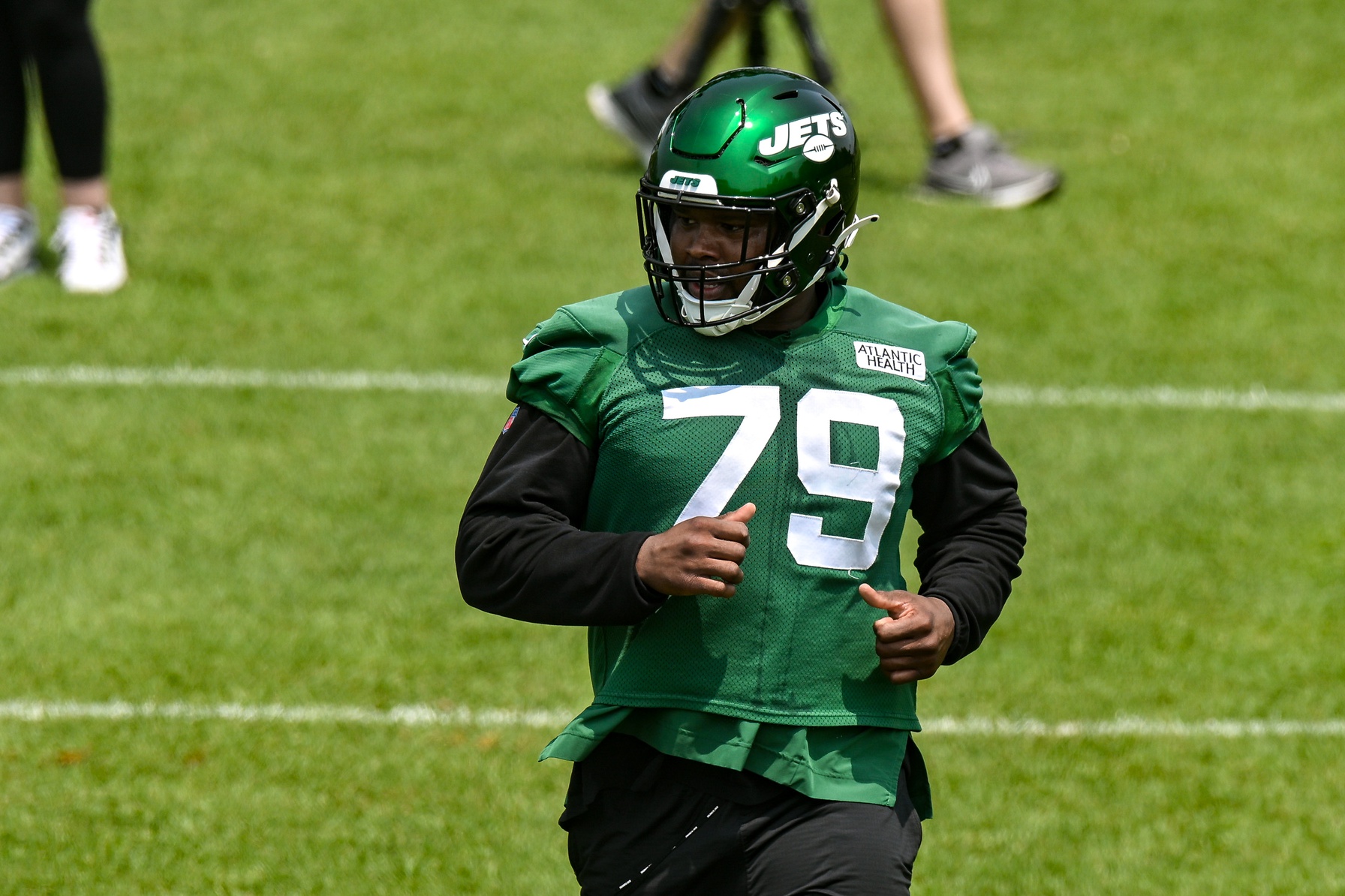 The New York Jets signed defensive lineman Tanzel Smart to the active roster. He was on the practice squad, and the team also announced that they had elevated LB Marcelino McCrary-Ball and OL Jake Hanson. These moves were made for the game on Sunday vs the Buffalo Bills.
Indiana University
2021 (Graduate): Team captain collected 40 tackles, 24 solo, with one sack, one interception, and four pass breakups … played in all 12 games with six starts at husky … recorded his fourth career interception against No. 8 Cincinnati (9/18) … posted back-to-back games with five stops at Western Kentucky (9/25) and at No. 4 Penn State (10/2) … broke up a pair of passes against Rutgers (11/13) … totaled seven tackles, six solo, with the sack at Purude (11/27).
2020 (Senior): Team captain suffered a season-ending ACL injury during fall camp.
2019 (Junior): Totaled 47 tackles, 29 solo, two sacks, three for loss, a team-high six quarterback hurries, and two pass breakups … finished fourth on the team in stops and solos … played in 13 games with 12 starts at husky … matched his career-high (5th time) with 10 tackles, five solo, in the season-opening win vs. Ball State (8/31) … collected five stops and one sack in the victory at Maryland (10/19) … added six tackles in the win at Nebraska (10/26).
2018 Honors: Honorable-mention All-Big Ten (coaches, media).
2018 (Sophomore): Posted 59 tackles (3rd on the team), 40 solo (2nd), 7.5 for loss (1st, 41 yards), 2.5 sacks (3rd, 22 yards), one interception (T-2nd), one forced fumble (T-3rd), three pass breakups (T-2nd), and one quarterback hurry … started 11 times and played in all 12 games at husky … led the team in stops three times, twice with game-high honors … recorded career-highs with two sacks and three TFLs, forced his first career fumble, and added six solos against No. 24 Michigan State (9/29) … made eight tackles at No. 3 Ohio State (10/6) … matched a career-high with 10 stops, seven solo, 1.5 for loss, a half-sack, and one PBU against No. 18 Penn State (10/20) … collected 10 tackles, six solo, at No. 4 Michigan (11/17) … also picked off the pass against the Wolverines … IU defensive player of the week (Penn State).
2017: Started the first three games at husky before he suffered a season-ending injury and received a medical redshirt … posted 20 tackles, 13 solo, a half for loss, and one quarterback hurry … matched his career-high with 10 stops, seven solo, and the half-TFL in the season opener against No. 2 Ohio State (8/31) … followed that up with eight tackles in the win at Virginia (9/9).
Oregon Football
Career
» Started 49 games at center over four seasons.
» Did not allow a sack over his first three seasons (2,738 snaps).
» Two-time AP Pac-12 All-Conference second team selection.
As A Senior (2019)
» NFL Combine participant
» AP Pac-12 All-Conference second team
» PFF All-Pac-12 third team
» Coaches Pac-12 All-Conference honorable mention
» PFF National Team of the Week (Week 10)
» Three-time PFF Pac-12 Team of the Week (Week 3, 9 & 10)
Started all 12 games played at center … Committed one penalty over 746 snaps … Finished as the No. 4 center in the Pac-12 with a 71.7 overall grade from Pro Football Focus … Did not allow a pressure, hurry or hit on the QB in the Pac-12 Championship Game and Rose Bowl … Earned a 76.7 pass-blocking grade from PFF … Graded out over 80 percent in pass blocking four times … Team captain in two games … Oregon finished as one of seven FBS teams with 35 passing TDs and 25 rushing TDs … Helped Oregon rank ninth nationally with 5.48 yards per carry in the fourth quarter and 14th in the second half (5.32) … vs. Montana (Sept. 14): Highest-graded center in the nation and the No. 3 offensive lineman for week 3 by PFF at 90.1 overall … Helped Oregon finish with 247 yards on the ground and 313 through the air … Also earned a 86.4 run-blocking grade.
We've signed DL Tanzel Smart to the active roster.

We've also elevated OL Jake Hanson and LB Marcelino McCrary-Ball for tomorrow's game.

— New York Jets (@nyjets) November 18, 2023
Videos
JetNation
4.6K
Subscribe
One of these years the #nyjets will make our Christmas wishes come true! Keep the faith.