Where Do They Go From Here ?
By Scott Dierking
Jetnation.com Guest Columnist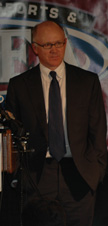 The next 75 days of the New York Jets franchise can very well decide the next decade of results. Anything that happens on the field the remainder of this season should become irrelevant. The die is cast, and they must begin to formulate a plan for a new course of direction.
Why should we be confident that the Jets will, in fact, change this off-season? Robert Wood Johnson IV has an ego. All successful businessmen do. Woody is a philanthropist. Woody is a child of privilege. But, we also know Woody to be a fan. That may be our most important agent of change.
While most of us will find this part difficult to play, we must place ourselves in the shoes of Johnson. He walked into ownership as a neophyte. He had to have his hand held during the first year by Parcells. Bill walked him into the Al Groh debacle. Bill walked him into recommending Terry Bradway. Terry walked him into recommending Herm Edwards.
The only outward decision that Johnson has seemed to make was the hiring of Jay Cross. We know where that his left him.
If we were to place ourselves in the thought patterns of Johnson, we can only guess that he must be thinking, "What have I done to bring any of this on myself?" There must be snickers from the jet-set crew. The WSS debacle was a slap in the face. The poster boy of the new Jet millennium, Chad Pennington, has fallen in a heap. This is where Johnson's ego must get the best of him.
Johnson will need to orchestrate moves very carefully. Window dressing will not be in order here. This is a housecleaning of front office proportions. Johnson must use all of his resources to ensure that his next plan is one that will succeed and provide a foundation for organizational growth. He will have many tools at his disposal. His business acumen. NFL cronies. Personal confidantes. They will all play a part of a systematic approach.
More importantly, Johnson will have the benefit of recent history of the New York Jets, as well as other NFL models to guide him in what should be an exhaustive search and model approach.
Let's look at recent Jet history. The current regime seems to be a committee decision by popular consensus. Unfortunately, that consensus waivers through time. It is a philosophical hodgepodge that contains part coach input, part GM input, part Tampa Bay philosophy, part Kansas City philosophy and part New York Giant philosophy.
Unfortunately, the sum of these parts has not added up to a whole anything. They say that a camel is a horse designed by a committee. Ladies and gentlemen, I present you the $100,000,000 camel: The 2005 New York Jets.
We do not need to travel very far back, or even outside the Jets organization to find the polar opposite of the committee management style. One needs to look no further than Duane Parcells.
As well all know, the Tuna was the ultimate dictator. Damn shopping for the groceries, he wanted to manufacture and ship them as well. Administration at Hofstra was sequestered and quarantined, and every decision came through the Tuna himself. He was the face and voice for the franchise, and everyone knew where they needed to go if there was a decision to be made.
In navigating the recent annals of NFL successes, we can find successes in both committee and dictatorial styles.
One can look at the Baltimore Ravens and find synchronization between Ozzie Newsome and Brian Billick. Billick, ostensibly an offensive-minded coach, has been buoyed through a luxury of drafted talent provided by Newsome that has followed the "best player available" mantra. Often, that talent has come from the defensive ledger. All the same, Billick has done a wonderful job of weaving this talent in fold.
We can only imagine the yearn of Billick's heart to want to add offensive skill players.
We need to only glance upward in the AFC East standings to understand that a dictator can guide a team successfully, also. Bill Belichick is now the gold standard in NFL management. While Scott Pioli, I am sure, is a very imaginative and smart administrator, make no mistake–this organization is totally in step to the beat of Belichick's drums.
So where does this leave Woody? Not very far, other than the fact that he knows his organization is broken. This is the time to place his stamp on this organization.
All great organizations, on any level are led from the top down. They take the personality of their leader. That personality and style become the Hallmark of the organization. Hierarchy is established, hierarchy is maintained and hierarchy is understood by all. Presently, the Jets do not contain any of those elements.
Johnson needs to stop treating the Jets as a hobby, and he needs for them to become his job. Johnson needs to take control of all matters that are club related. Johnson needs to hire a first lieutenant that will control all matters that are team related. This will be his GM. Together, these two individuals will forge the future of the New York Jets. All subsequent hires (most importantly, a coach) will be in step with the ideals of these individuals. Everything will be done in concert and with a purpose.
Now, to the matter of that GM. My preference is to have a man that comes from a proven winning organization. He must carry philosophies that are unwavering, and stick to his ideals. He will allow input from others, but the ultimate decision will reside with him. He should delegate, but he should inspect what he expects. He must have a backbone.
My preference is to have someone who has something to prove. I don't want someone who is resting his laurels on past achievements and just basking in the New York spotlight. A person coming to New York with something to prove seems a precious recipe. It is daunting task to find this person, but they exist.
The short list of potential NFL GMs is well known. To the front of that list, in my estimation, jumps Tom Heckert. I will not waste the valuable space of this site in listing all of the accomplishments of Heckert, other than to point out that he comes from a winning organization, an organization with a proven philosophy, has a track record of exceptional personnel moves and is young and seemingly hungry.
At the relative tender age of 38, Heckert is a NFL lifer. In 5 years of being the Eagles chief talent evaluator, he has added 5 Pro-Bowlers and 13 starters.
Woody needs to casually bump into Heckert in a Philadelphia restaurant over the course of the next 2 months. They need to see how their philosophies can mesh. My estimation is that something can be worked out.
Regardless, the new GM need to be handed the staff in its current incarnation. Allow him to sift through the rubble of who will stay and who will go. If a complete bloodletting is required, so be it. Remember our mantra of the new organizational hierarchy–Woody handles club decisions, the GM handles team decisions.
The good news is that the cupboard is not bare. There is still some legitimate talent on this team. Obviously, there will need to be changes, and any GM that is worth cutting his teeth, will want to jump at that opportunity.
This all rests on Johnson. The Jets have come too far over the past ten years to sink back to second citizen status in the NFL. Woody needs to be decisive, calculated and quick. He has a loyal fan base that is entrusting him to do the right thing.
Videos
New York Jets OTA Presser Takeaways, Aaron Rodgers' Impact and Summer Delusion