Featured Editorials Frank Barone
Brian Leonard And The New York Jets: Perfect Together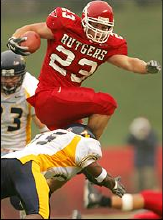 By Frank Barone
How would you describe the ideal Eric Mangini player?
Some of the character traits would be intelligence, strong work ethic, unselfishness and he would be team oriented, besides the athletic talent. You look at those traits and you see Brian Leonard, the Rutgers running back.
Why did Brian Leonard come back for his senior season at Rutgers this past year? The lure of a big payday and the short life span of a professional running back in the NFL would make any player leave the college ranks early. That is the point- Brian Leonard is not your everyday college football player.  How else can you explain why Leonard, who is almost a sure first day NFL draft pick, would have come back for his senior season at Rutgers.
He could have taken the money and left for the NFL.  Instead he felt he had some obligation to Rutgers. His main goal was to help Rutgers win its first ever bowl game, which was accomplished when they beat Kansas State in the Texas Bowl.
In his first two seasons Brian Leonard was the feature back on the Rutgers offense.  As his junior season progressed, his role became blocking for Ray Rice, rather than running the ball himself. He was content to help open holes for Ray Rice to run through. Any personal glory was ignored for the sake of his Rutgers team-his most important desire was to see a Rutgers victory.
In 2006Â  Brian was honored as one of eight Division I-A players to be named National Scholar Athlete by the National Football Foundation and College Hall of Fame.
Brian Leonard won, the Draddy Trophy in 2006.  This award is considered the "Academic" Heisman since it recognizes an individual as the best in the country for their combined academic success, football performance and community leadership.
Brian helped change the losing atmosphere at Rutgers. Does this sound familiar to the role and influence Eric Mangini had this past year with the New York Jets?  He made a choice to attend Rutgers while colleges like Penn State and Syracuse were eager to grab him. Who could have blamed him for having second thoughts his first year at Rutgers, when the football team won only one game.
Brian Leonard as a New York Jet-sounds like the perfect fit. Yes I know the Jets have more pressing needs to draft, like a defensive lineman, cornerback and pass rusher. The question is can they find the same intangibles  and characteristics that Brian Leonard would bring in those players?
Videos
Aaron Rodgers Injury Fallout & Jets/Bills Recap