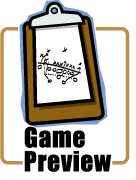 By Tom Kiss
Kellen Clemens tried as hard as he could to bring the Jets back against the Baltimore Ravens last week. He looked like a kid determined to win, which is something the Jets can hang their hats on the next time Clemens has to play. This week is not that time.
Chad Pennington looks ready to go this week against the Miami Dolphins, a team he owns a 6-1 record against. The Dolphins (0-2) are looking for their first win under new coach Cam Cameron. Offensive coordinator Brian Schottenheimer served as Cameron's QB coach in San Diego, which in theory helps the Jets defense.  They practice against the same kind of offense every day.
 
When the Jets have the ball:
Thomas Jones has yet to show reasons why the Jets acquired him this off-season, with just 109 yards on 38 carries, a 2.9 yard average. This has been the same overall performance of last years running game, and this week the Jets will try and get it going. With Zach Thomas listed as questionable, the Jets may have an opening to get the running game going. Jason Taylor has been lining up at end and outside linebacker this year, and he loves to sack Pennington.
Pennington will to look be his usual proficient self and drive the Jets downfield with an array of short to mid length routes. Look for the Jets to take a shot or two downfield to Coles and Cotchery.  The Jet offensive line, which made a dramatic turn around in the 4th quarter last week when the suddenly picked up about every blitz the Ravens had, will look to play a better, more complete game this week.
When the Dolphins have the ball:
So far this year, the Jets defense has amassed zero sacks and turnovers. Zero. That is awful, and the medication may be on the way. The Dolphins Trent Green has four picks, four sacks and a fumble. The Jet defense will play like rabid dogs this week, looking to take the ball from the Fins every play.
Ronnie Brown has continued to disappoint in Miami, rushing 22 times for only 65 yards. However last year he ran very well against the Jets. The Jets run defense will look to continue off last weeks performance, in which they held Willis McGahee under 100 yards for the first time in forever. This should be a game where the Jets defense begins to look like an actual defense.
Match-up of the game: D'Brickashaw Ferguson vs. Jaosn Taylor
Brick looked shaky against Taylor last season, and he also looked shaky against Karvis Green this year.  You do the math. This is a huge game for the development of D'Brick, and he needs to show why he was such a "safe" pick in the 2006 draft. Taylor will look to do what he does best, frustrate the Jet offense all day long.
Prediction:
NYJ 24 – MIA 10