Dolphins Squish Jets, 30-9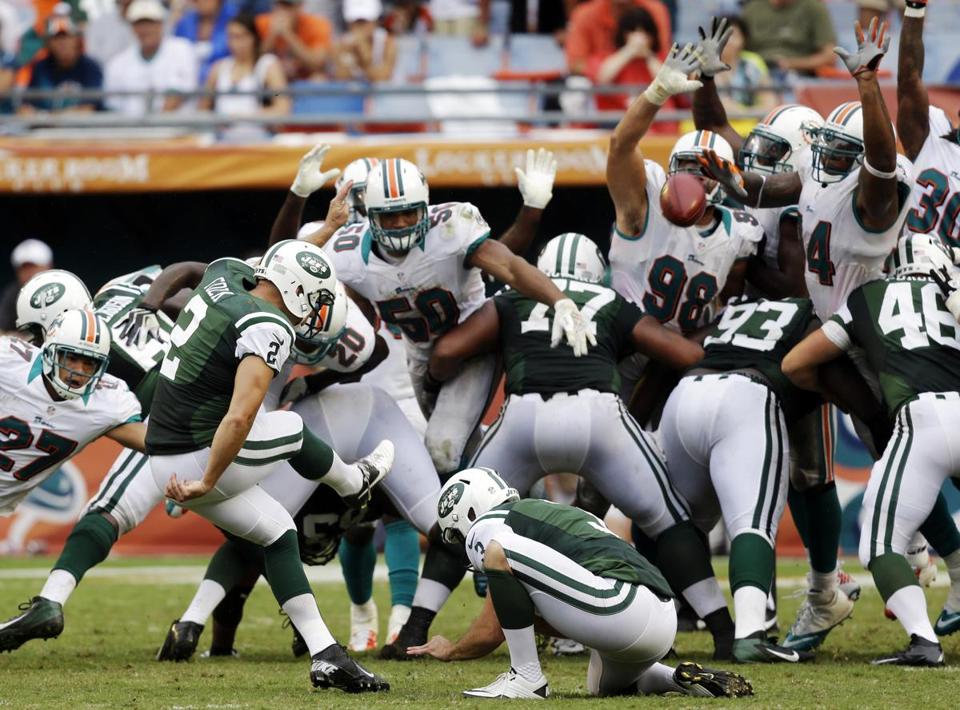 The Jets had their usual Patriots hangover game, getting crushed by Miami 30-9. It was a disaster. The game felt like a loss the minute the special teams let a punt get blocked and recovered for a Miami touchdown.
There was nothing good to take away from this game and it was about as much fun as the stomach flu. The offense was in a state of disarray. The special teams, often one of the Jets' strong suits, put on the worst performance Jets fans have seen in years. The defense was average although miles ahead of the offense and special teams.
Between a blocked punt recovered for a touchdown, Mark Sanchez's red zone interception and his fumble that led directly to Miami points, turnovers really did the Jets in.
Sanchez spent most of this game proving why he needs to be benched, going 28 for 54 for 283 yards with 1 touchdown pass. He was sacked four times for 25 yards. He wasn't sharp, missing open receivers and the ball usually wasn't in the right place.
The seemingly endless Tim Tebow saga went on, naturally. With Sanchez being bad at his job this was to be expected, but the overall game plan for using Tebow continues to baffle even casual football observers. Tebow never seems to be in when he should be and every time he comes in does the same thing: run up the middle. It's becoming frustrating to watch a guy who is supposed to be a weapon relegated to punt protector…which he hugely failed at today, by the way, and was ultimately responsible for the blocked punt.
Offensive coordinator Tony Sparano and head coach Rex Ryan have to start re-evaluating how the offense works and which parts do what. We were promised a great Tebow package that would complement the offense, but we've seen nothing near what we would have expected at this point. We were promised a good offense, but we haven't gotten that either.
We get it. Sanchez is the guy and we're letting the captain go down with ship, but can we at least try stay afloat for awhile?
With the offense rolling over and the special teams taking the day off, the defense had to play on a short field for most of the first half. They also shot themselves in the foot a couple of times with bad penalties, but overall didn't do too bad of a job.
There could be bright spots to this game, if you want to call them that. Clyde Gates was back on the field and had a career day with seven catches for 82 yards, and Joe McKnight, who some fans had called soft, is a warrior. He finally had to leave a game due to his ankle injury, but it's two weeks later than expected. Shonn Greene did all right when he wasn't being sent up the middle, although he lacks speed, which was clearly demonstrated when he was brought down in the open field after getting past most of the defense.
With the AFC wide open, the Jets are still not out of it, even at 3-5 and 2-2 in division play, but any more games like the one we saw today and the Jets can kiss this season goodbye.  They looked thoroughly unprepared for the Dolphins in all phases of the game.
Next week is the Jets bye week, and most Jets fans can probably use the break. The Jets return to the field November 11th against the Seahawks in Seattle. Kickoff is at 4:05 PM.
Videos
New York Jets OTA Presser Takeaways, Aaron Rodgers' Impact and Summer Delusion