Seahawks Dismantle Jets, 28-7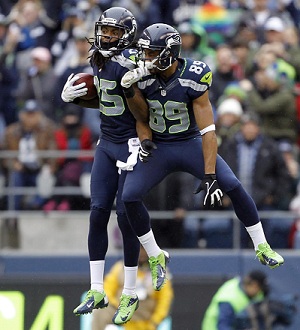 Playing in what was probably their ninth "must win" game in a row, the defense came to play, and the offense failed to show up. The Jets lost in Seattle to the Seahawks today, 28-7. This time, it looks like the Jets are done for good.
Mark Sanchez is looking more and more like a lost cause at quarterback. He hasn't been the same since the game he played in Baltimore last season, and seems to be getting worse by the game. He's not even reliably mediocre anymore, he's terrible. If he isn't throwing interceptions in the red zone, he's being sacked and actively trying to fumble the football by tossing it into the ground when a defender has him by the legs.
He threw another interception in the red zone, he fumbled the ball deep in his own end, threw no touchdowns, and went 9-22 for 124 yards.
It was only a game because of the defense. It showed on the scoreboard. Really. In spite of Seattle starting at their own 40 on what felt like every possession, Seattle only scored two touchdowns through most of the game. By the fourth quarter, it was obvious the defense was exhausted from never getting to rest due to the offense's complete ineptness.
In fact, the defense scored New York's only points today, too. Their pass rush arrived in Seattle after being lost for most of the season, and they forced Russell Wilson to fumble the ball in the first. Muhammed Wilkerson recovered and ran it back for the touchdown.
The special teams continued to make costly errors. Two of Seattle's touchdowns came off turnovers, including a muffed punt by Jeremy Kerley. Kerley has looked good as a wide receiver but has looked jittery on special teams, returning punts. Additionally, Nick Folk managed to kick the ball out of bounds in one of his two opportunities today, meaning Seattle started at the 40.
It was a winnable game. The Jet defense caused several turnovers and the Jets had good opportunities and field position. Russell Wilson made enough mistakes to lose, but the Jets couldn't capitalize, mostly because they had Mark Sanchez sabotaging them at every turn. To be fair, the run game wasn't there, Dustin Keller's two false start penalties were costly (one lead directly to Sanchez's interception) and there were some drops, but basically the offense just couldn't get going, and a lot of that was on Sanchez.
What continues to baffle us all is the (mis)use of Tim Tebow. Whatever the Jets are doing, it appears to be hurting both Sanchez AND Tebow. When Sanchez finally shows a sign of getting it together, they pull him out and put Tebow in for a play. They only put Tebow in for one play, so he never successfully gets going either.
It's not looking good for the Jets moving forward. Recovering from 3-5 was going to be difficult, recovering from 3-6 is probably not going to happen with their level of talent. With Mark Sanchez going backwards in his development, it seems safe to assume that the offense is not going to recover enough to get anywhere. Playing Tebow probably isn't going to get the Jets a Super Bowl victory, but it does mean Jets fans won't have to suffer through watching Sanchez every week.
In theory, the season is salvageable, but it would take miraculous improvements that the Jets offense, particularly Mark Sanchez, just don't seem capable of right now.
The Jets face the Rams in St. Louis next week. Kickoff is at 1 PM. The Jets will be facing former offensive coordinator Brian Schottenheimer, now a member of St. Louis's coaching staff. It'd be really nice to win that one. The offense might be a mess, but there are very few Jets fans out there that miss Schotty.
Videos
Aaron Rodgers Injury Fallout & Jets/Bills Recap