Featured Editorials Home Slider
Revis Trade Saves Jets; Ruins Bucs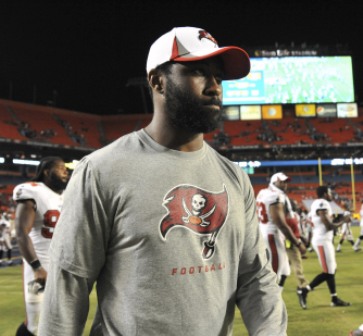 The trading of "All-Pro" cornerback Darrelle Revis was the biggest and most widely debated move of the offseason for the New York Jets.  Incoming general manager John Idzik was faced with a difficult decision as Revis' contract would expire after the 2013 season and the team had no means to prevent him from hitting unrestricted free agency.
Revis was traded to the Tampa Bay Buccaneers for their 2013 number one draft choice (Sheldon Richardson) and either a conditional third or fourth round 2014 draft pick.  The Buccaneers gave Revis a new contract six-years $96 million, $16 million per year, with no guaranteed salary.  The contract is structured in a manner which Revis can get guaranteed money after he proves he is back from his knee injury so the contract being non-guaranteed was just to provide the Buccaneers injury protection for this year.  Jets fans know all too well Darrelle Revis will not allow his contract to remain without guarantees after this season as long as he remains healthy.
Usually it takes time to tell the "winners" and "losers" from a trade especially one with this type of significance but a winner can be determined now.  This trade will have far reaching beneficial effects upon the Jets for years to come given the position the team was in and the resources they acquired while the Buccaneers will look back on this deal as a gross error in judgment.
With no salary floor in place during the 2010 season the Buccaneers spent very little on their team. This led to a large amount of salary space which Buccaneers general manager Mark Dominik has used to sign a number of high priced free agents.  The addition of Revis along with player extensions has shrunk the team's once plentiful salary cap space. 
This would not be a big issue except for the team only has one quarterback signed after this season, rookie Mike Glennon.  Their current starting quarterback Josh Freeman completed 53% of his passes with a 2.5-to-4 touchdown/interception ratio and a 64 quarterback rating during his last six 2012 regular season games.  Freeman hasn't looked much better this preseason with 46% completions and a rating of 56.7. 
The Buccaneers only had 27 sacks last season and seemed to have done nothing which would improve that number in fact they let last season's leading sacker Michael Bennett (9) leave via free agency.  The Buccaneers will be counting on third year DE Da'Quan Bowers, 4.5 career sacks, DE Adrian Clayborn, coming off an ACL tear, and DE Daniel Te'o-Nesheim, 5 career sacks, to provide most of the team's pass rush.
Even a great player like Revis cannot on his own make up for these deficiencies.  Did adding Darrelle Revis this year make the Buccaneers a contender or would they have been better off keeping the resources they gave up possible obtaining Revis next year via free agency giving up nothing?
From the Jets perspective while losing a player of Revis' caliber hurts does all the additional resources the team now has make up for his loss?  The team used one of the acquired draft picks on defensive lineman Sheldon Richardson, who has been impressive thus far and is under contract four-years at $10 million total. 
The other "hidden" resource is the financial flexibility the Jets now have.  If Revis were under the same contract he would cost $38 million over this season and next but while he counts $12 million on the 2013 salary cap, he counts nothing moving forward.  That is a savings of $26 million.  This money will not only help the Jets going into next season but for years after the 2014 season as well.
There is no doubting what a terrific player Darrelle Revis is and it will sting to see him in another uniform this Sunday but resources are limited and John Idzik made the correct move with this trade while Mark Dominik did not.  Ultimately the Jets will benefit more from what they now have than if they kept Revis at all costs.  Jets fans saw firsthand how the team's talent and depth declined rapidly when the money got tight in 2011 and 2012.  If Revis was with the Jets under his current Buccaneers contract it would ruin the them given the amount of resources which would go towards him.  The Buccaneers will be the ones who'll look at this deal and wonder why they made it?
Videos
Aaron Rodgers Injury Fallout & Jets/Bills Recap