David Harris Blogger Conference Call With JetNation.com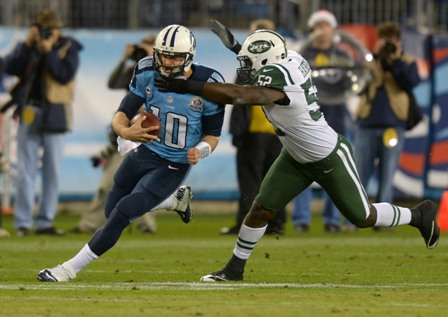 The following is a transcript from today's blogger conference call with linebacker David Harris:
JetNation.com: David,  you guys faced Matt Forte and the Bears in 2010 when you had the third ranked rushing defense in the league and he managed to put up over a hundred yards and another sixty yards through the air.  What is it that makes Matt Forte as good as he is given the fact that he was able to have that much success against such a good run defense and how do you prepare for him this time around?
David Harris: What makes him special is that he can do it all.  He poses just as much of a threat catching the ball out of the backfield as he does running the ball.  He's a great runner who makes a lot of guys miss, he has good vision and enough speed to take it the distance.
JN: Another weapon the Bears have on offense this year is Martellus Bennett who doesn't get as much press as their big receivers but he's a guy who had a career high 65 catches last year in Trestman's offense and a big target at 6′ 7", so how do you guys account for somebody like that with the wealth of weapons on that team?
DH: Oh yeah, he gets overlooked a lot with the two guys on the outside, Marshall and Jeffery but he's a key part of their offense who demands attention in the middle of the field and he's a big target like you said.  You always have to have somebody over the top and underneath on him.  He splits out sometimes at wide receiver and they throw him jump balls so they know how to utilize him.
JN: What about the Jets tight ends?  A lot of what we're hearing is that Eric Decker may not be available.  If he's not, I would anticipate you guys trying to incorporate the tight ends a little bit more and Rex has commented on Amaro being ready to become a bigger part of this offense. What have you seen from him in practice as a young guy who's obviously a big target who put up big numbers in college, you would think he'll be  a tough guy to defend once the light goes on for him.
DH: Any time somebody gets injured, the guy behind him has to step up.  If Decker doesn't play, somebody has to step up and fill his shoes. Decker is a huge part of this offense and we have other guys and other options on offense as well.  Cumberland and Jace Amaro, they'll get their nuber called and probably be looked at a little bit more, but we'll see.
JN: Your fellow linebacker Quinton Coples had a big sack and four quarterback hits and I know recently Karl Dunbar elaborated on how he feels like Quinton has come along and we know he had the injury early last year but dropped some weight in the off-season and has looked really good early on, what are your impressions from what you've seen on the field and how he's developed after moving to the outside linebacker position?
DH: He's starting to make the adjustment pretty well.  It's tough, to go from a D-end with you hand in the dirt to playing linebacker in the NFL.  I know a lot of guys think it's easy but it's not easy when you're dropping in to coverage you see a lot of different formations and see how guys try to isolate you and exploit you, but he's done a really good job rushing the passer, getting off blocks, and he's making a lot of big plays for us and that's what we expect out of him.
JN: David, we've seen a lot of people in the league, especially talking about teams like the Seahawks and the importance of being able to find guys who make significant contributions late in the draft.  A couple of late rounders who surprised some people and made the roster and I say that because of the strong front-7, Ik Enemkpali and Trevor Reilly are a couple of fellow linebackers who made the final 53, what have you seen in these guys that you like so far?
DH: Ik, he's a relentless pass-rusher.  A lot of guys haven't seen it yet because he has missed some time with injuries but I think he has a bright future ahead of him, and Trevor is pretty much shadowing Calving Pace around the building.  Whatever Calvin does, he's right behind him and I think that's a good thing because Calvin is a good guy to learn from.
JN: What's it like preparing for a guy like Jay Cutler.  He's had some issues with consistency but it's no secret that he's got one of the better arms in the league and there's gotta be an adjustment, not having just played Aaron Rodgers but when you play the upper-echelon guys who can make any throw on the field, how much more difficult is that to prepare for?
DH: It's very difficult, he's been playing at a very high level for a long time in this league and like you said, he has probably the strongest arm in the NFL and guys may be running down the field and you may not thing he's gonna' throw it to them, but he has the arm strength to get it to them and when he gets hot he's tough to beat.  He has weapons around him and they were second in the league in scoring last year so that shows you what type of things they're capable of.
JN: Coming from the "air raid" offense in college, Geno Smith was probably put in the line-up last year with a lot of learning to do for a rookie who didn't spend a lot of time under center, but I think in the first couple of games he's winning over a lot of his critics.  What have you noticed in him as a guy that gets to go against him every day on the field?
DH: First of all, with it being his second year in this offense he's more comfortable.  He knows where to throw the ball and he knows where it should be and you can see it.  He's doing a great job leading the offense and he's becoming the quarterback the organization wanted him to be when they drafted him.
Videos
NY Jets OTA Recap; Robert Saleh Cancels Minicamp