Featured Editorials Home Slider
With Mac's moves, "Next Man up" no Longer Just Cliché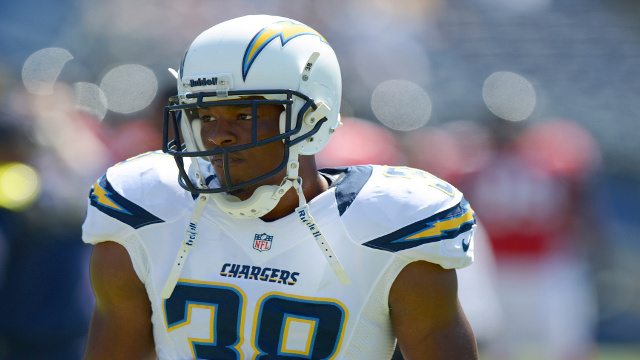 By Glenn Naughton
We seemingly hear it every year from teams throughout the NFL.  A team loses a key contributor on offense or defense for an extended period of time and inevitably the respective head coach or general manager will utter the phrase "next man up".  A well-intended cliché that, in the grand scheme of  things is simply a better option than publicly hitting the panic button.
Starting players are usually at the top of a team's the depth chart for a reason…they're simply the best player on the roster at their position.  So when an injury hits, the chief  concern for a head coach becomes how dramatic the drop-off in production will be from starter to back-up.  As far as the New York Jets are concerned, it has become abundantly clear that rookie general manager Mike Maccagnan has no interest in seeing his team get hamstrung should the injury bug become an issue.
The addition of former New England Patriots running back Stevan Ridley is the latest example of Maccagnan giving head coach Todd Bowles every opportunity to succeed by avoiding a situation in which he's forced to rely heavily on a player with little experience or success at the pro level.
It all starts with the re-built Jets secondary that has been discussed at great length at both local and national levels as expectations have risen.  Should any injuries occur to starters Darrelle Revis or Antonio Cromartie, there will likely be a notable difference no matter who steps in for them, but that is simply because both players have made multiple trips to the pro-bowl and few players in the NFL are on their level when healthy and at the top of their game.
However, having an experienced number two cornerback in Buster Skrine, and a former number one pick in Dee Milliner gives the Jets two players who have played the position at a high level (when healthy in the case of Milliner) to take on a starting role if need be.  Clearly a far cry from a season ago when the Jets had to call on the inexperienced Darrin Walls and safety Antonio Allen to man the boundaries when the secondary was beaten up in training camp.  As a matter of fact, the current cornerback depth chart is such that the Jets may end up using a player or two as trade bait on draft day as they're currently carrying nine cornerbacks.
Given their newfound wealth of talent at cornerback, the Jets can now transition Antonio Allen back to safety along with another new addition in Marcus Gilchrist.  Allen and Gilchrist, a former college cornerback himself, can be used in pass coverage while last year's first round selection, Calvin Pryor can move to the strong safety spot for which he is better suited and is likely to be backed up by Jaiquawn Jarrett who turned out to be a pleasant surprise in 2014.
A patchwork secondary assembled by former GM John Idzik played a big role in the Jets allowing 31 touchdown passes last year, third worst in the NFL.  Expect that number to improve dramatically in 2015.
Up front, the Jets lost defensive lineman Kenrick Ellis to the Giants, but added two more in Stephen Bowen and Kevin Vickerson who have started a combined 100 games in their respective careers.  They'll team with the recently re-signed Leger Douzable to fill in along the D-line.  If starters Muhammad Wilkerson or Sheldon Richardson were to miss time, this would be another area in which a drop in production would be unavoidable, but Maccagnan did well by adding two durable veterans with plenty of snaps under their belts to the mix.
The linebacking corps has also undergone a transformation that represents a significant upgrade.  Former back-up linebacker Nick Bellore left to sign with the San Francisco 49ers when it was apparent that his services would no longer be needed.  With just Demario Davis and David Harris having logged significant playing time in the pro's, the Jets reached out to Packers free agent Jamari Lattimore and former Vikings starter Erin Henderson.
At 26 years old, Lattimore spent four seasons with the Packers and appeared in 49 games (9  starts) at MLB and OLB whereas Bellore was lacking in experience, having never started a game and rarely seeing the field outside of being a special-teams ace.  Lattimore hasn't put together a pro-bowl resume, but is still a more accomplished player than Bellore who he replaced.
Henderson on the other hand is viewed as somewhat of a reclamation project.  Another versatile defender, the linebacker played extensively at both OLB and MLB in the Vinkings' 4-3 defense and flourished at times.  In 33 starts from 2011-2013, Henderson registered 262 tackles and 8.5 sacks.  After being let go by Minnesota as a result of multiple arrests for driving under the influence, Henderson claims to have gotten his act together and the Jets decided to take a chance on the 28-year old.  Despite having played in a 4-3 defense in the past, the Jets clearly feel as though Henderson's physical tools and versatility will allow him to spell Harris or Davis should the situation call for it.
On offense, Ridley's signing gives the Jets a player who will need some time to rehab his injured ACL and MCL, but his between the tackles running style to pair with Chris Ivory gives gang green two experienced, physical running backs.  Ridley is only two years removed from a 1,200 yard season in which he scored 12 touchdowns for the New England Patriots before seeing his role reduced as he struggled to hold on to the ball at times.  While he won't have Tom Brady in the huddle with the Jets, the group of tight ends and receivers on offense should give Ivory, Ridley and Bilal Powell enough room to be effective on the ground.
Speaking of pass catchers, Maccagnan's early addition of another veteran with multiple pro-bowl appearances in Brandon Marshall changes the dynamic of the Jets offense immediately.  When receiver Eric Decker was hobbled for much of last season with a nagging hamstring injury, it removed the closest thing the Jets had to a number one receiver and the offense suffered as a result.
With Marshall's addition, Decker will have a reliable target on the opposite side to help keep defenses honest, while no longer being viewed as the only option to match up well against top cornerbacks.  Having two big targets with proven track records will not only make things easier for the likes of Jeremy Kerley and tight ends Jeff Cumberland and Jace Amaro, but if the Jets choose to add another receiver through the draft as many have speculated, one or two injuries would be unlikely to completely stall the Jets passing game as it did last season.
Of course the key factor in how the receivers perform revolves around the quarterback position.  Entering this season, the Jets will have a struggling Geno Smith opening up camp as the starter, but for the first time he'll be looking over his shoulder with the very real possibility of losing the job that was handed to him two seasons ago.
Ryan Fitzpatrick is a far cry from the franchise quarterback that the Jets have lacked for so long, but he represents the first veteran signal caller on the Jets roster who has had enough recent success as a starter to easily supplant Smith should he fail to show dramatic improvement over last season's performance.  When Smith faltered last season, the Jets were stuck an aging and seemingly uninterested Michael Vick.
Vick was an improvement over Smith by some measures, but his overall play was uninspiring as he said himself that he was unprepared when called upon to take the reins during a week 5, 31-0 blowout loss to the San Diego Chargers.  Fitzpatrick on the other hand still appears to be hungry and that was on full display prior to taking on his former team, the Buffalo Bills last season.
One of the Jets' first big off-season signings was offensive guard James Carpenter and that was just the beginning.  As of today, the re-signing of RG Willie Colon and OT Ben Ijalana, along with bringing in OL James Brewer and OT Corey Hilliard, the Jets are left with fifteen offensive lineman on their roster.  With                  D' Brickashaw Ferguson, Nick Mangold and Carpenter locking up three of the four spots, that leaves twelve players to compete for the remaining two positions.  If we were to assume RT Breno Giacomini's job is safe, that puts the count at one opening for 11 linemen.  Training camp competition, anyone?
No matter how things transpire on the O-line, the very fact that Maccagnan and company are creating this much competition shows that depth for the unit will no longer be the secondary concern it had become over the better part of the last decade.
So in just a few short months, Maccagnan has addressed every unit on the team and he has done it in such a way that even the most cynical of fans can't deny that "next man up" should no longer be followed by a collective groan from the fan base.  Pretty impressive work from a rookie executive who has yet to run his first ever NFL draft.
Videos
Aaron Rodgers Injury Fallout & Jets/Bills Recap