Breaking News Home Slider NY Jets Training Camp
KRL Camp Notes (8/2/15)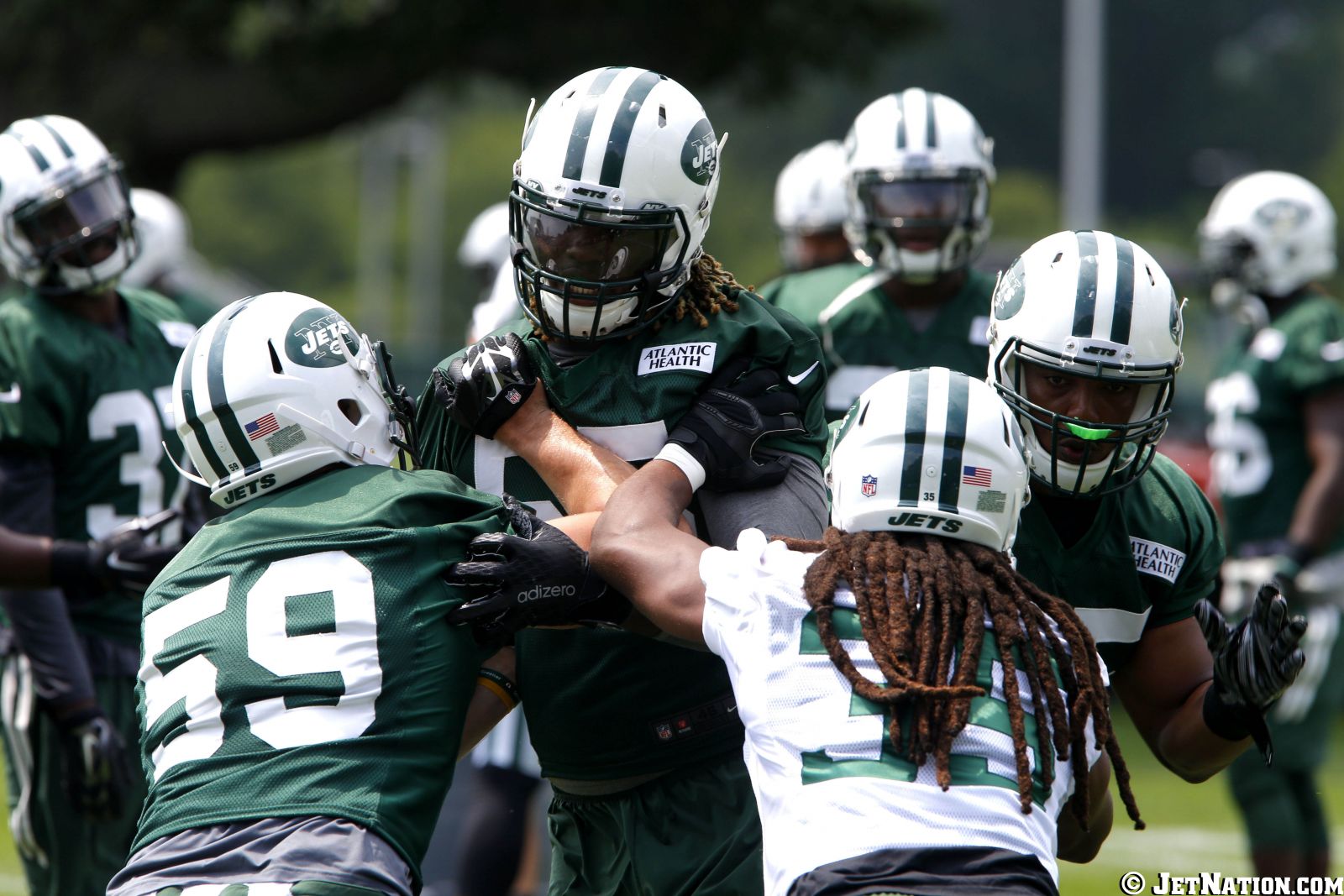 General Notes
 – Players in full pads.
– Practice ran 2 hours and 20 minutes.
– It was Alumni Day so there were a ton of former Jets around signing autographs.  Westhoff was there also doing work for SNY.
– Kevin Vickerson, Stevan Ridley, Charles Brown and Devier Posey were out.  Posey has not been noticeable with Chris Owusu stepping up he needs to get back on the field.
– A new WR was signed he was wearing #1.  Come to find out his name was Jarrod West.  From his first practice he won't be around long, too many drops.
– Bobby April (ST coach) went over blocking kicks in the special teams period.  Using an elaborate set of cones he had them simulating blocks from different angles.  April had them running 4 at a time to increase reps.
– No pushups today so I guess there was no winner in the competition period.
– With a day off tomorrow Bowles increased the reps of the younger players.
– This isn't "sexy" but I've noticed that the communication of calls among the defense is very clean.  When the offense changes a look everyone on defense is being vocal making sure everyone knows the new call.
– Defense really clamped down on the passing game particularly in the red zone drills.
Player Notes
– 1 on 1 drills today (WR vs. CB) and (TE & RB vs. LB & S) the higlights were:
  * Brandon Marshall against Darrelle Revis was a regular season battle.  Very physical, Revis got the better of the reps but Marshall was able to get a TD and draw a flag
  * Marcus Williams with a nice INT
  * Shaq Evans continues to be solid with a TD
  * Good coverage from Buster Skrine
  * Chris Owusu continues his solid play
  * Bad drops by Jeff Cumberland and Wes Saxton
  * Marshall schooled Dexter McDougle by abusing him when he tried to press and getting an easy TD
– Leonard Williams had his best day today with 2 "sacks" and a tackle for loss during 11 on 11 drills.
– Not a good day for the TE's trying to fill out the roster.  Cumberland and Saxton had bad drops and Kellen Davis continues to show why he never got balls thrown to him.  Very shaky hands.
– IK Enemkpali continues to impress in his reps.  He had a "sack" of Ryan Fitzpatrick and a tackle for loss of Daryl Richardson.  Bowles/Rodgers has him flipping between DE & OLB.
– Calvin Pryor finally appeared today as the defense brought pressure from the secondary.  He had one "sack" and flushed Fitzpatrick out of the pocket for an incompletion.
– Taiwan Jones continued to show good instincts in the run game by creating two tackles for loss.
– Marcus Williams in addition to his INT in 1 on 1 drills had excellent coverage on Jeremy Kerley during 11 on 11.
QB Notes
– Geno Smith had another solid day.  Continuing to make good decisions on when to throw and when NOT to throw it.  His best plays where a 15 yard out to Marshall through tight Revis coverage.  And a 30+ yard seam pass to Eric Decker over tight Marcus Gilchrist coverage.
– Fitzpatrick was better than yesterday (that's not saying much) as he cleaned up his multiple ball handling mistakes.  His arm strength outside the numbers is shaky.
– Good development day for Bryce Petty.  He got extended reps at the end of practice and had nice passes to Quincy Enunwa (25+ yards) and Walter Powell (35+ yard TD).
 Standouts
– Leonard Williams
– IK Enemkpali
– Taiwan Jones
– Marcus Williams
Here are all of our New York Jets camp reports.
Videos
NY Jets Phase 3 OTAs, Expectations and a Minor Calf Tweak with Greg Renoff