Breaking News Featured Editorials Game Previews Home Slider
Preview: Jets Travel West to Oakland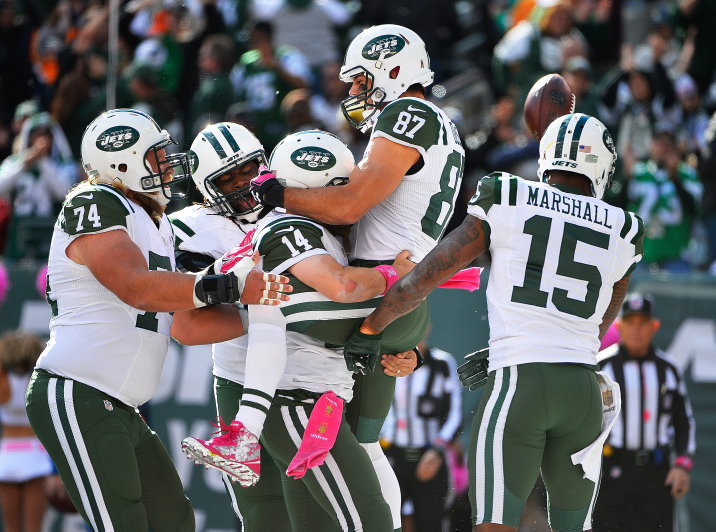 On Sunday, the New York Jets (4-2) look to bounce back when they travel to Oakland to take on a tough Raiders (3-3) team.
The Jets are coming off a backbreaking 30-23 division loss to the Patriots. We're going to learn a lot about this team now that they have to travel to the west coast to face a young team with a good quarterback hungry to announce themselves playoff ready.
Let's take a look at the matchup:
Getting to know the Raiders
Last week, the Raiders smacked the Chargers 37-29 that was never even as close as the score indicates. Oakland led 37-6 before giving up 23 consecutive fourth quarter points.
The star of the show in Oakland is rookie wide receiver Amari Cooper, the fourth overall pick of the past draft. Cooper is insanely quick and a ridiculously good route runner, especially for someone so young. For the first time in a long time, Oakland truly has an offensive player that strikes fear into an opposing defense.
Cooper has 33 receptions for 519 yards and three touchdowns on the season. He'll get his first "welcome to the NFL matchup" with Darrelle Revis expected to shadow him all game.
Former 49er Michael Crabtree (who's putting together a nice year) is the only other true threat on the outside. Running back Latavius Murray and fullback Marcel Reece are Carr's emergency blankets underneath.
Slinging the ball is second year pro Derek Carr. Carr has completed 65.8 percent of his passes on the year for 1,460 yards with 11 touchdowns and three interceptions. Carr also has three fumbles on the year, something to keep an eye on if the Jets D-line can get any push.
The Raiders defense isn't anything to really brag about. They rank 16th overall and give up over 30 yards passing per game. The Jets will have their hands full with second year linebacker Khalil Mack, who has three sacks on the season.
Jets quarterback Ryan Fitzpatrick will have to be aware of the ageless wonder, Charles Woodson. Woodson leads the team with six passes defended and four interceptions. Have I mentioned he's in his 18th season? EIGHTEEN NFL SEASONS.
Getting a push
For two straight weeks, the Jets went against young, banged up offensive lines in Washington and New England. For two straight weeks, a much vaunted Jets defensive line had very little to show for it.
I get that both Washington and New England get the ball out quick, and yes, the Jets were solid against the run, but they have to get to the quarterback. The biggest play in last weeks game came when Tom Brady had all day in the pocket to convert a third-and-17.
Those things can't happen this week. Muhammad Wilkerson, Sheldon Richardson, Leonard Williams, Calvin Pace; whoever is out there, they have to knock around a young quarterback.
Airing it out
Both teams are probably going to try and attack through the passing game. That should be an advantage for the Jets, who have two stud receivers squaring up against a secondary that hasn't performed well.
It's been in the Raiders DNA to throw. Latavius Murray has rushed for 44, 65, 139, 49, 39 and 85 yards in games this season, He's not a bad back, but nothing is really clicking on the ground and the Jets are already hard enough to run against.
A Fitzpatrick vs. Carr duel could be in the making. What could go wrong? (A lot).
Banged up
The Jets pretty much have half the team on the injury report this week. Most notably, center Nick Mangold has a neck injury and his status is up in the air for Sunday. The Jets don't have a great offensive line, but the push they do get comes from their all-pro center. No Mangold would be a big loss.
In the secondary, cornerback Buster Skrine has a broken hand but is going to play with a cast. Safety Calvin Pryor, who has been one of the most impressive players on the defense, is questionable with a knee injury.
The Jets will also have to keep an eye out on the running back situation. Chris Ivory pulled up lame on the first play of the game last week and had no burst the entire game. Bilal Powell is questionable, so this would be a good time to activate Stevan Ridley from the PUP list as insurance.
On the contrary, Oakland has just a rookie linebacker Neiron Ball out for the game. Whatever is in the water in Oakland, I'd like some.
Not to look ahead, but…
This is a scary, scary game. The Raiders are looking to prove to everyone they're playoff contenders, and a win this week would go a long way.
If the Jets do get through this, they're sitting pretty. They'd be 5-2 with games against Jacksonville, Buffalo, Houston, Miami, New York and Tennessee upcoming. Don't look now, but here come the Jets…
Videos
Aaron Rodgers Injury Fallout & Jets/Bills Recap