Breaking News Game Previews Home Slider Jet News
Preview: Jets \ Giants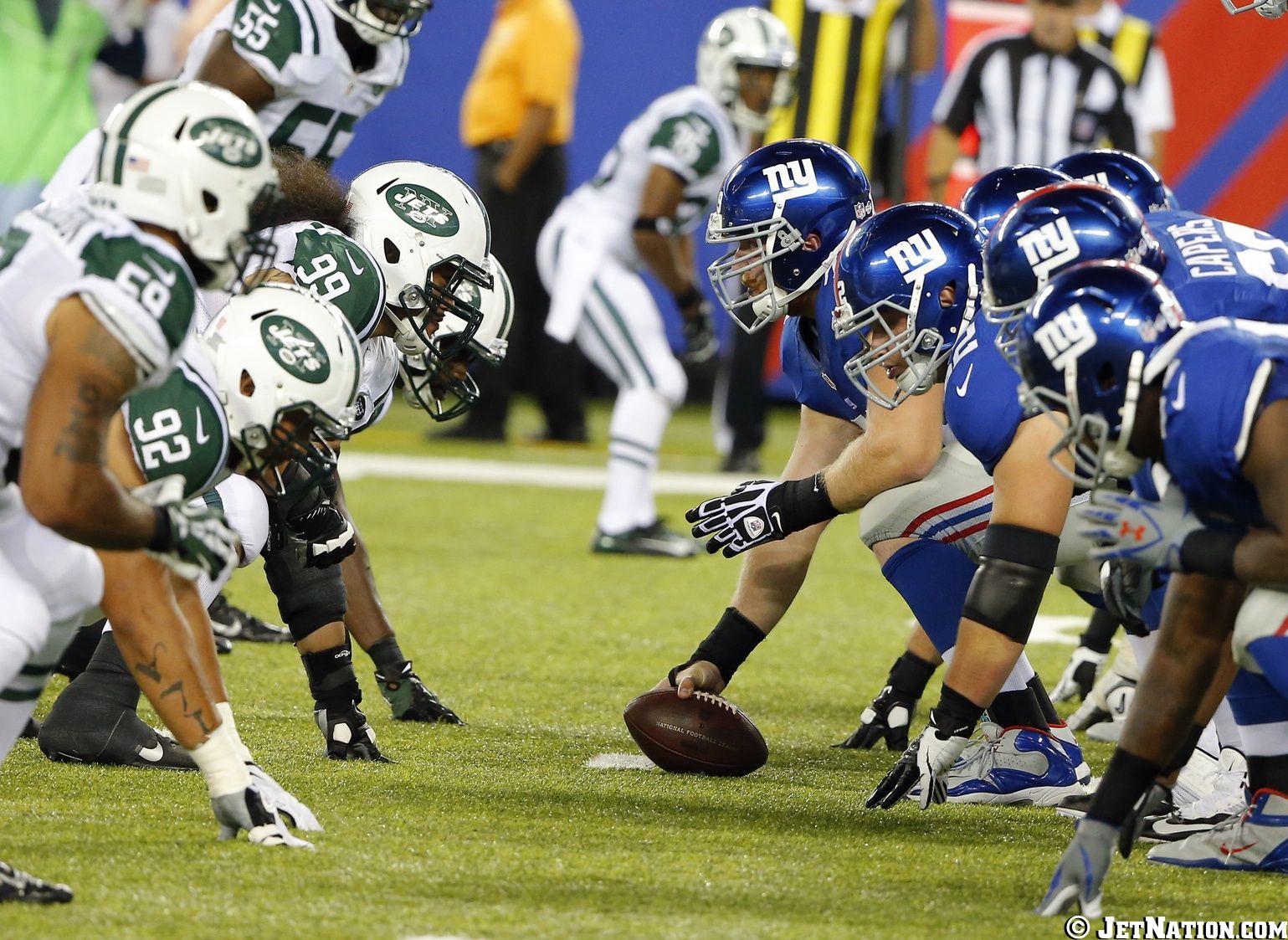 It's big brother versus little brother, when the New York Jets (6-5) will throw on their road uniforms to play the New York Giants (5-6) in an important game for each team. The Jets look to keep pace in a crowded AFC wildcard picture while the Giants will have the opportunity to move into sole possession of the putrid NFC East with a win and Redskins loss.
You can throw out the records and expectations: this is Jets vs. Giants. Who wants to lose to the team you share a stadium with? Let's dive into the matchups.
Getting to know the Giants
For most teams, sitting at 5-6 would mostly guarantee there is no chance of winning the division. Heck 5-6 is pushing it for even competing for a wild card spot. Cue in the NFC East, however, and you get a Giants team that's 5-6 and in a tie for first place in the division.
The Giants will rely on their passing game to get the job done. Quarterback Eli Manning is actually having a very solid season, throwing for 3,021 yards, 23 touchdowns and nine interceptions. Manning has been a turnover machine in years past, but that hasn't been too much of an issue this season.
Manning has a solid group of receivers to get the ball to. of course, there's second year pro Odell Beckham Jr., who has 72 receptions for 1005 yards and nine touchdowns. The thing about OBJ is his explosiveness; he is a threat to score from anywhere on the field on any play.
Outside of him, the Jets have to be weary of Rueben Randle and Shane Vereen, who both have 40 receptions on the season. Vereen might be a lot to handle out of the backfield for linebacker Demario Davis, who has struggled in coverage situations this season. This could be a game where Erin Henderson takes even more snaps away from Davis.
The Jets are expected to be without corners Darrelle Revis (concussion) and Marcus Williams (knee). While this is a huge disadvantage, the Jets can make up for it by knocking around Manning. The Giants are already down a few starters on their offensive line.
Starting right guard Geoff Schwartz is already on IR and right tackle Marshall newhouse is likely a no-go. Center Weston Richburg is just returning from a high ankle sprain and said playing is a pain tolerance issue. Guard Justin Pugh has missed the last two weeks with a concussion. There is some dominance to be had up front. Can the Jets consistently take advantage? They'll have to in order to win.
Moving the sticks
The Jets scored 38 points last week against the Dolphins, their highest output of the season. It was a breath of fresh air for a team that was struggling to move the ball.
After the game, Jets players credited offensive coordinator Chan Gailey for simplifying the offense. They just lined up and out-executed the Dolphins. This offense has some serious talent. Maybe that's all it takes.
Hopefully, the Jets do the same thing this week. Their offense is flat out better than a terrible Giants defense, which ranks dead last in yards per game allowed. The reemergence of Jason Pierre-Paul has helped this pass rush a little, but it's still not a group to fear. There isn't one player on the Giants defense who will be more talented than the player they line up against. Time for NYJ to take advantage.
Who plays corner?
So, with no Revis or Williams, who will be playing cornerback? Darrin Walls saw a lot of time in the Miami game. While Walls had his struggles last season, he played well in relief last week. The Jets will still have Antonio Cromartie and Buster Skrine, for however comforting that may be.
A lot of Jets fans are probably anxious to see if Dee Milliner or Dexter McDougle, two young guys the Jets spent high draft picks on, can play.
The beast is back?
Running back Chris Ivory had 21 carries for 87 yards last week. On his touchdown run, he broke about four tackles to glide into the end zone.
The Jets need that Chris Ivory back. The guy who breaks a lot of tackles and doesn't dance around behind the line of scrimmage. One thing Ivory has really been struggling with is third and short situations. Yes, the Jets do not have a tough offensive line, but Ivory has to be one cut and go in those downs. He's too tough of a runner to struggle like that.
Last week, Bilal Powell saw a little more of those third and short downs, and he converted. Hopefully Ivory paid attention to what Powell did well.
Little brother
The Jets have always been known as "the little brother" in their relationship to the Giants. The little brother needs to play smart, confident football Sunday. If they do that, they'll come away with a win.
Videos
New York Jets OTA Presser Takeaways, Aaron Rodgers' Impact and Summer Delusion