Breaking News Home Slider NY Jets Training Camp
Camp Notes By KRL – 07/31/16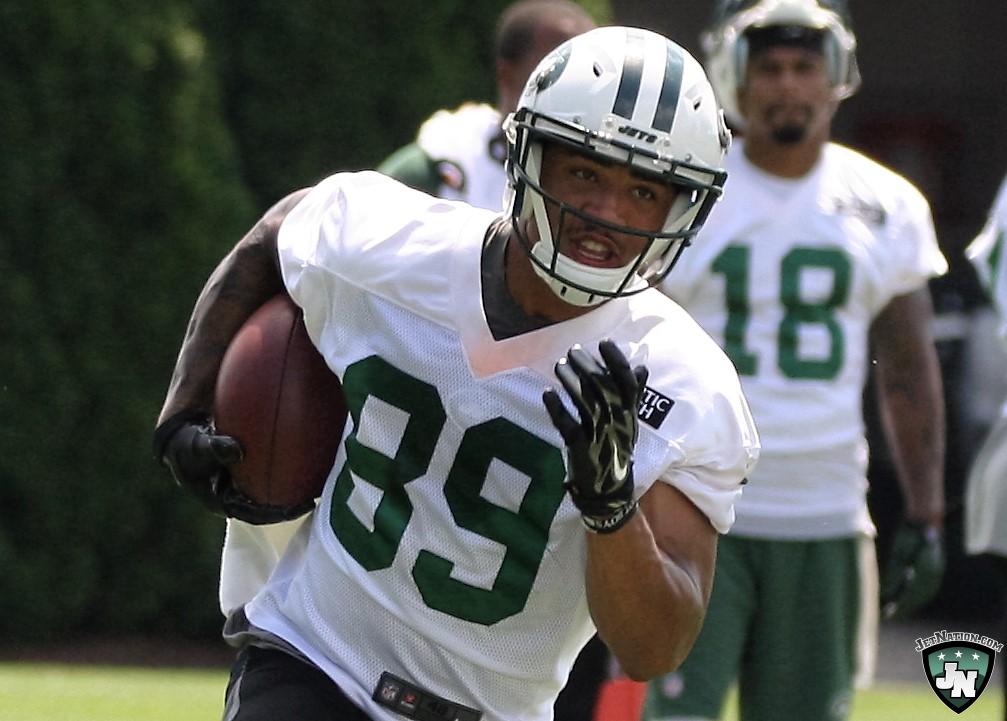 General Notes
– Practice was held in the fieldhouse and players were in full pads.
– Practice ran 2.5 hours.
– Brant Boyer (STC) was back to using trash cans as he went over wedge blocking assignments with the cans representing defenders.
– Revis was starting to test his wrist as he did some individual DB drills.
– The defense worked on causing fumbles today by setting up four stations where they worked on different situations.  One was strip sacks and another was two men tackling the ball carrier where one would secure and the other would strip the ball.
– The defense won the day today.  They worked on installing their sub-packages and bringing blitz pressure out of them.
Players Who Continue To "Stack" Practices
– Jordan Jenkins (OLB) had a sack and two tackles for loss.  At this stage he seems to play "older" than his age let's see if it continues.
– Jalin Marshall (WR) is getting increased reps with the #1's.  He had a TD in the red zone portion of practice.
– Juston Burris (CB) continues to show good coverage skills and had multiple pass breakups.  And with the pads on he also showed good run support.
Player Notes
– Doug Middleton (S) showed excellent range by getting an INT of Bryce Petty.  From media reports it seemed like he stood out on Saturday so he continued his good play today.
– Darron Lee (LB) and Bruce Carter (LB) really stood out today as they displayed their speed.  In 1 on 1 coverage drills against RB's they were fast enough to undercut the routes and knock down passes.  And in 11 on 11's Lee shined bringing blitz pressure from the middle by getting a sack.
– The rust continues to fall off of Ryan Clady.  He's had impressive battles against Lorenzo Mauldin (winning some, losing some).  And today in 11 on 11's he was able to engage multiple defenders when the defense blitzed.
– Mauldin is bringing pressure off the edge but he's not being a "one trick pony". He's not just trying to use his speed and run around the OT, he's stringing together moves.  Also, he's being attentive to setting the edge in the run game.
– With the pads on Calvin Pryor had a good day.  He had a TFL on a run blitz and a sack.
– Jace Amaro showed up today in blocking and pass catching.  He had a nice seal block that allowed Powell to get a 20+ yard run.  In 11 on 11's he made an excellent diving catch of a throw by Petty and stretched the seam by catching a 15+ yarder from Fitzpatrick(?)
– Buster Skrine had an INT and sack of Fitzpatrick during 11 on 11's.
QB's
Nothing really stood out about the QB's today other than a few highlight plays:
– Fitzpatrick hitting Decker on a 35+ yard throw over Milliner
– Hackenberg hitting Kyle Williams on a 40+ yard TD
Daily Standouts
– Darron Lee
– Bruce Carter
– Doug Middleton
– Calvin Pryor
– Jordan Jenkins
– Juston Burris
– Lorenzo Mauldin
Be sure to visit our forums to read more about New York Jets training camp.
Videos
Aaron Rodgers Injury Fallout & Jets/Bills Recap