Game Recap Home Slider Jet News
Jets Top Jaguars; Game Observations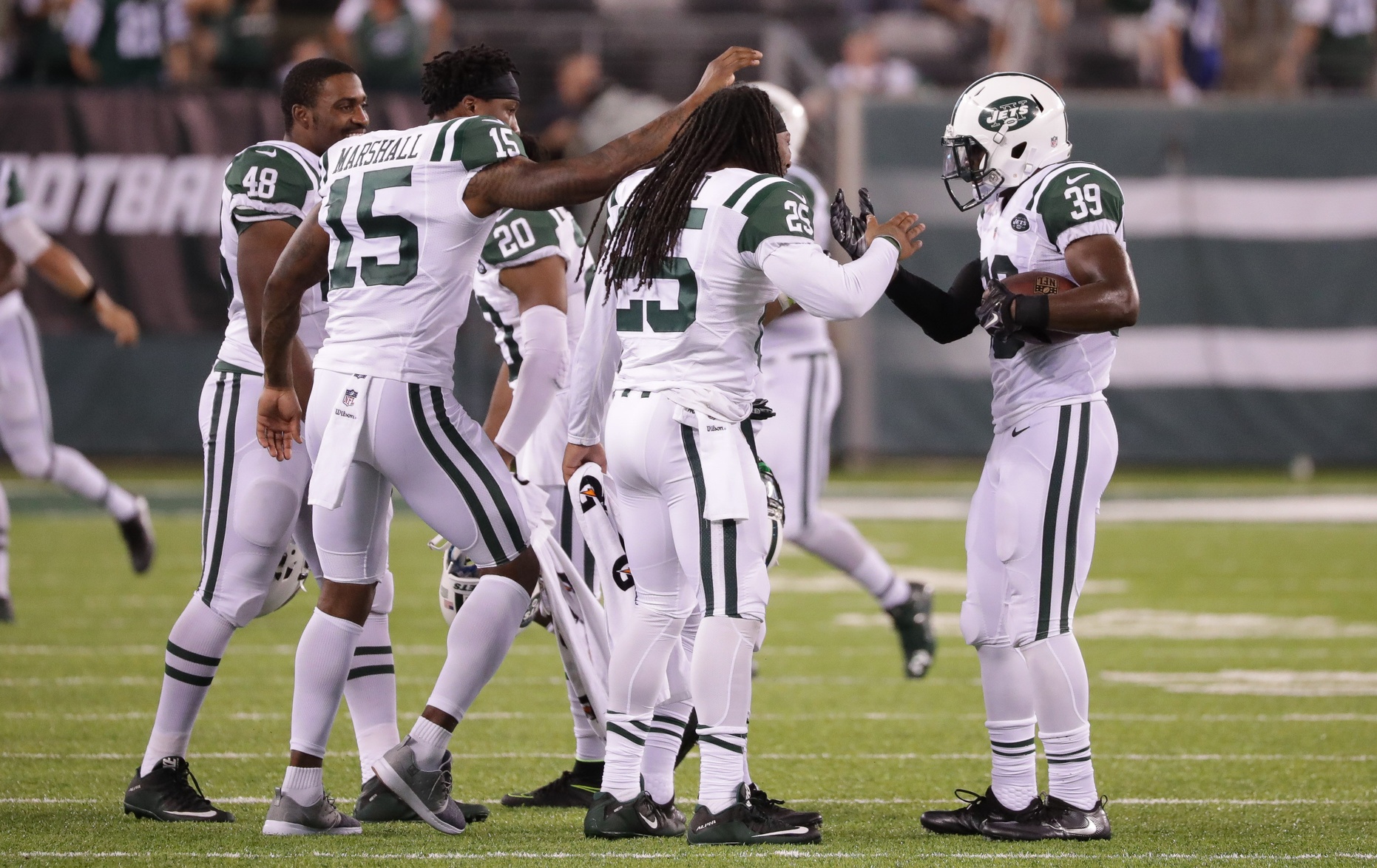 Great to have football back! It was only the first pre-season game but let's take a look at what happened:
General
– Very clean game with only two penalties and no turnovers.
– Good to see the rookies (Jordan Jenkins, Darron Lee, Jalin Marshall, Doug Middleton, Juston Burris & Charone Peake) take their camp performances into a game.
– Last year when the #1's went out you saw a noticeable dip in performance.  Good to see that wasn't the case this year.
– JAC has a lot of "name" talent, will be a sexy pick to make the playoffs and people will love them in fantasy football.  But there's something about Bradley as a HC that I just don't like.  He's never won more than five games and 15 penalties in your first game is not a good start to the season.
Special Teams
– Good debut for Brant Boyer's units all around.  Solid coverage, immediate tackles and good blocking on the returns.  I guess the "trash can" drills worked.
– Lachlan Edwards consistently "flipped" the field with his punts.  And it was good to see him in an end of game situation where he had to get a good punt off to pin the offense back.
– Bye Ross Martin, it was nice having you in camp.  You can't shank a 39 yarder and come up 5 yards short on a 54 yarder.
– Big returns from Jeremy Ross and Marshall, haven't seen that since the Leon Washington days.
Defense
– Sloppy tackling that prevented big losses and led to big JAC gains.
– Leaky run defense.
– Nice to see the increase in our front seven speed on display.  Multiple times DL & LB were in JAC backfield ready to make plays (even though some of them whiffed).
– JAC marched up & down the field but it was good to see the defense get stingy in the red zone.
– Good job Shelby Harris (2 sacks).  Can you continue that performance?
– After years of watching Demario Davis, Calvin Pace and Quinton Coples "plod" around as LB's, what a pleasure to see Darron Lee & Bruce Carter fly around.  Multiple TFL's and good coverage from both of them and a near INT from Carter.
Offense
– Run blocking wasn't powerful and needs work but the pass blocking was solid.  Ben Ijalana was totally anonymous at the RT spot (which is what you want).  Can he unseat Giacomini?
– Crazy WR depth with guys like Enunwa, Marshall, Ross, Peake & Robby Anderson flashing.  Remember when our big WR's were Holmes, Hill, Kerley & Nelson?
– Those passes to Enunwa have to get you excited.  Because twice we were in a 5 wide formation and Enunwa was 1 on 1 against an LB and destroyed him.  If he can get more consistent with his hands we can get big gains from him.
– Surprised Smith started out so shaky (inaccurate passes, short hopping Marshall) with all the off-season reps he got.  He got better towards the end of his night with that nice TD to Peake.
– Petty showed a nice command of the offense and moved the ball nicely.  It would be nice to have him and Smith play well and force a tough decision at the end of camp.
Videos
Aaron Rodgers Injury Fallout & Jets/Bills Recap