Breaking News Featured Editorials Game Recap Home Slider
Jets Lose Snoopy Bowl; Post Game Thoughts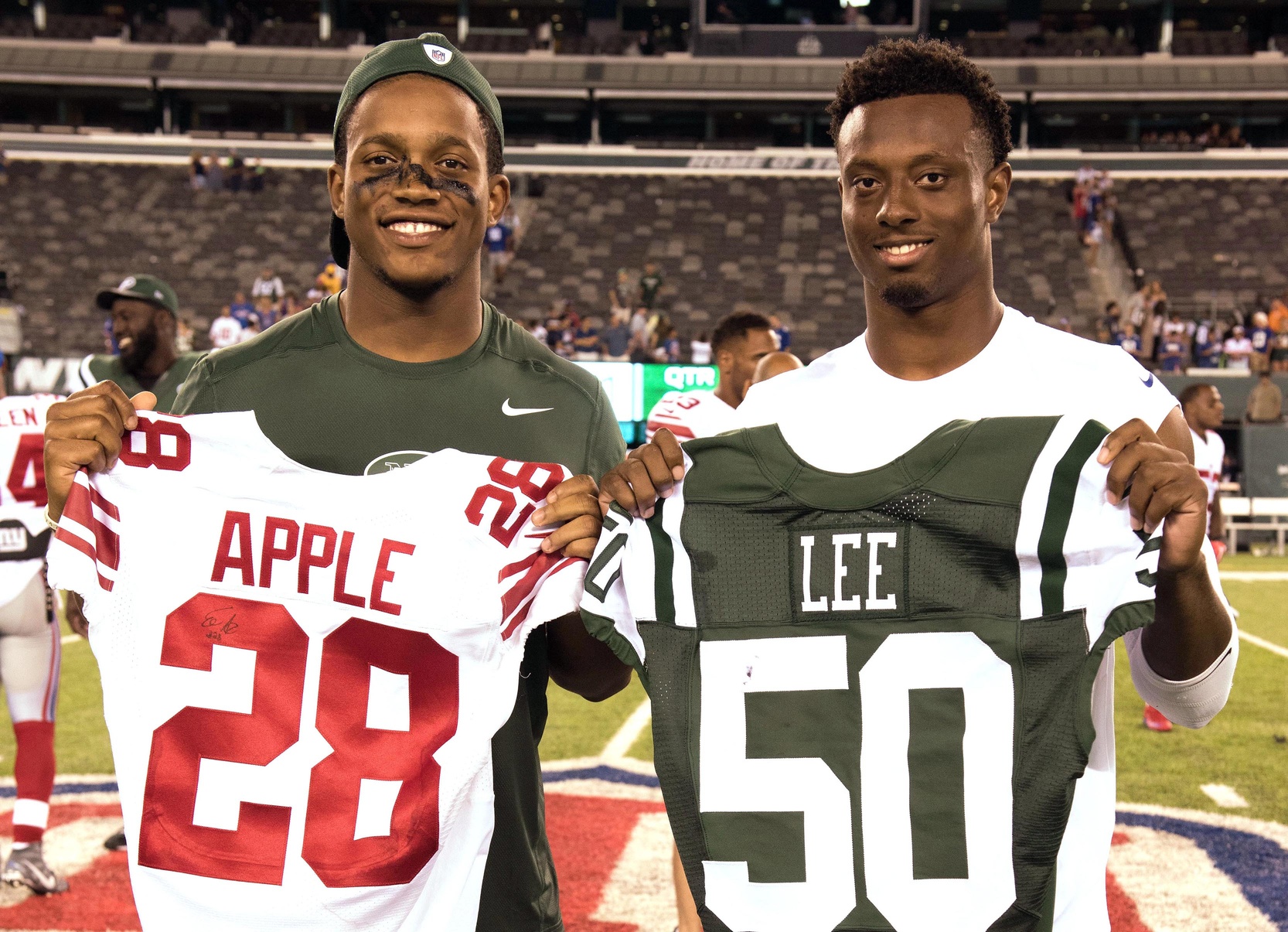 By KRL
An "encouraging and dominant loss" last night, let's take a look at the game:
General
– Good to see the "challenge operation" improved as Bowles got both of them right and got awarded a third.
– Impressed with NYG Eli Apple he looks like he could be a good CB.  He better watch his hands though he got away with several holds that weren't called.
Special Teams
– Continues to show massive improvement from the what we've been exposed to the last few years.  Lachlan Edwards, Bruce Carter, Rontez Miles, Jeremy Ross and Chandler Worthy all had big games.  Our coverage units had a couple of hiccups though allowing a good punt and kick return.
– Good bounce back from Ross Martin with that 55 yard FG.  He won't make the team this year but with a little more work he could get the job next year.
Defense
– An absolutely dominant effort, NYG couldn't get past midfield until the third quarter and that was because of a facemask penalty.  The missed tackles and "whiffs" disappeared and the third down efficiency was excellent.
– The speed and pressure started to remind me of what Bowles was running in ARZ.  You also saw a ton of 4-2-5 looks where Calvin Pryor "floated" between S & LB.
– Speaking of Pryor he had a huge game with a sack, at least one TFL and an assist on the Revis INT.  Beckham was so scared of getting clocked by Pryor that he broke off his route and allowed the pick.
– The DLine was so dominant it seemed like NYG was scared to run certain plays and put Manning in harm's way.  Muhammad Wilkerson and Steve McLendon were absolute beasts and lived in the backfield all night.  With McLendon's ability to penetrate we didn't have to sub him out in passing downs and stayed with four down linemen.
– The only bad play of the night was Dee Milliner getting spun around and giving up a TD to a second string WR.  He needs to be better than that.
– An under the radar guy who had another excellent game was Julian Stanford (ILB).  Was all over the field with the #2 defense and is a demon on specials.  Can he find a spot on the roster?
Offense
– Was the worst of the three units particularly because of awful QB ball security when we were in scoring range.  Ryan Fitzpatrick held onto the ball too long allowing the Harrison sack/fumble and Bryce Petty threw a "Sanchezian" screen pass pick 6.  Those plays cost us 6 points and gave them 7.
– Speaking of Fitzpatrick he needs to get into better sync with ALL the WR's not just Brandon Marshall. Because there were at least three wide open receivers he missed that would have gone for big gains:
* Eric Decker on a 15 yard out for a first down
* Matt Forte on a screen in single coverage against a LB
* Robby Anderson wide open with no one around on a broken play
To whom much is given much is required, he wanted $12 million he's got to play up to that level.  He can't be under 60% again when it comes to completion percentage, not with this group of WR's.
– Good opening drive by Christian Hackenberg taking the team in for a TD.  He was up and down after that but that's to be expected.  There's still a ton of work that needs to be done but one thing that's encouraging is he works through his progressions when scanning the field.  He doesn't just lock onto his first option.
– Good pass protection from the OLine again.  The RT's remained anonymous and for all the $$$ NYG spent on their DLine our QB's remained clean.  Did Pierre-Paul even play, I never heard his name. The run blocking was up and down but I'll give credit to Harrison for that, we all know how good
he is.
– Good to see Matt Forte out there working the rust off.  Nothing dynamic but you caught glimpses of how he'll help in the pass game.
– Solid games out of Zach Sudfeld and Brandon Bostick at TE.  Can they push Jace Amaro and Kellen Davis out the door?
– Solid games again for Jalin Marshall, Robby Anderson, Charone Peake and Jeremy Ross at WR.  In my book I keep all of them over Kenbrell Thompkins.  A few nice catches last year doesn't give him a "scholarship".
Tell us your New York Jets thoughts in our forums.
Videos
Aaron Rodgers Injury Fallout & Jets/Bills Recap