Breaking News Home Slider Jet News
Chan Gailey to Retire; Other Coaching Changes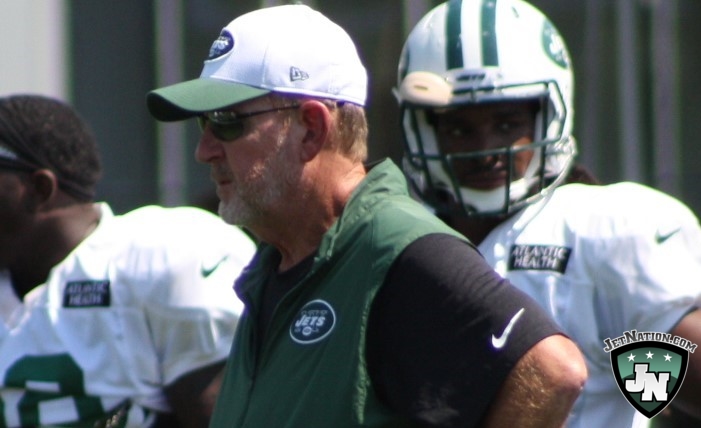 As we mentioned earlier today, the Jets officially announced some big changes to the coaching staff. Chan Gailey has retired and several other coaches were let go.
The Jets announced today that offensive coordinator Chan Gailey is retiring and Todd Bowles informed five coaches that they will not return: QBs coach Kevin Patullo, RBs coach Marcel Shipp, DL coach Pepper Johnson, OLBs coach Mark Collins and DBs coach Joe Danna.
On the offensive side of that ball that means the Jets will be looking for a new offensive coordinator and QB coach. There were reports last week that a key component to this search will be a new philosophy. The reports indicated the Jets will look to put a greater emphasis on the running game and tight end in the new offense.
The Jets are reporting that Bowles knew Gailey was retiring.
Gailey had informed Bowles of his decision prior to the 2016 season. https://t.co/py6TmY2sua

— Eric Allen (@eallenjets) January 3, 2017
We will leave it to you to decide if you buy that or not.
For the defense though, they are changing position coaches and keeping the coordinator Kacy Rodgers. That is a bit of a surprise, the coordinator usually takes the fall after a season like this one. The situation is unique though because Todd Bowles is essentially the defensive coordinator \ head coach. Bowles calls the plays and since he was retained, it looks like the assistant coaches are taking the fall for the "communication issues" that plagued the Jets all season.
The heat will be on the head coach next season, if the results don't improve there will be nobody else to blame after these recent changes.
Tell us what you think in our New York Jets message board.
Videos
Aaron Rodgers Injury Fallout & Jets/Bills Recap