Breaking News Featured Editorials Home Slider
OTA Roundup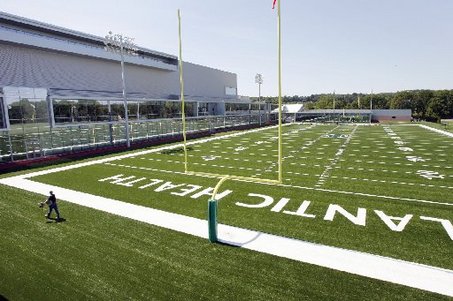 The New York Jets began organized team activities this week, which included its fair share of interesting news.
The Quarterback Competition
From NY Jets.com: "You don't make that prior to training camp — you haven't played in any games," head coach Todd Bowles said of how the process of deciding on the starter for Game 1 at Buffalo on Sept. 10 will play out. "We're in shorts and T-shirts. I can compete right now. Just throwing the ball around, you're not hitting the quarterback, that's pretty easy."
In my opinion, OTAs don't really mean much in terms of competition, but if Hackenberg or Petty want to beat out McCown for the starting gig, they needed to show at least SOMETHING this week.
Prediction: McCown starts week 1; Hackenberg takes over week 5 @ CLE
Rookie Contracts
Most of our rookies are now under contract, with the exception of 1st round pick, Jamal Adams. All the deals are the standard 4 year rookie contracts.
This weeks signings include:
ArDarius Stewart (WR)
WR ArDarius Stewart has signed his rookie contract.

MORE → https://t.co/JCkXeORjaV pic.twitter.com/5HLbdgBaKx

— New York Jets (@nyjets) May 25, 2017
Marcus Maye (S) & Dylan Donahue (OLB)
S Marcus Maye and LB Dylan Donahue have signed their rookie contracts.

DETAILS → https://t.co/zoluBfax0b pic.twitter.com/K4GNQhesPx

— New York Jets (@nyjets) May 23, 2017
Our other signings before OTAs were:
Jordan Leggett (TE)
Chad Hansen (WR)
Derrick Jones (CB)
Jeremy Clark (CB)
Elijah McGuire (RB)
We're waitin' on you Jamal!
Another tough break for Devin Smith
We have re-signed WR Deshon Foxx and waived/injured WR Devin Smith.

DETAILS → https://t.co/7ixLO2Q8Jm pic.twitter.com/rrWc8MCMCh

— New York Jets (@nyjets) May 22, 2017
I certainly feel bad for this man, but at least the Jets were able to retain him on the IR. I wish him a quick and speedy recovery, but in the mean time look for Chad Hansen, rookie WR out of Cal, to play the deep threat role. According to ProFootballFocus, Hansen was thrown 17 catchable deep balls (20+ yards in the air) and caught ALL 17. This is exactly what the offense need to stretch the field and the Jets should be very excited to have him.
Jets waive/place Brisly Estime on IR; Sign DB Corey White
We have signed DB Corey White and waived/injured WR/KR Brisly Estime.

DETAILS → https://t.co/LeucGWTU5P pic.twitter.com/DDjVpl74Mn

— New York Jets (@nyjets) May 25, 2017
Tough break for Brisly Estime, WR/KR/PR from Syracuse University. He had a decent chance to make this team as a return man considering we lacked excitement at the position. Unfortunately, a torn achilles' tendon will put an end to his hopes for this season. Following Estime's injury, the Jets announced the signing of DB Corey White, who recorded 30 tackles and 2 interceptions with the Buffalo Bills last year.
Training camp begins in Mid-July. Let's get excited! Go Jets!
Videos
Was Boomer Right to Blast Becton? Former Jets QB Sounds off Against Jets Tackle.