Breaking News Home Slider Jet News NY Jets Training Camp
Mini Camp Update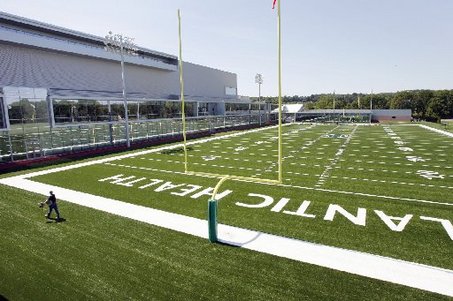 Mandatory three day mini-camp began on June 13 and there is plenty to look out for, Jet Nation.
First practices without Harris & Decker
To kick things off, minicamp started just days after the Jets cut ties with 10-year veteran David Harris and 3-year Jet WR Eric Decker. These are both huge losses, but as we all know, this rebuild is in full effect. Several players, including newer players, expressed how they felt about the release of Harris.
Thank you David Harris for everything you did for this Organization! Thanks for your leadership and father figure in the lockeroom!

— Austin (@Aesj88) June 6, 2017

This is going to be a huge loss of leadership in the locker room, but hopefully someone steps at takes on that "father-figure" role. However, that may be difficult considering there's only four players over 30 on this team and the only one on defense is Steve McClendon.
As for the release of Eric Decker, Todd Bowles is quoted saying, "… with Decker gone, we fall into a younger movement" and that "it was not a leap of faith" to rely on so many young receivers. Even though Decker was only a Jet for three seasons, when he was healthy he was one of the most efficient WRs in the NFL. Hopefully Quincy Enunwa continues his upward trend and the younger guys step up. There's certainly no lack of talent at the WR position, but youth and inexperience may make it difficult to watch at times.
Quarterback competition continues
The battle continues between Josh McCown, Christian Hackenberg and Bryce Petty. Christian Hackenberg certainly doesn't lack the confidence needed to be a starting QB in this league, but it is a matter of whether he is truly talented enough.
.@chackenberg1: "I know what I can do and I know what my coaching staff thinks I can do…I'm confident I can play at this level." pic.twitter.com/ZWL4TnAroe

— New York Jets (@nyjets) June 6, 2017

The favorite to start week 1 remains seasoned veteran Josh McCown, but most fans believe that is a waste of time as the Jets need to find out what we have in Hackenberg and Petty. Todd Bowles is all about competition and they will all have their shot to earn the job, but for our sanity as fans, let's hope Hackenberg wins the job.
How'd Christian Hackenberg look at the #Jets second minicamp? Here's what I observed: Both good and bad https://t.co/3BUCVShN3g

— Connor Hughes (@Connor_J_Hughes) June 14, 2017

According to Connor Hughes of NJ.com, Hackenberg had his fair share of ups and downs throughout mini-camp. Again, mini-camp is not full contact practice, and we likely won't know the true progression (or regression) of Hackenberg until training camp and pre-season.
Injuries to wide receivers
Hopefully this doesn't mean much and it's just mere precaution, but Quincy Enunwa and rookie WRs ArDarius Stewart and Chad Hansen are being held out of mini-camp with injuries. If for some reason these injuries were more serious than it looks, our WR depth chart would likely consist of have Robby Anderson, Charone Peake, and a bunch of undrafted rookies. Again, hopefully this is all precautionary and all our players will be healthy and ready to go come week 1.
#Jets' ArDarius Stewart sidelined after thumb, groin surgeries; Chad Hansen also ailing https://t.co/1mvOk4eppI

— Connor Hughes (@Connor_J_Hughes) June 14, 2017
Bowles: WR ArDarius Stewart (groin), WR Quincy Enunwa (neck), OT Ben Ijalana (knee scope) all out this week. Should be OK for training camp.

— New York Jets (@nyjets) June 13, 2017
Jamal Adams impressing early
Here is some good news for Jets fans, as our 2017 1st round pick Jamal Adams is impressing early.
Just a minicamp practice, but Jets rookie S Jamal Adams cotinues to flash. A red zone pass breakup followed by an INT.

— Bob Glauber (@BobGlauber) June 14, 2017
Jamal Adams just picked off Josh McCown. On previous play, Adams broke up a pass to the end zone. Good football plays. #Jets

— Darryl Slater (@DarrylSlater) June 14, 2017
Jamal Adams is very vocal on the field, especially pre-snap — calling out formations directing traffic. #jets

— Rich Cimini (@RichCimini) June 15, 2017
Adams seems to be making plays left and right and he's being very vocal. This is exactly what this defense needs: a playmaker and a leader. We may have found a safety who can be both! I can't wait to watch #33 develop into our version of Landon Collins!
Videos
NY Jets Phase 3 OTAs, Expectations and a Minor Calf Tweak with Greg Renoff