Featured Editorials Game Recap
Short Term Pain, Long Term Gain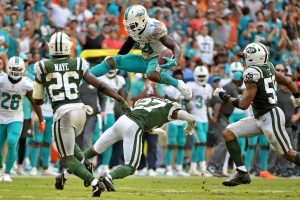 With the team committing to a rebuild, the "sting" of losses has been removed. If yesterday's collapse happened in previous years I would be fuming.  But this team needs a long term answer at QB and every loss (even though I don't root for them) improves our draft position.  Lost in the wreckage of the MIA game is some very encouraging performances but first let's deal with the "elephants in the room":
– Josh McCown's warts are beginning to show.  Over the last two games (NE & MIA) he has gotten off to hot starts and then allowed the offense to "brown out". Also in the last three games (CLE, NE & MIA) he's thrown awful INT's on out routes to the sideline.  For a 38 year old QB his decision making in terms of who he targets is failing and predictable.  Even the announcers (who were beyond bad) knew that on 3rd down McCown always looks for Jeremy Kerley.  Why are Austin Seferian-Jenkins, Jermaine Kearse, Matt Forte and Bilal Powell being forgotten?  Also, why did McCown stop attacking Tankersley?  Early on everyone he was covering scorched him, MIA won the game by attacking one player why didn't he follow suit.  To me the clock on replacing McCown has started to tick.  We have two games next week (ATL & BUF) I wouldn't be against moving onto Bryce Petty after that.
– Buster Skrine was beyond awful.  Even the one pass he actually got his hands on (the Stills juggling catch) he couldn't knock away for an incompletion.  MIA comeback was basically Moore throwing to anyone Skrine was covering and waiting for a big gain or penalty.  Todd Bowles needs to show veterans less respect and bench them when they are awful.
– Impressive effort by the defense in stopping the run.  After shutting Ajayi down the first time in NY you knew MIA would try to establish him and they couldn't.
– Darron Lee had his best game as a pro as he's starting to "anticipate" instead of "guess" on plays.  He used his speed to shoot gaps on running plays, make open field tackles for minimal gains and come off the edge on blitzes.  Also he was a key part in clogging up MIA running game.  He now needs to do this consistently and clean up his penalties (roughing the passer & facemask).
– Jordan Jenkins was excellent in setting the edge in the running game and applying pressure to the QB (knocking Cutler out of the game).
– Marcus Maye and Jamal Adams both had excellent games.  Maye with another INT and good coverage as he plays centerfield.  Adams with well timed blitzes, creating a turnover and TFL's in the run game.
– Eric Tomlinson needs to be recognized as the anti-Matthew Mulligan.  He's under the radar but Tomlinson is excellent in run blocking and whenever he's thrown the ball he makes big gains.  And he doesn't commit killer penalties totally opposite of Mulligan.
– Good to see Muhammad Wilkerson finally show up this year.  But one good game doesn't mean his contract will be picked up next March.
– No complaints from me on Bowles going for the win with 47 seconds left and three time outs.  McCown needs to make a better decision, how about a check down to the middle of the field and an immediate timeout?
– OLine must clean up their technique because they are killing the offensive flow with pre-snap penalties, holds and a costly personal foul.
Tell us what you think about the game in our NY Jets forum.
Videos
Aaron Rodgers Injury Fallout & Jets/Bills Recap