Trouble in the Trenches? Jets O-Line Questions Linger, but all is not Lost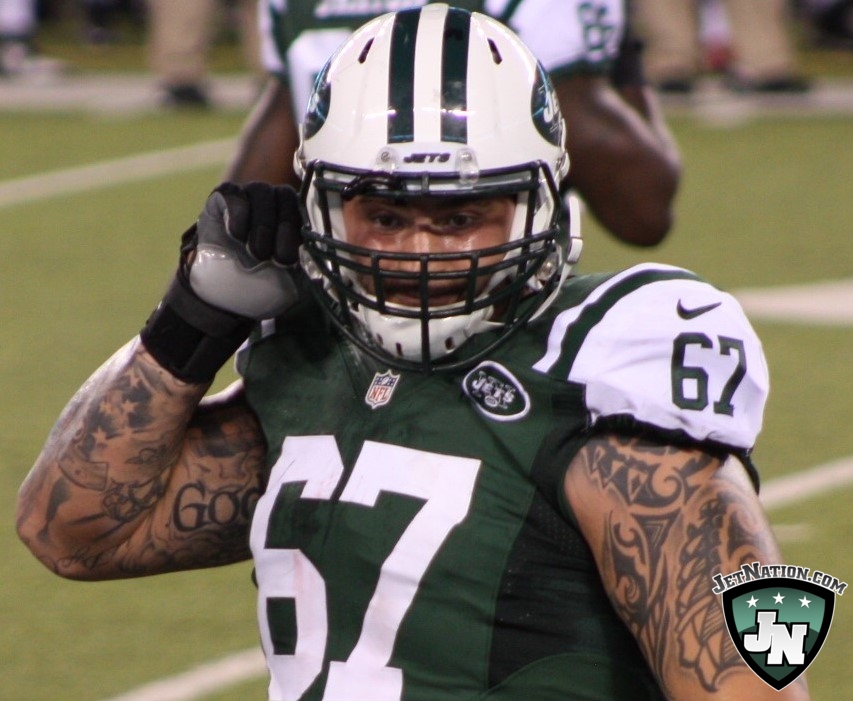 While the majority of Jets fans were thrilled to see Gang Green nab a potential franchise quarterback in Sam Darnold with the third overall pick in this year's draft, there were those who were none too thrilled over the team's failure to use any of their choices to stock the pipeline to the o-line.
With all of the concerns about the unit, we take a look at the offensive line from top to bottom and discuss whether or not the picture is as bleak as some say.
LT Kelvin Beachum: Beachum is a perfect example of the old saying, "you get what you pay for".  He's a middle of the road left tackle who makes middle of the road left tackle money as the 18th highest paid player at his position in the NFL at $8 million.  The Jets should look to make an upgrade at the position, but you can live with Beachum for another season or two.
LG James Carpenter: No player on the Jets offensive line is more important than Carpenter this season.  Prior to last year, he was viewed as one of the best players on the Jets' 53-man roster.  He consistently won his battles up front and was a big part of the success the Jets had in the ground game.  Last season however, was a different story.  On a seemingly weekly basis, Carpenter was consistently beaten by the man across from him.  If he fails to return to 2015/2016 form, opponents will attack him up the middle consistently.  There are also valid concerns as to how Carpenter will play in what is expected to be a zone-heavy offense.
C Spencer Long: Let's get this out of the way right away.  Simply parting ways with Wesley Johnson this off-season made the Jets offensive line better.  Johnson was arguably the single worst center in the NFL and was the biggest culprit for the pocket consistently collapsing.  Even if Long plays at a league average level, which he should, this is an enormous upgrade.  Long missed some time last season with a torn quadriceps but prior to that missed just four games over the previous two seasons.
RG Brian Winters: After cashing in with a big contract following the 2016 season, Jets fans were worried when Winters came out last season, and much like Carpenter got beaten regularly throughout the season.  As it turns out, we would later learn that Winters played the majority of the season with a torn abdominal muscle that he suffered in week 2.  This year is a big one for Winters as he'll have to return to form or run the risk of being released after this season as the Jets wouldn't incur any cap hit while saving $6.5 million according to overtheap.com.
RT Brandon Shell: Over the course of his first two pro seasons, Shell's play has been inconsistent, but has shown flashes of brilliance.  There's no denying that Shell has the ability to be an above average player, but the key for him will be doing the things he does well every week.  A better pass blocker than run blocker, Shell lacks the skill set to move to the left side, so this is where he'll likely stay.  As is the case with Beachum on the left, you could do a lot worse than Shell on the right side.
Back-ups:
LT Ben Ijalana: After a few years as D'Brickashaw Ferguson's understudy, Ijalana finally got some live reps over the past couple of seasons at both left and right tackle.  He's been better on the right side and can be a liability on the left, but how many teams have a back up left tackle who can come in and play at a high level when you consider the fact that there aren't even 32 starters who can do it?
RT Brent Qvale: A former undrafted free agent, Qvale is the opposite of the aforementioned Brandon Shell.  A better run blocker than pass blocker, Qvale is what he is.  A back-up level lineman who can start a game for you from time to time, but as you look around the league at how putrid many offensive lines are, retaining Qvale made sense for the Jets this season.
RG Dakota Dozier: Dozier has been moved around quite a bit in his time with the Jets as he seemed to bounce from guard to center and back again over his first few seasons.  At this point, he's a high character, spot starter who has looked excellent in the run game at times.
C Jonotthan Harrison: Harrison came on in relief of Wesley Johnson last season and while he was an improvement, he didn't play well enough to warrant consideration as a starter this season.  He should be able to win the backup job over Travis Swanson.
C Travis Swanson: Swanson was a disaster in Detroit last season and was so bad that the Lions opted to let him walk before signing Wesley Johnson.  Swanson may not even make the roster.  If he does, and plays well, the Jets O-line staff will have worked a miracle.
Rookie to watch: 
OG Dakoda Shepley: An undrafted lineman out of Canada, Shepley moves extremely well for a big man and plays with a mean streak.  However, going from a small program in Canada to the NFL, Shepley will be lined up across from players with a much different skill set than he's accustomed to.  Even still, his progress is worth monitoring as he could fit nicely in the Jets zone scheme.
So are the concerns over the O-line among fans overblown?  The weakest link (Johnson) is gone, and a previously injured Winters is set to return at full strength.  As mentioned above, that leaves Carpenter as the biggest question mark, but the reality is that the Jets should be good enough up front to give their quarterbacks time to throw and their running backs room to run.  While it won't be at a dominant level, it will be far better than what plenty of fans seem to think.
Videos
Aaron Rodgers Injury Fallout & Jets/Bills Recap