Versatility Gives Golson a Shot to Stick With Gang Green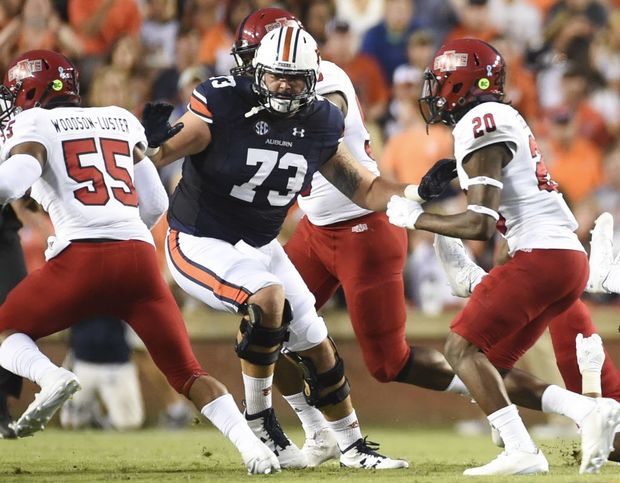 The fact that Jets GM Mike Maccagnan appears to have finally ended the Jets' decades-long drought at the quarterback position hasn't made him immune to criticism this off-season.  Those who feel the Jets' offensive line won't be up to the task when it comes to keeping rookie quarterback Sam Darnold upright have voiced their concerns on our forums right here.
The addition of free agent center Spencer Long is a huge step in the right direction in trying to improve the O-line which, in all reality, should be a middle of the pack group.  However, even if expectations are exceeded by the starting five, questions regarding depth on the O-line will persist.
With so little established depth at a multitude of positions, Kristian Dyer of Metro New York thinks there's one undrafted free agent on the Jets roster who has a legitimate shot to stick with Gang Green due to the versatility he displayed at Auburn in Austin Golson.
Regarding Golson, Dyer said that while at Auburn, "He played every position but right guard, and he didn't just play, but he started at center, left guard, left tackle and right tackle".  Clearly an impressive resume for the undrafted lineman.
Should Golson find a way to stick, the Jets would have a player who could "cover two, if not three spots on the offensive line", according to Dyer.  An ideal player for a team in need of depth.
Dyer would also cover undrafted free agent Dakoda Shepley, who he believes could develop in to an eventual starter with some seasoning after playing his college years in Canada.
To hear the discussion in full, where we discuss how Sam Darnold compares to other top-five picks over the past six years and what to expect from the O-line as a whole, click here to listen in.
Videos
Aaron Rodgers Injury Fallout & Jets/Bills Recap