Jets' Maccagnan Running out of "Maybes" in a Hurry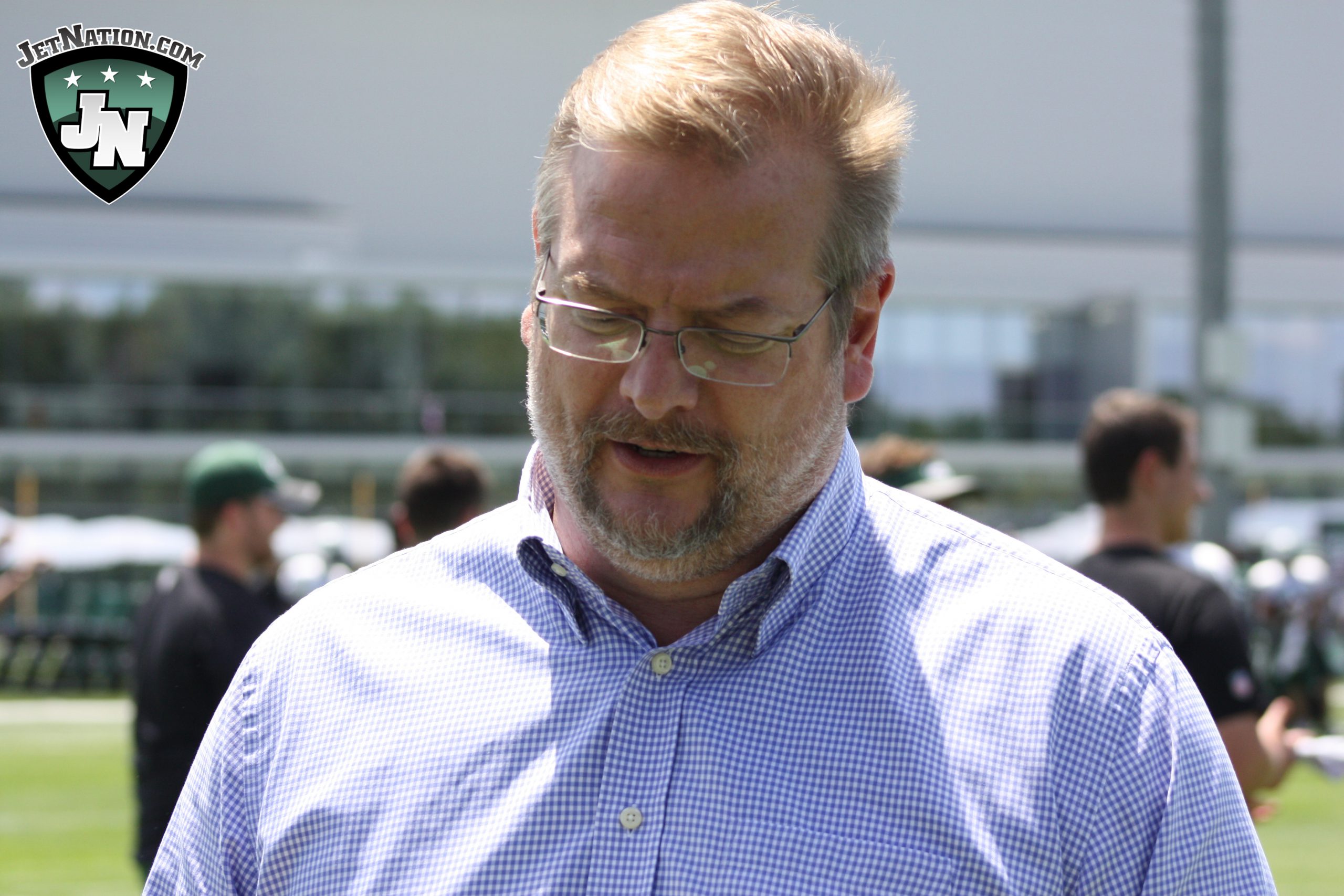 It was a topic that was discussed right here on Tuesday night's episode of JetNation radio that we felt deserved a bit more attention, so as was mentioned on the air, here's a look at the current plight of Jets General Manger Mike Maccagnan whose margin for error seems to be shrinking by the day while head coach Todd Bowles looks to be on the hot seat.
Maccagnan had the "luxury" of succeeding failed General Manager John Idzik, who engineered one of the worst drafts in team history when he was armed with a dozen draft picks in his second year on the job and was a colossal flop.  With his twelve choices, Idzik came away with just two players who are still in Green and White in wide receiver Quincy Enunwa and backup guard Dakota Dozier.  Idzik had set the bar incredibly low, meaning any degree of success from Maccagnan would be a marked improvement.  As it turned out, Maccagnan's first two drafts were far better than the results produced by Idzik.
His first class was a flop itself, netting Leonard Williams and a bunch of guys who are long gone.  Wide receiver Devin Smith couldn't stay healthy and was let go.  Linebacker Lorenzo Mauldin was often injured as well, and didn't do much when he was healthy.  Bryce Petty was a project quarterback who never developed and guard Jarvis Harrison was gone after just one season as a pro.  Outside of Williams, the only player still in the league is seventh-round pick Deon Simon who is on the Packers practice squad.  Simon was actually a solid player when he got reps with the Jets, but he was an interior lineman who was made obsolete with the additions of Steve McLendon and Mike Pennel.
Class number two, his 2016 group, yielded far better results, getting starters in linebackers Darron Lee and Jordan Jenkins along with right tackle Brandon Shell and punter Lac Edwards to boot.  Wide receiver Charone Peake was a seventh round choice who is the team's best special teams gunner at the moment, but hasn't shown much as a receiver.  Add undrafted free agent receiver Robby Anderson to the mix and the 2016 rookie class is a pretty good one.  Cornerback Juston Burris was also part of that 2016 class and viewed as a player who fell in to the "maybe" category, but he was let go recently before returning to the practice squad as a long shot.
Should Maccagnan fail as a GM when all is said and done, his tenure will always be marred by the second-round selection of Christian Hackenberg in the 2016 draft who never took an NFL snap, and may rank second behind Mike Tannenbaum and Eric Mangini's selection of Vernon Gholston as the worst pick in team history.  Even still, Maccagnan came away with four starters on 13 picks as opposed to all of Idzik's misses.
It was an improvement, but four starters in two years isn't going to cut it for the long-term.  Being able to fall back on rostered players who can "mabye" develop in to a regular contributor might buy a GM some good will from ownership, but the problem with Maccagnan is that those "maybe" players are dropping like flies.
Yes, Maccagnan looks to have grabbed a pair of long-term starters in 2017 when he took safeties Jamal Adams and Marcus Maye in the first and second round respectively, but it's after those two picks where things get ugly for Maccagnan.  The GM took a pair of receivers in Chad Hansen and ArDarius Stewart who are already out of the league.  This was a move we questioned at the time due to the wealth of young talent at cornerback in the draft, but what's done is done.  Maccagnan tried to add some receivers, knowing that a QB in round 1 was a certainty in 2018 and his two early/mid round choices went bust.
Aside from Hansen and Stewart from his 2017 class Maccagnan cut ties with project linebacker Dylan Donahue who had more run-ins with the law than he had tackles on the field.
With Hansen, Stewart and Donahue already gone, Maccagnan needs tight end Jordan Leggett, running back Elijah McGuire, safety Jeremy Clark or cornerback Derrick Jones to turn in to roster-worthy players in order to save his 2017 class from hitting on just two of nine picks.
So with his first class being a failure, his second class showing significant improvement and his third possibly producing just two quality players, it's his most recent class that stands to buy Maccagnan more time, but not a free pass.
For the first time in decades, the Jets look to have a franchise quarterback in Sam Darnold thanks to Maccagnan.  That alone should buy him another season.  He also looks to have solved the team's long-time void at tight end with Chris Herndon. But as we mentioned above, more of Maccagnan's "Maybes" have to show they belong, or it may be time for Mac to move on.
Videos
Aaron Rodgers Injury Fallout & Jets/Bills Recap